Lean back to get ahead most relaxed
You want to move forward as comfortably as possible and therefore have the highest demands on the convenience of a cycle. This makes a recumbent already the perfect choice. However, our comfortable bikes and trikes offer even more: that little extra to keep you relaxed from start to finish.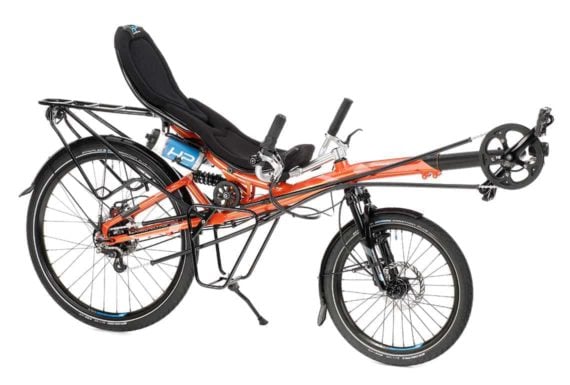 Appreciated for its comfort by uncounted world travelers over more than 25 years, this yet already timeless classic also displays its gentle characteristics in everyday life.

Sporty and comfy, the smallest full-suspension Scorpion impresses with good handling even before and after the ride.

Full suspension paired with the ride quality of a 26-inch drive wheel means this versatile trike offers ultimate performance not only under sporting aspects.

You will hardly make much progress without much effort as quickly as with our S-Pedelec - let alone so comfortably.

The name suffix on the plus models was aimed at comfort right from the beginning and with the plus-size back wheel comes to full fruition on the ride.

Our entry-level trike is unsuspended, but does not only ease the entry to the recumbent world in terms of pricing: The Gekko 26 offers the highest seating position of the Gekko family and the otherwise common agony of choice is eliminated thanks to the fixed component specification.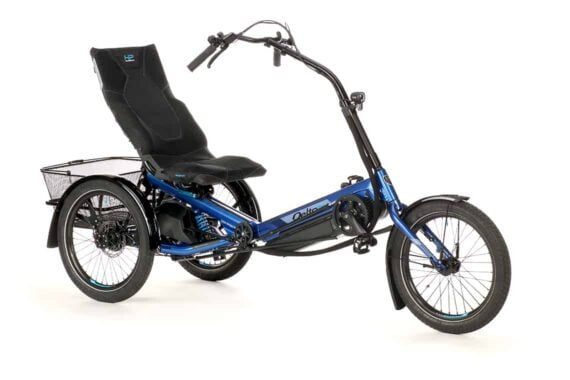 With an easy entry and a versatile range of automatic shifting options, we make electric cycling most comfortable.
For those looking for maximum comfort, full suspension is a must in most cases to be carried even on bad paths such as in a sedan. But real comfort is more than just getting from A to B, even if it's extremely accommodating. Our ErgoMesh seats make it easy to get in and out, especially in the 11 cm higher HS plus versions. And if you're a bit more spacious yourself, you'll find plenty of room in the wide XL versions. (Note: ErgoMesh HS plus seats not available for Scorpion fs 26 S-Pedelec)
A whole range of our drive options are available for effortless and uncomplicated shifting. Many will appreciate the Tripleshift 24, which is already installed as a basic equipment. Their twist grips often offer a more intuitive shifting experience. The extremely low-maintenance Rohloff or Pinion transmissions come with just a single twist grip. The epitome of comfort in the age of e-bikes is, of course, an electrical assist to support pedalling power. In addition to the Go SwissDrive, which interprets comfort in the form of almost noiseless running, the added comfort of the Shimano STEPS E5000/8000 lies in the automatic gearshift system of the Nexus Di2 8-speed hub.
The ride becomes even more convenient with additional equipment from our range of recumbent bike accessories, such as hand rests, on which the arms lie relaxed, or standing up aids, which are often used also to attach bike computers, cameras or other accessories and which we therefore offer single-sided meanwhile.