The sporty tadpole touring trike
Your Scorpion Gives Momentum to the Asphalt Jungle!
Tadpole Trike Scorpion: The Light and Low Sports Recumbent with Rear Suspension
The best role models can be found in nature. The sporty tadpole trike Scorpion sets new standards when combining stable road holding and reassuring safety with impressive maneuverability and a sporty temperament.
150% riding pleasure. More and more active people are leaning back and discovering the unique sitting comfort and energy-saving aerodynamics offered by an HP Velotechnik recumbent. The sporty Scorpion lets you experience how fun, cornering stability, and touring capability can go together in this ultimate performance tadpole trike.
Just a glance at the Scorpion lets you know that the stable track and low center of gravity provide secure road-holding for optimum control at all speeds. The robust wheels are placed further forward for better braking performance. Having both front wheels in your field of view at all times lets you easily avoid road obstacles. A protector layer in the tire protects the Scorpion against thorns, broken glass and other enemies.
The large 26″ rear wheel with its low rolling resistance gives the rider a spirited ride in any conditions Your Scorpion has a door-friendly track width (83cm or 33 inches) letting you roll your "new-best-friend" through most standard doors. Unless you decide to turn around for another ride, that is. After all, the highly agile speedster only needs a 5.4 m (17'9″) turning circle.
It has never been easier for you to accept our invitation to try out the comfortable seat since the crossbar on the robust, lightweight aluminum frame sweeps elegantly backward to allow getting onto the trike easily: Simply stand in front of the seat and gently lower yourself down. While you enjoy panoramic views, the comfortable swingarm reacts to bumps on the rocky road lightning-fast.
HP Velotechnik's tried-and-tested No-Squat technology ensures that your pedaling forces do not impair the suspension. The rear wheel transmits your pedaling force to the road as direct forward propulsion without the need for complicated differential gears. Instead, your Scorpion can use the full range of modern bicycle drivetrain technology. And if you want to go full speed ahead? Simply smile at any head wind. Accelerate. And look forward to carving the next corner . . .
Top Virtues of the Scorpion
Precision can be measured, passion for detail must be felt
The daily grind is yesterday news
The Scorpion Makes Your Way to Work a Deeply Enjoyable Trip.
Desire makes the route seem shorter. So does the right position. When riding the Scorpion tadpole trike, you offer minimum wind resistance without hunching over. This makes you quick. And your trips enjoyable. Even at a relaxed pace, you still cut a fine figure.
You're right on track. Lean back in the airy ErgoMesh seat or the adjustable BodyLink hard shell seat. They are both good for your bottom, your spinal discs, and your family planning. As flexible as life itself, they provide comfortable support for dynamic sprints.
Lean back and relax. The Scorpion makes your commute to work a deeply enjoyable trip. When heading off into the blue, you can finally see the sky again. And can breathe deeply. Could there be any better exercise bike?
Excellent design: The sporty tadpole touring trike Scorpion won a Eurobike Award. The German state of Hessen's Ministry of Economics and Transport has nominated the sporty tadpole trike for the Design Award of the Federal Republic of Germany.
Custom CSS for Advanced Carousel - Do not delete
Your Scorpion tadpole trike has these technical refinements on board as standard.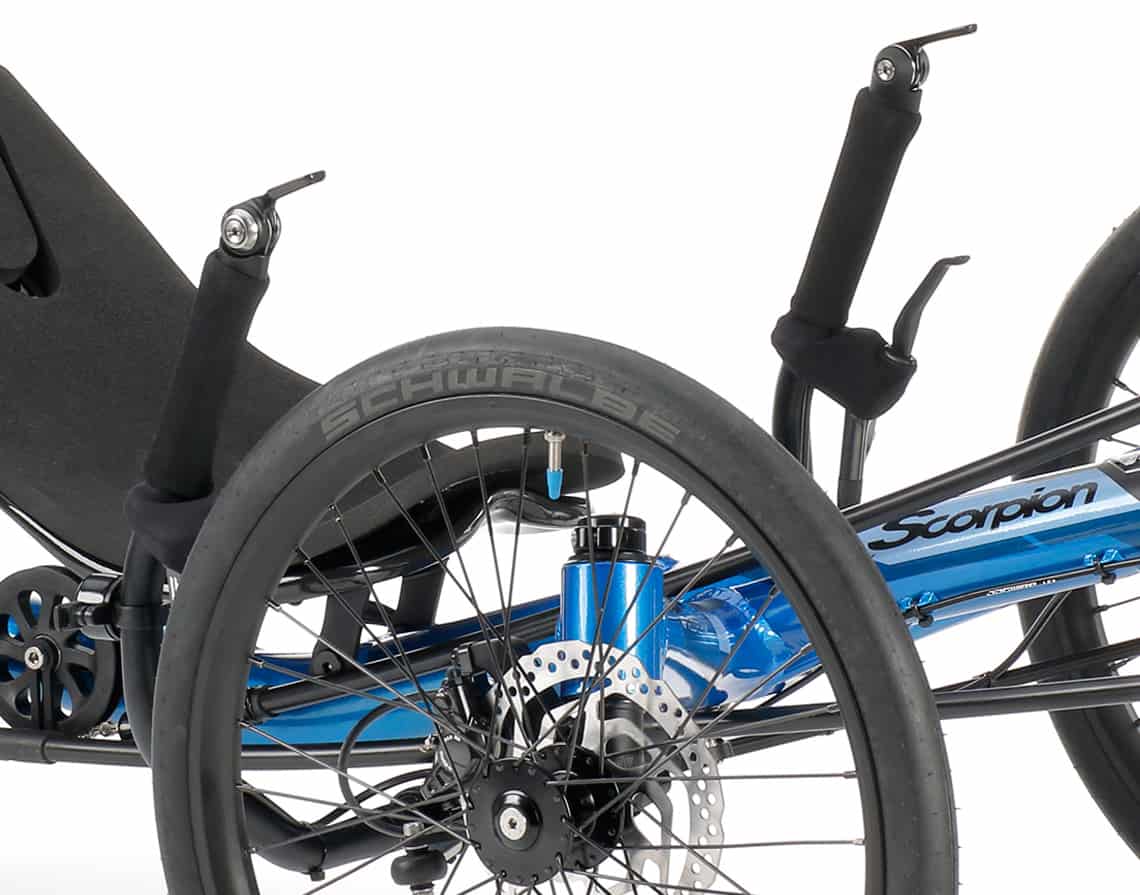 Ergonomic Handlebars
Comfortably positioned ergo-bars beneath the seat. Your wrists and neck are relieved from strain. HP Velotechnik's steering geometry combines smooth straight-line stability with impressive maneuverability. Maintenance-free, sealed cartridge bearings on the handlebars and self-lubricating rod end bearings on the tie rods. The wheel mounts are positioned in the frame with sturdy, adjustable A-head headsets. The handlebars are adjustable in width and angle.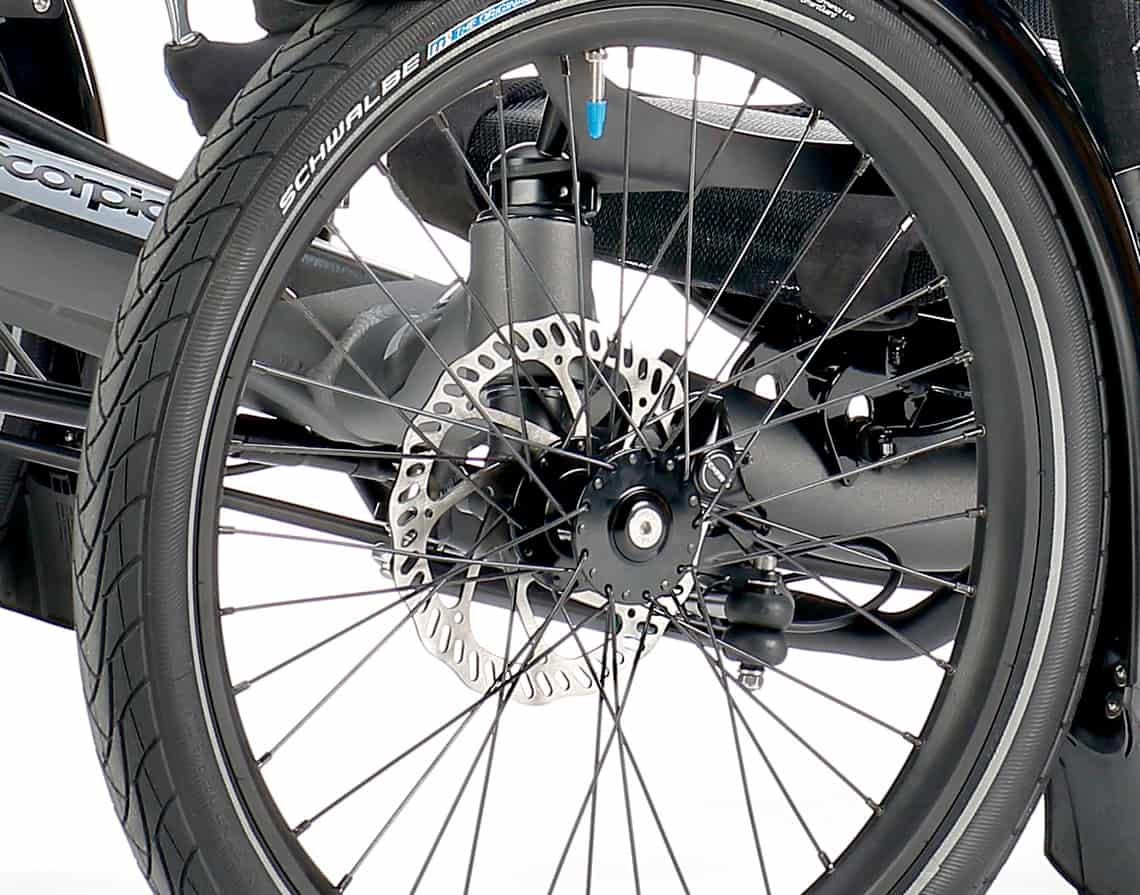 Disc Brakes
The Scorpion has a very safe braking action due to the low center of gravity and the long wheelbase. The standard disc brakes ensure maximum braking power even in bad weather. The front wheels are controlled separately so that you can selectively brake the inner wheel when cornering. Due to HP Velotechnik's sophisticated steering geometry, the steering is not affected by braking or sudden bumps on your trail. On request, we build your trike with mechanically or hydraulically coupled front brakes with one-hand operation and a rear disc brake.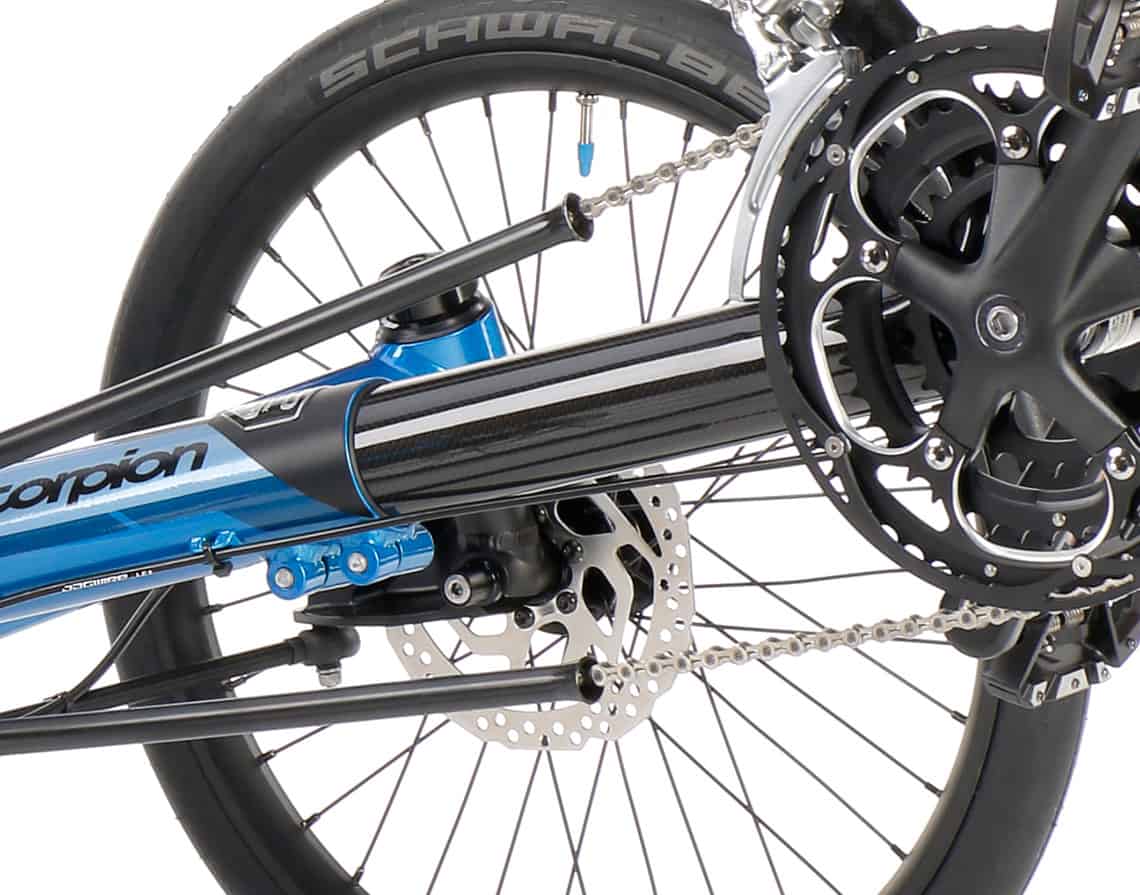 Chain Protection Tubes
Protects your clothes and the chain: The drive train is mostly covered. The unique chain tubes made from durable plastic create minimum friction for a quiet ride. The frame is adjusted to your leg length by shortening or extending the front boom in the main frame.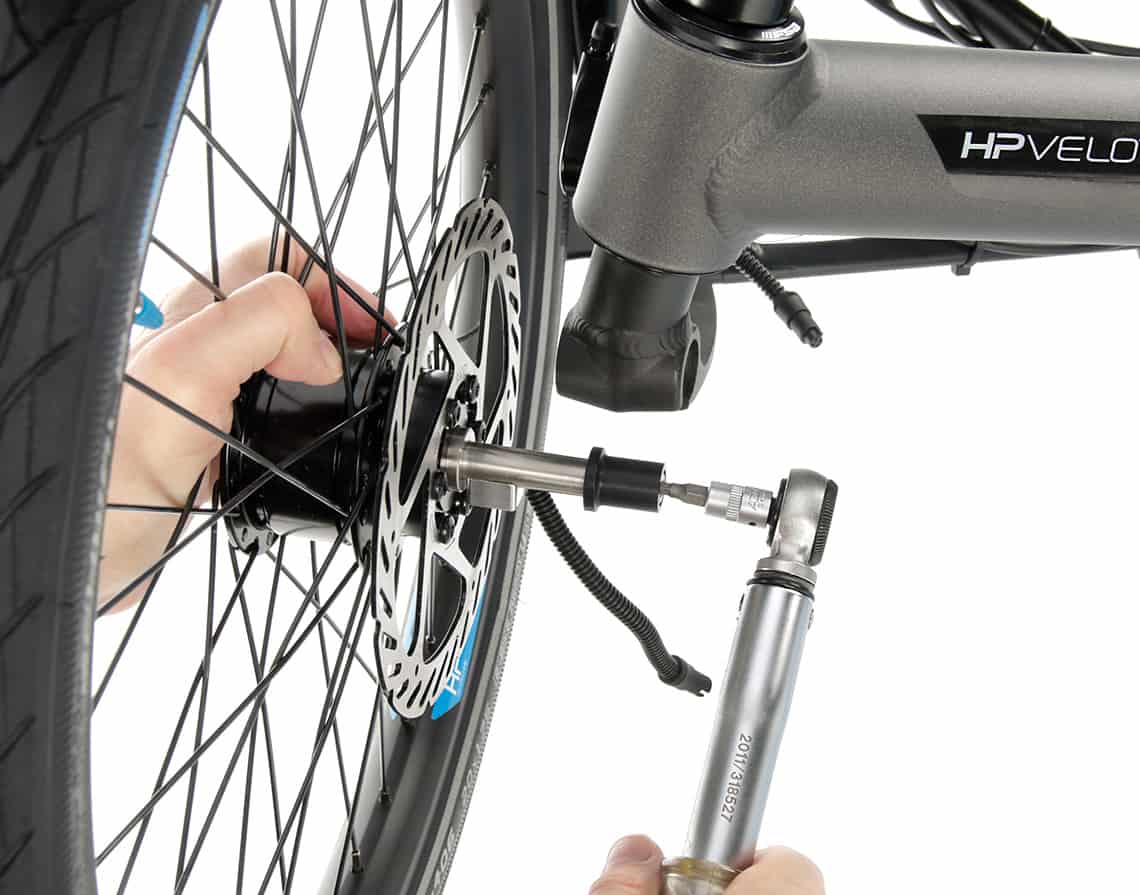 Easy wheel removal
Easy to transport: HP Velotechnik has developed open wheel mounts that allow the front wheels to be easily detached together with the brake disc by loosening just one bolt (HP Performance hubs are standard on Scorpions).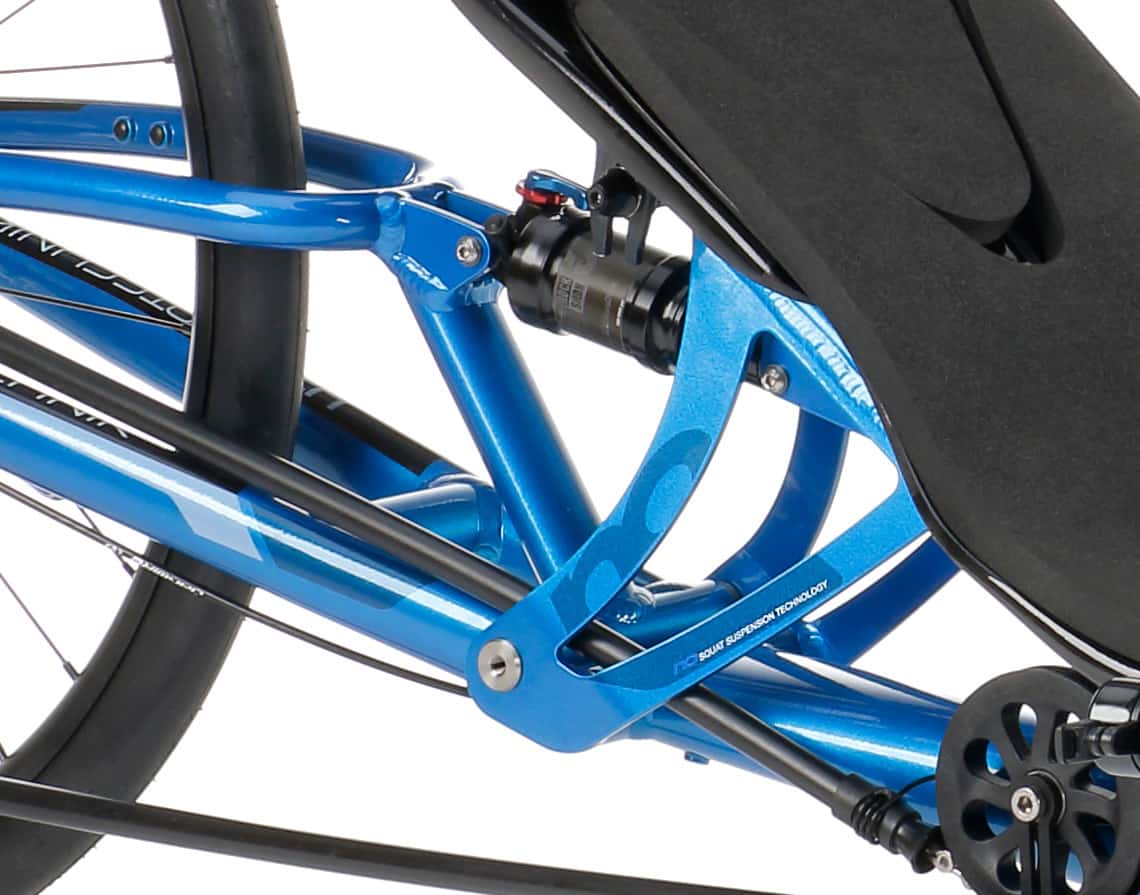 Suspension
HP Velotechnik's adjustable suspension provides superior ride comfort on your fast electric bike. The suspension utilizes HP Velotechnik's tried-and-tested No-Squat suspension concept. It reliably prevents drive forces from affecting the suspension and unpleasant pedal kickback. This enables you to accelerate at all times powerfully. If desired, your Scorpion tadpole trike can be equipped with the lightweight Monarch RL air suspension element from RockShox. The spring stiffness can be easily adjusted to the payload using a shock pump. Equipped with adjustable hydraulic rebound damping and a block-able compression stage, it boasts the best response recorded in our tests.
Optional Features for True Individuals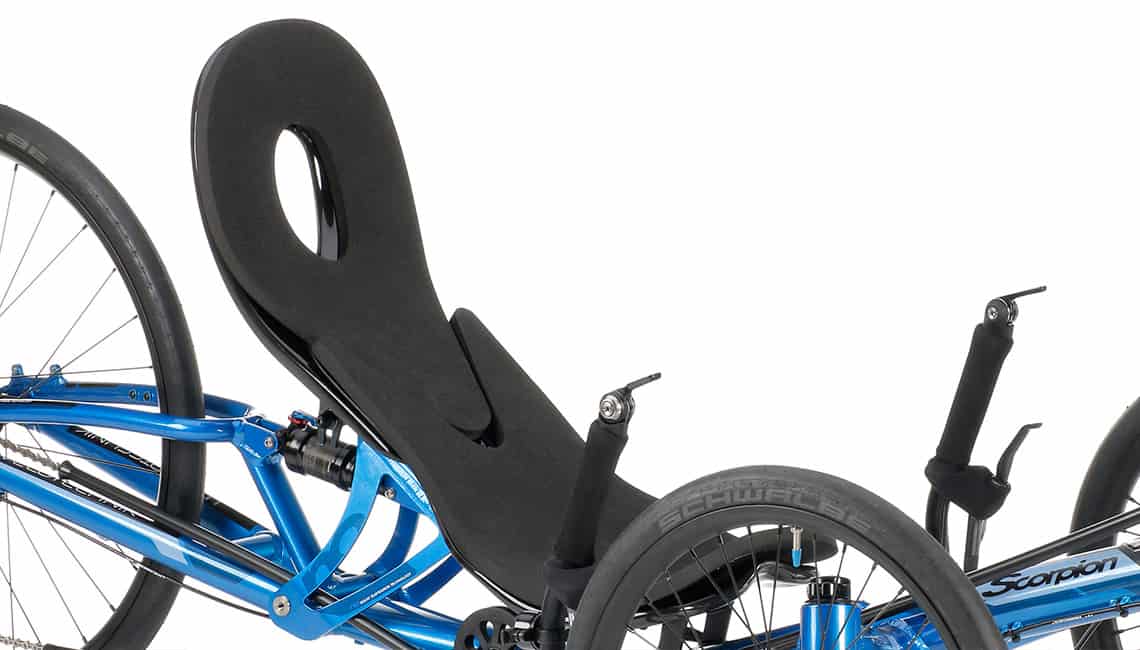 BodyLink-Seat
The
HP Velotechnik seat systems
provide an exemplary ergonomic connection at the key interface between the rider and the trike. With the adjustable
BodyLink
hard shell seat, the lower seat shell offers excellent side support, while the upper seatback gives enough freedom for you to lean dynamically into the curve when cornering. Waterproof seat pad cushion made of EVA foam or breathable
Airflow seat cushion
(multi-layer system).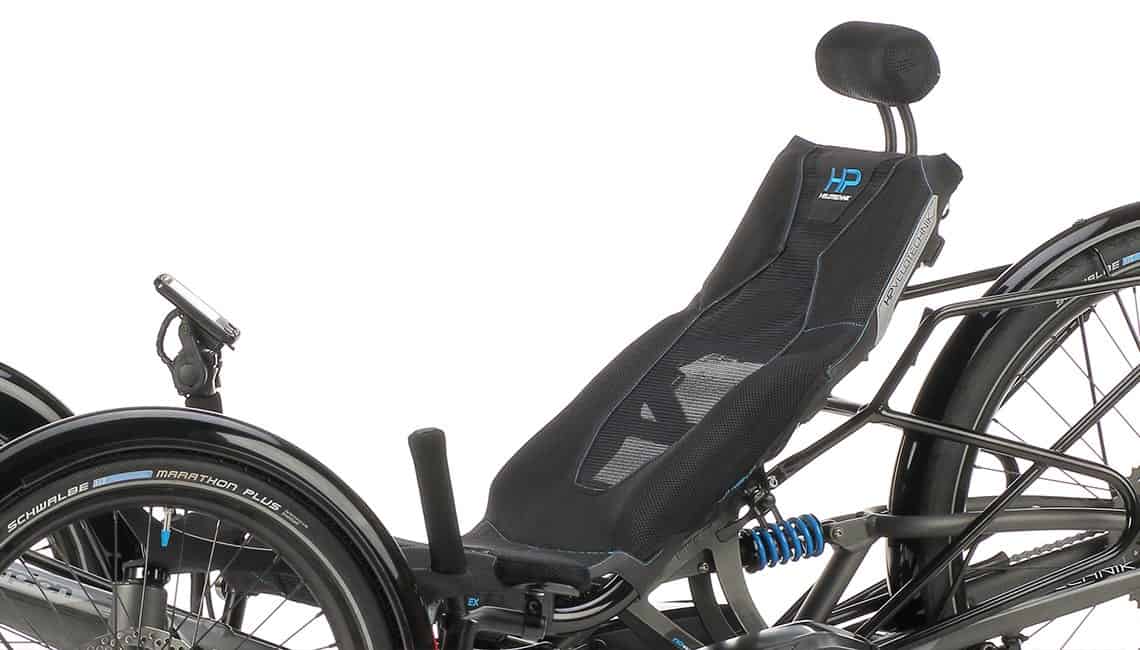 ErgoMesh-Seat
Alternatively, you can mount the airy ErgoMesh mesh seat. It has anatomically-shaped side cushioning for extra support when cornering and a practical zipper pocket in the backrest. Safety plus: Reflective strips on the seat sides. Both seat systems fit the same frame mounts and are thus interchangeable. They can also be removed entirely in 15 seconds a practical feature when it is raining, or you want to put your recumbent bicycle into your car. With the ErgoMesh seat, you get a 3 cm (1.2") higher seat than with the BodyLink seat; with the extra high ErgoMesh HS plus seat, you sit 14 cm (4.2") higher. A higher seating position facilitates boarding and disembarking and improves the overview in traffic, but reduces the tilt stability when cornering at higher speed – please test your desired seat/handlebar combination at your specialist dealer.
Rear Rack
Your luggage will be carried with full suspension. This enables agile driving dynamics and helps to protect your equipment. The robust rear rack for two panniers weighing up to 25 kg (55 lbs) has been optimized to withstand the high lateral forces to which trikes are subjected. With this sturdy rack made of 14 mm tubing, your panniers are positioned low down with an optimum center of gravity and close to the rider to the side of the rear wheel. The Ortlieb recumbent bags available from bike shops are the ideal accessory and can be individually attached on the left and right. They offer ample storage capacity and improve the aerodynamics of your trike, similarly to a tail fairing. With our Top load attachment you can extend the rack with a platform for light luggage. If you choose the ErgoMesh seat and the matching Side Bag Mounts, you have easy access to another 10 kg of luggage in two handlebar bags next to the seat.
Fenders / mudguards
Functional fenders: The HP Velotechnik trike fenders offer excellent rider protection against spray from the rear and in particular, from the side. HP Velotechnik enlarged the inside facing part to improve the spray protection to the driver, especially when cornering. Elegant mounting hardware located on the inside of the fender with height adjustment. The rounded shape of the fenders with 60 mm / 2.36" width allows the installation of large-volume, comfortable tires up to 50 mm / 2" width.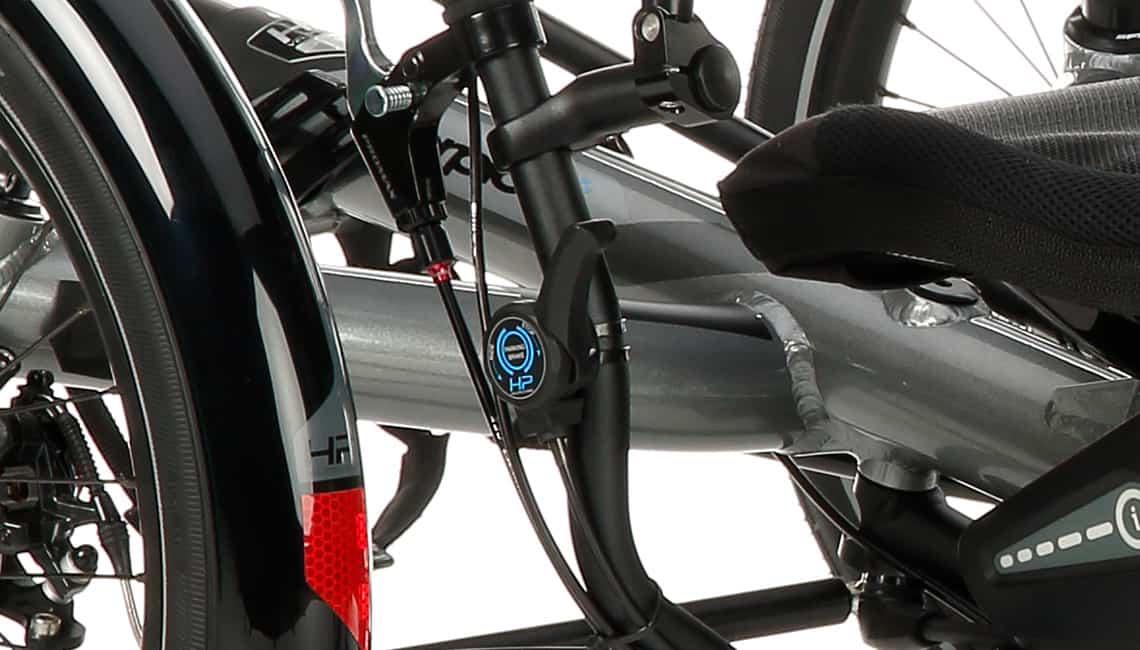 Parking Brake
As a parking brake, we can install a V-brake on the rear wheel. It is operated by a thumb lever at the handlebar.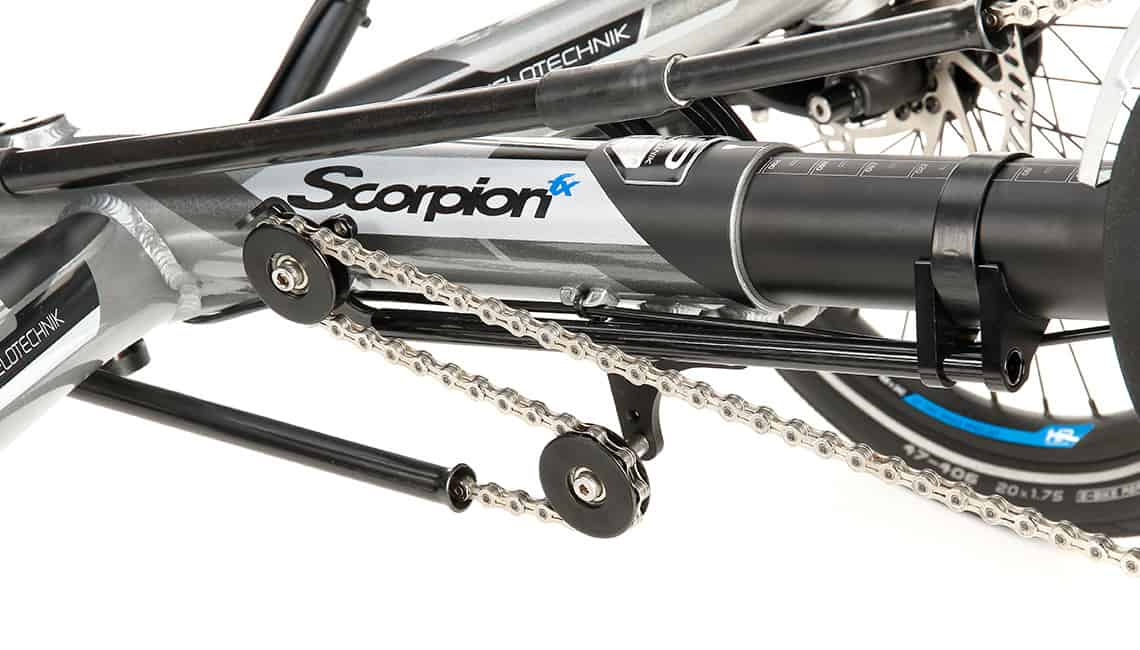 Front Boom Quick Adjust
The optional quick frame adjustment with quick-release levers can be used to adapt the bike to different leg lengths quickly. By pushing in the boom tube, you can also make your Scorpion even more compact for transport.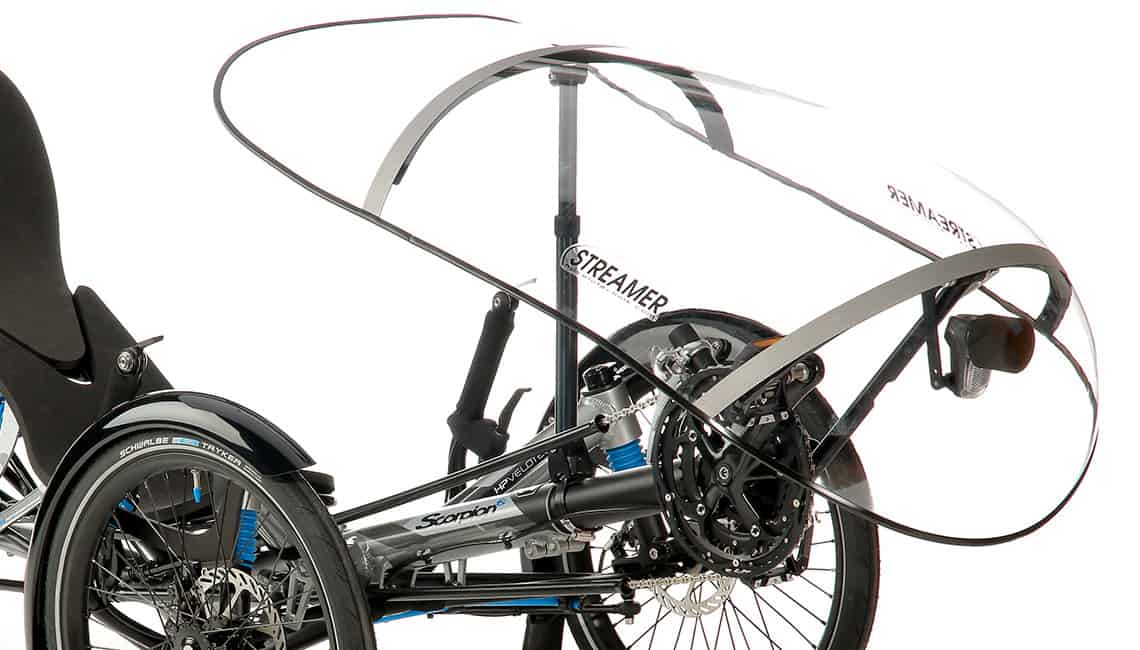 Weather Protection Gear
The
Streamer
front fairing from HP Velotechnik keeps your feet warm and legs dry. The fairing can be easily removed using the quick-release lever and rolled up for transport.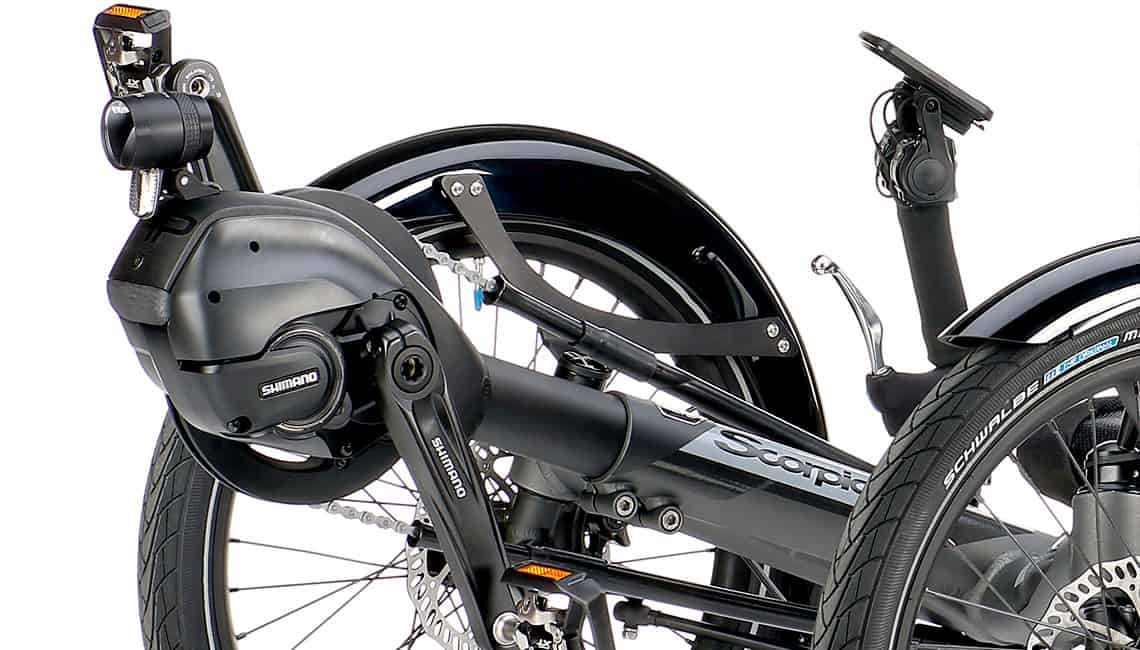 Electric Power-Assist
Do you offer
electric drive assistance
? You bet - that's where trikes really shine! HP Velotechnik can optionally equip all vehicles with a powerful electric motor. No other type of bicycle fits electric motors as perfectly as recumbent trikes. Why is obvious: The ease of pedaling and the ergonomic sitting position make the ride even more pleasant. The built-in aerodynamic advantage of your recumbent trike can also be exploited electrically: less drag means more range. The system can be easily integrated into the trike. That does not only take effect for the e-trike version with hub motor in the rear wheel or the version with bottom bracket motor upfront. It is also true for the easy-to-reach control unit at the handlebar and the rechargeable battery. As an extraordinary feature, you can order your trike with a second battery to double the range!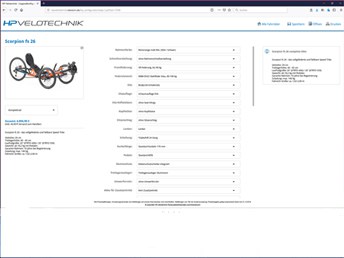 Fast, convenient, and informative: Selecting the components of your tadpole trike is easy with our online configurator Choose to your heart's content from our versatile modular systems!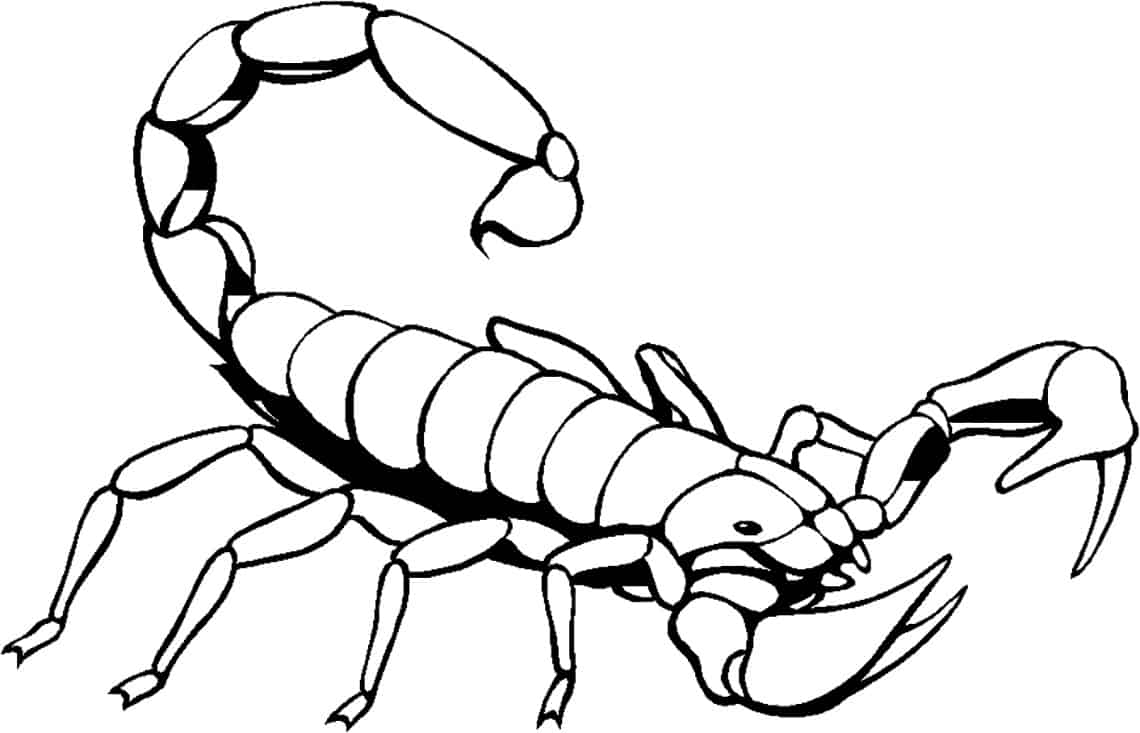 Specifications and Technical Data
The outstanding ride of the Scorpion is of course based on thoroughly engineered performance technology with precise technical specifications. The detailed figures can be found here in the technical data sheet – from the dimensions to the payload, from the seat height to the appropriate rider size. And of course, we are also happy to show you which colors you can choose for your sporty tadpole trike.
Seat height BodyLink: 28 cm (11")
Seat height ErgoMesh: 31 cm (12")
Seat height ErgoMesh HS plus: 42 cm (16.6")
Seat angle: 41–49° (HS plus 41–54°)
Wheel size (front wheel): 20" (ISO 406)
Wheel size (rear wheel): 26" (ISO 559)
Max. tire width: 5 cm (2")
Bottom bracket height: 41–52 cm (16.1 – 20.5")
Ground clearance: 10 cm (4", statically compressed)
Wheelbase: 128 cm (51")
Track width: 78 cm (31")
Width: 83 cm (33")
Length: 194–227 cm (6'4" – 7'6")
Turning circle: 5,4 m (17'9") outward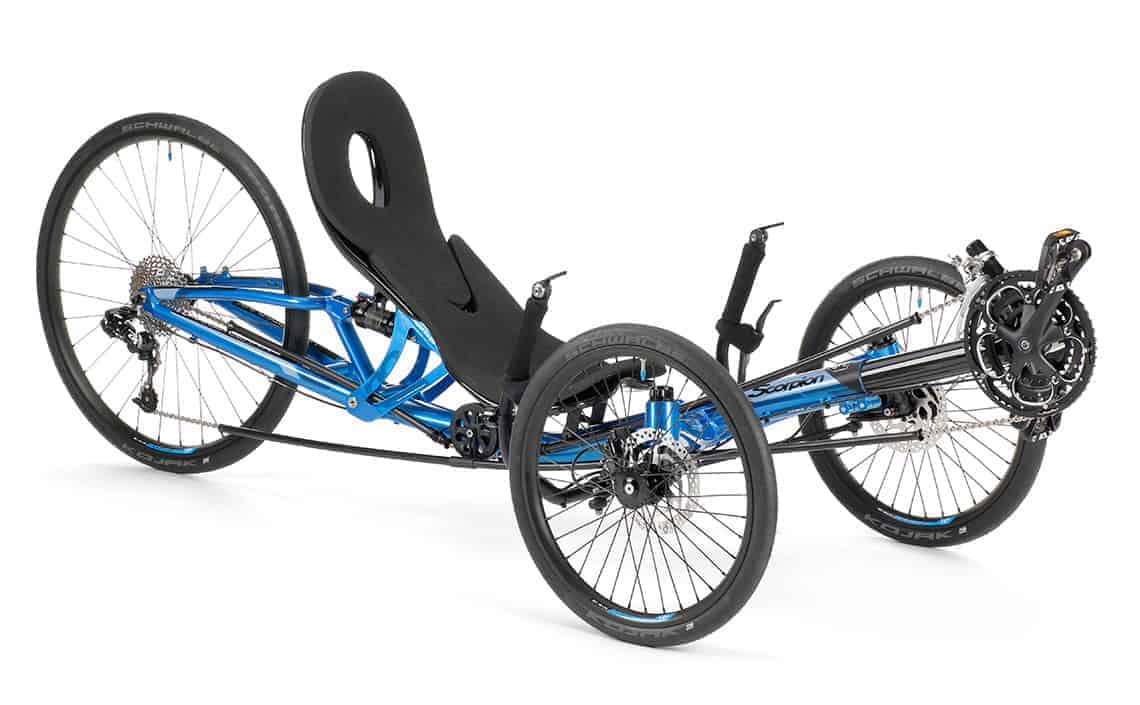 Standard color: Peeka blue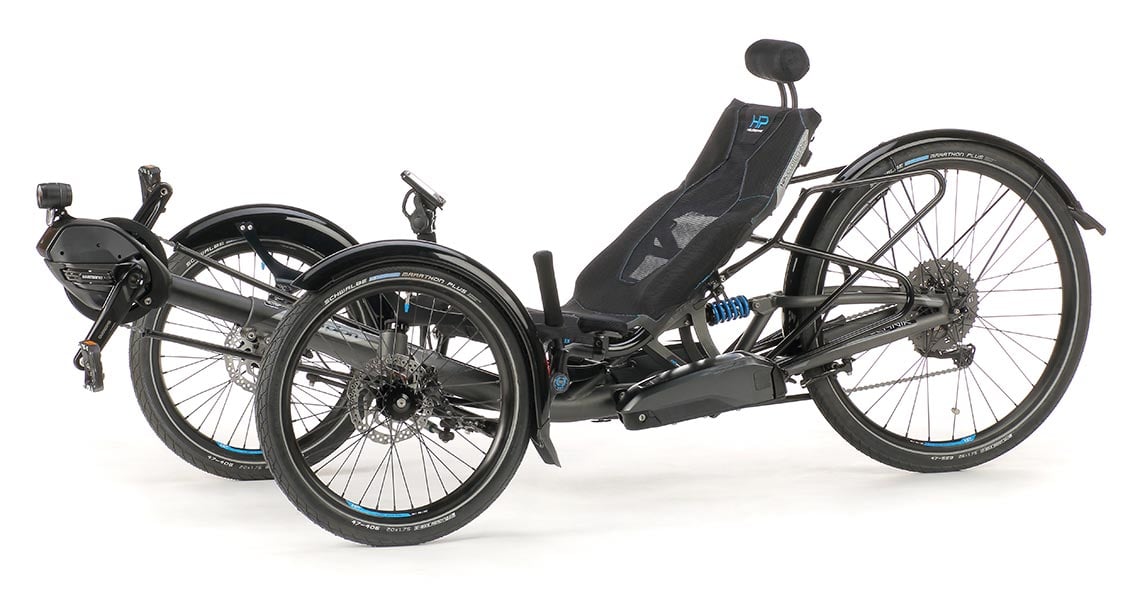 Standard color: Anthracite grey metallic matt
Give your bike a personal touch: On request, you can have the frame of your HP Velotechnik recumbent bike powder-coated with a custom color completely to your personal taste. You can choose from hundreds of color shades:
An overview and further information about our custom colors can be found in our color chart.
Bottom bracket standard: BSA 68 mm
Suspension travel at rear wheel: 8 cm (3")
Weight: from 16,9 kg (37 lbs) incl. pedals
Payload: max. 150 kg (330 lbs)
Frame material: Aluminum 7005 T6 heat treated
Swing arm bearing: maintenance-free
Rider height: ca. 1,62 - 2,00m (5'4" – 6'7")
We are committed to the quality of our products. Therefore we grant a guarantee of 10 years on the frame and the swing arm bearing of our bikes and trikes. For further information, please have a look at our warranty conditions.
They Even Have a catalog? This Is Getting Better and Better!
You will find all the details about the Scorpion in our detailed and richly illustrated Scorpion tricycle catalog. In addition, you will read lots of background information about our tadpole trikes and exciting reports about trike tours all over the world.
Even now you have the choice with us: Browse here online on our website. Or request your copy in high-quality printing form by post. So you can comfortably recline at home on your sofa and start discovering the world of recumbent bicycles – without obligation and completely free of charge.
Do you want to read more?
They Even Have a catalog? This Is Getting Better and Better!
In our detailed Scorpion tricycle catalog, you can read all the details about the fast tadpole trike and exciting adventures of riders on a trike.
Request your copy in a high-quality printing form right away. So you can comfortably recline at home on your sofa and start discovering the world of recumbent bicycles – without obligation and completely free of charge.
Here You Can Enjoy the Best Views
You will experience the best reasons for a tadpole trike from HP Velotechnik during an extended test ride. On our website, we can only describe to you the incomparable driving feeling. True to the saying "A picture says more than 1000 words" we want to let our Scorpion tadpole trike speak for itself.
Move the mouse pointer over the image. Use the magnifying glass symbol to open the picture gallery. Alternatively, you can use the link icon to download photos in high resolution, e.g., as a desktop background – simply right-click after opening the image. You can find more high-resolution pictures in our album about Scorpion on Google Photos.
Scorpion Frequently Asked Questions
All Right, Enough Theory, How Do I Get on The Comfortable E-Chopper?
A Scorpion is waiting for your test drive at these dealers near you.
Attention: A filter for this model is preset! With the "Advanced Search" you can also search for other models. Click on the dealer for the details and your desired date for an individual consultation.
The Scorpion Family at a Glance
Are you looking for the complete trike selection from HP Velotechnik?