The fast electric foldable adult trike
S-Pedelec Scorpion fs 26: Automobile Engineering for Top Speed
In the promising class of fast electric bikes, HP Velotechnik's Scorpion fs 26 S-Pedelec focuses on secure road holding for a multi-track vehicle with chassis technology from the automotive engineering sector. The low center of gravity of this touring trike and the excellent rider support in the ergonomically-designed recumbent seat guarantee dynamic acceleration.
The low air resistance thanks to the efficient, streamlined recumbent position extends the battery range, especially notable at the high assisted speeds of up to 45 km/h (28 mph) that are reached by speed pedelecs. At such high speed, a well-tuned, full-suspension chassis is of paramount importance. The Scorpion fs 26 touring trike is the perfect base vehicle for a powerful electric trike and high average speeds of over 25 km/h (16 mph).
The Speed pedelec is driven by a powerful and silent rear hub motor. A 48 V Li-Ion rechargeable battery with a 651 Wh capacity provides a great deal of energy. The recuperation function uses the motor as a generator when braking and thus extends the range through energy recovery. The fast electric trike comes standard with a start assist function, which accelerates the tricycle at the push of a button without pedaling.
E-Trike Certified by German TÜV
Mobile Future with Stamp and Seal
Start later, get there faster: Thanks to electrical support up to 45 km/h, the Scorpion fs 26 S-Pedelec will keep you on the move at all times. The top model from HP Velotechnik proves its strengths on the road to work as well as on your unforgettable weekend excursion. Good night, resting pulse!
The S-Pedelec Scorpion fs 26 with electric assistance up to 45 km/h (28 mph) is, in countries under EU-law, defined as a three wheeled moped. For those vehicles exist other regulations than for usual bicycles or E-bikes with an assisted speed up to 25 km/h (16 mph).
What did that mean for the engineers at HP Velotechnik? Every single part of the Scorpions fs 26 S-Pedelec had to pass a challenging test program to get the official approval of the German TÜV. For the demanding brake performance tests, even under wet conditions, the engineers teamed up with the Technical University of Rüsselsheim to develop a special test machine in compliance with the TÜV. And even the tiny LED-position-lights in the front of the fast eclectric trike is a result of the TÜV-approved implementation of the latest EU regulations.
However, this all together means for you: every single Scorpion fs 26 S-Pedelec manufactured in our recumbent factory in Kriftel, Germany is checked by the TÜV. Only then does the fast electric trike receive the individual operating permit for German streets. This is documented by the German operating license which comes with the trike. What might look a little overdone at first glance grants extra benefits for the rider: a maximum of reliability and operation safety whatever the route will be.
In Germany, the fast Scorpion fs 26 S-Pedelec is delivered with an operating license as "small -engine motorcycle" (L2e-P). Therefore a driver´s license and insurance is required.
All export e-trikes will be delivered without an operating license. To learn more about the legal requirements for using the Scorpion fs 26 S-Pedelec in your home state, please contact your state authorities or your local HP Velotechnik dealer.
Despite its unique positioning as a moped, numerous innovations from the bicycle world of HP Velotechnik have also found their way into the S-Pedelec. The focus is on comfort and an enjoyable driving experience. At HP Velotechnik, we believe this fast electric trike offers a great perspective for the mobility of the future. Given the impending traffic congestion in urban areas and growing environmental awareness, fast E-Trikes such as the Scorpion fs 26 S-Pedelec may one day be regarded as one of the first building blocks to offer a solution to this challenge of the century.
Top Virtues of the Scorpion fs 26 S-Pedelec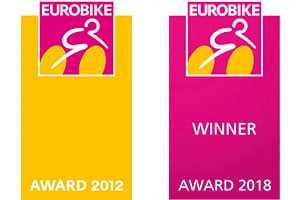 Unfolds Pure Driving Pleasure
Ready for Transportation Fast
The Scorpion fs 26 S-Pedelec won the prestigious Eurobike Award 2012 and 2018 for its particularly innovative design and above-average product quality. The jury of "iF International Design Forum," comprised of design experts, specialist journalists and sports scientists, rated amongst others: efficiency, ergonomics, practical value, weight, safety, environmental impact aspects, and finish.
It only takes a minute to fold your Scorpion fs 26 S-Pedelec in just a few simple steps into a space-saving package with dimensions of 123 × 83 × 62 cm (49 x 33 x 25″). Even with the luggage rack and fenders attached, the fast electric trike can still be folded up without removing the wheels. And the chain? The chain rotates around its axis and otherwise reliably remains where it should be, guided by the flexible chain guard tubes.
The best part: When you unfold the trike, HP Velotechnik's unique, self-locking folding hinge enables you to turn your excited anticipation into pure riding pleasure quickly!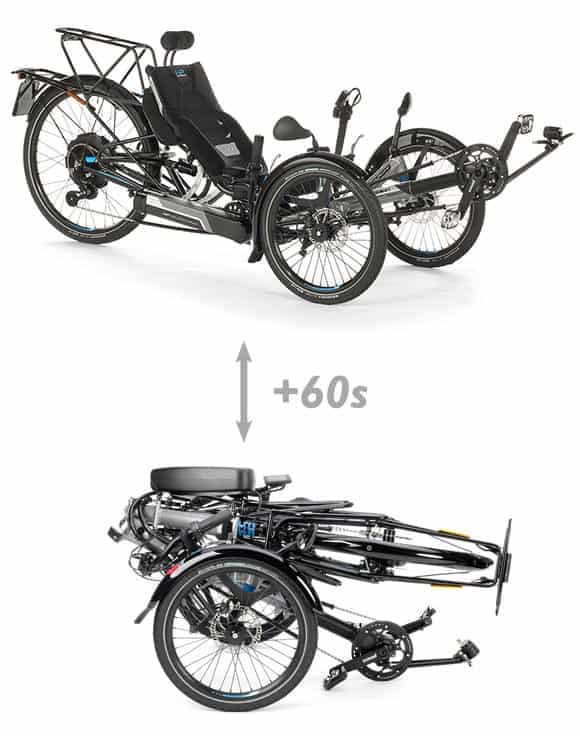 Custom CSS for Advanced Carousel - Do not delete
Your fast electric trike Scorpion fs 26 S-Pedelec has these technical refinements on board as standard.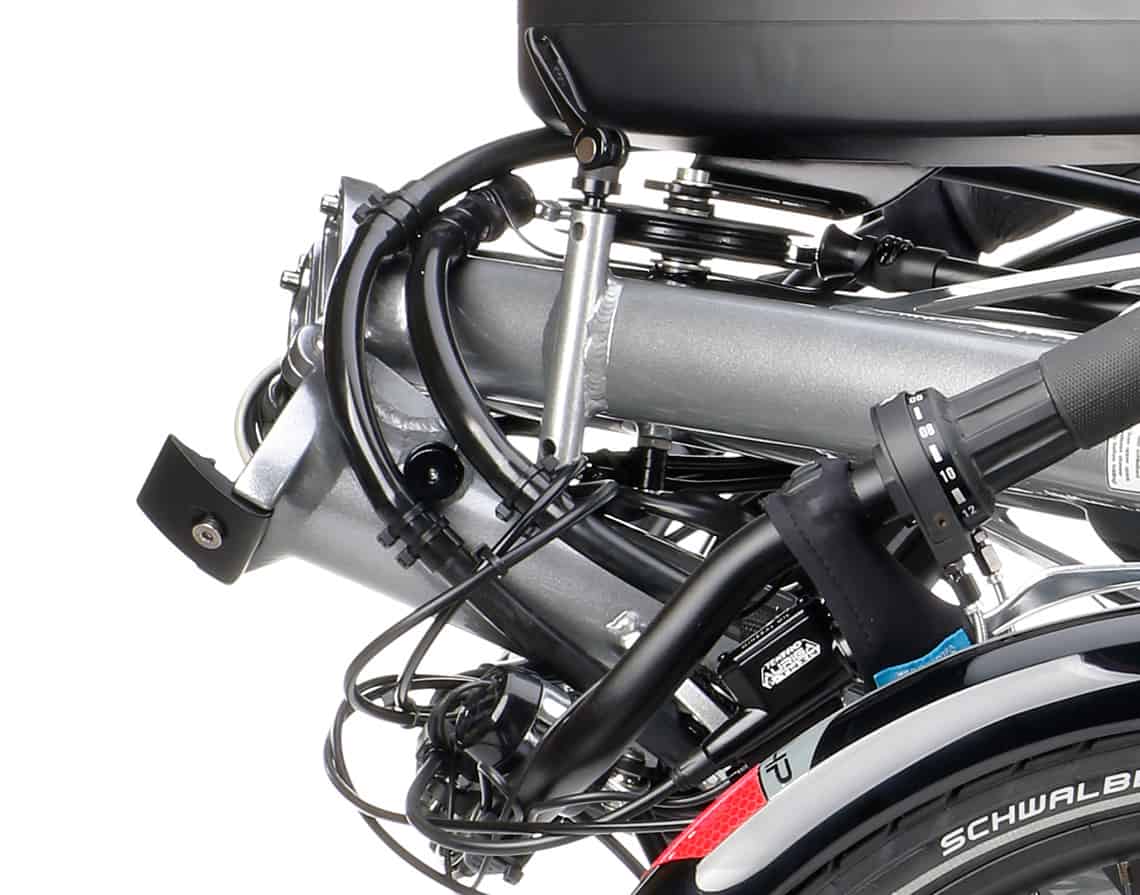 Robust Folding Hinge
On unfolding the trike, the robust HP Velotechnik folding hinge locks into place automatically. The safety catch can be conveniently operated from above. Stainless steel axle with zero play for precise folding over and over again.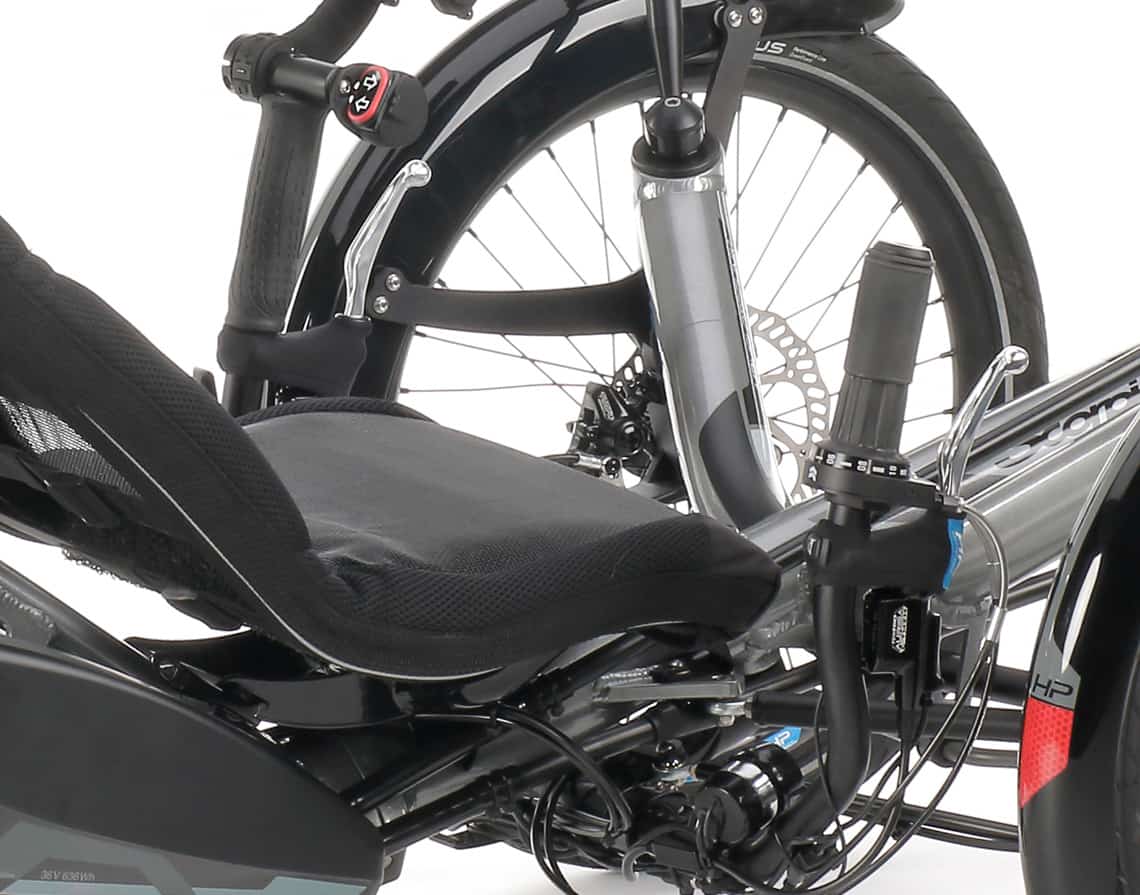 Ergonomic Handlebars
Comfortably-positioned ergo-bars beneath the seat relieve the strain from your wrists and neck muscles. HP Velotechnik's steering geometry combines smooth straight-line stability with impressive maneuverability. Maintenance-free, sealed cartridge bearings on the handlebars and self-lubricating rod end bearings on the tie rods. Handlebar width and inclination are individually adjustable!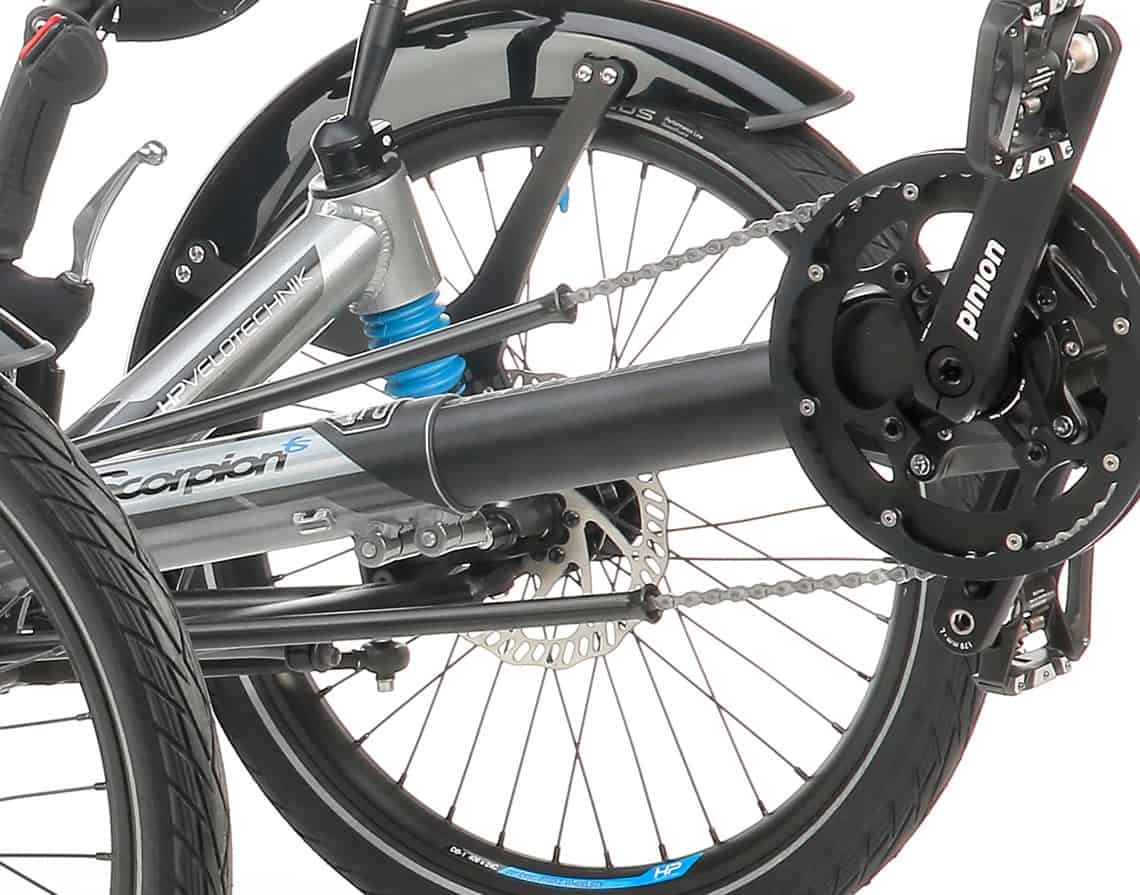 Chain Protection Tubes
Protects your clothes and the chain: The drive train is mostly covered. The unique chain tubes made from durable plastic create minimum friction for a quiet ride. The frame is adjusted to your leg length by shortening or extending the front boom in the main frame.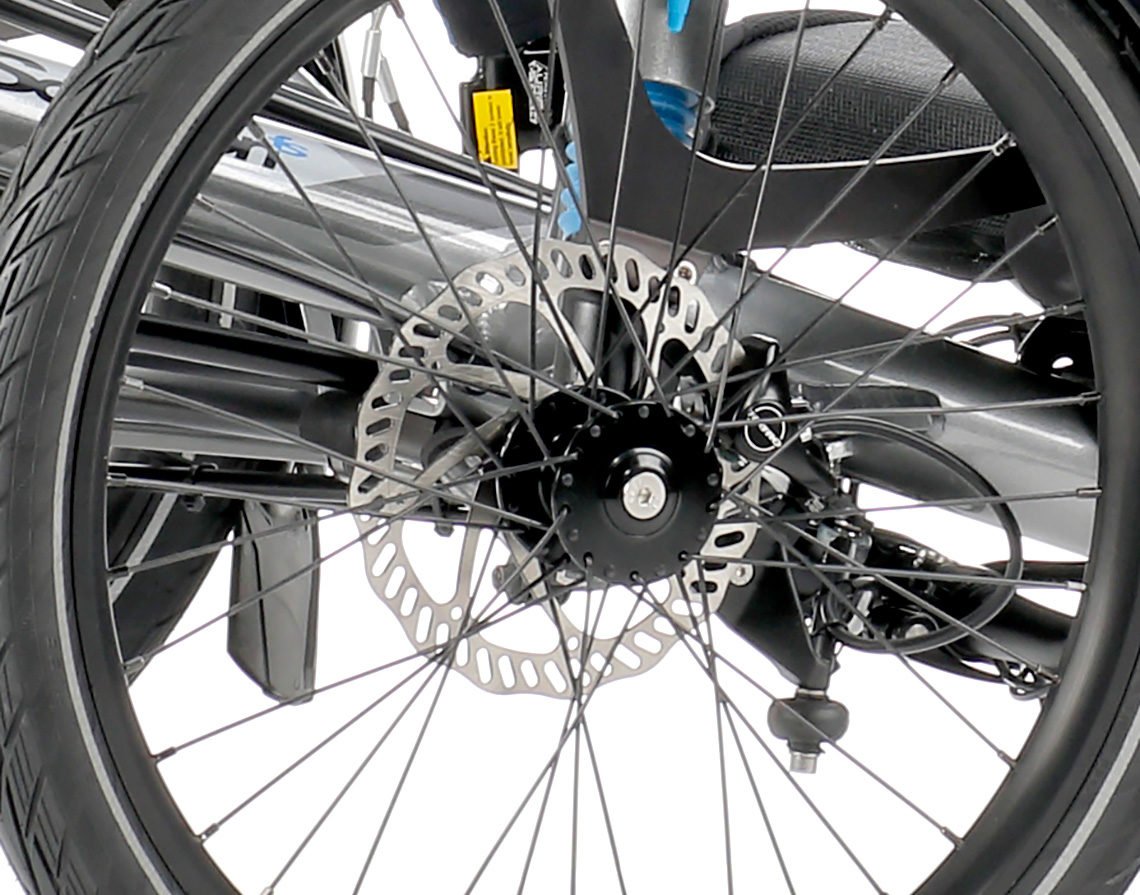 Disc Brakes
Due to the low center of gravity and the long wheelbase, the Scorpion fs 26 S-Pedelec handles excellent even when braking hard. The standard coupled, hydraulic disc brakes ensure maximum braking power even in bad weather conditions.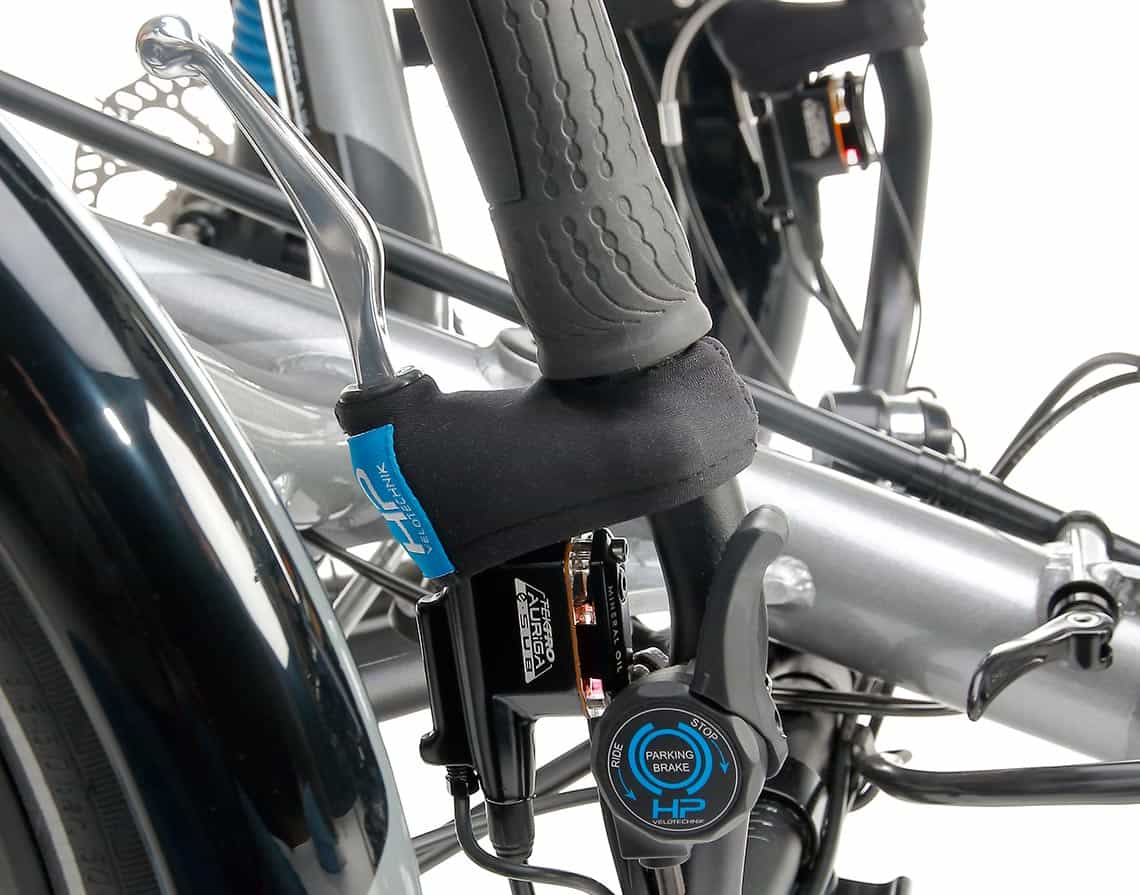 Oil level indicator
Since model year 2018, a level indicator glass on each brake lever indicates the level of the brake fluid.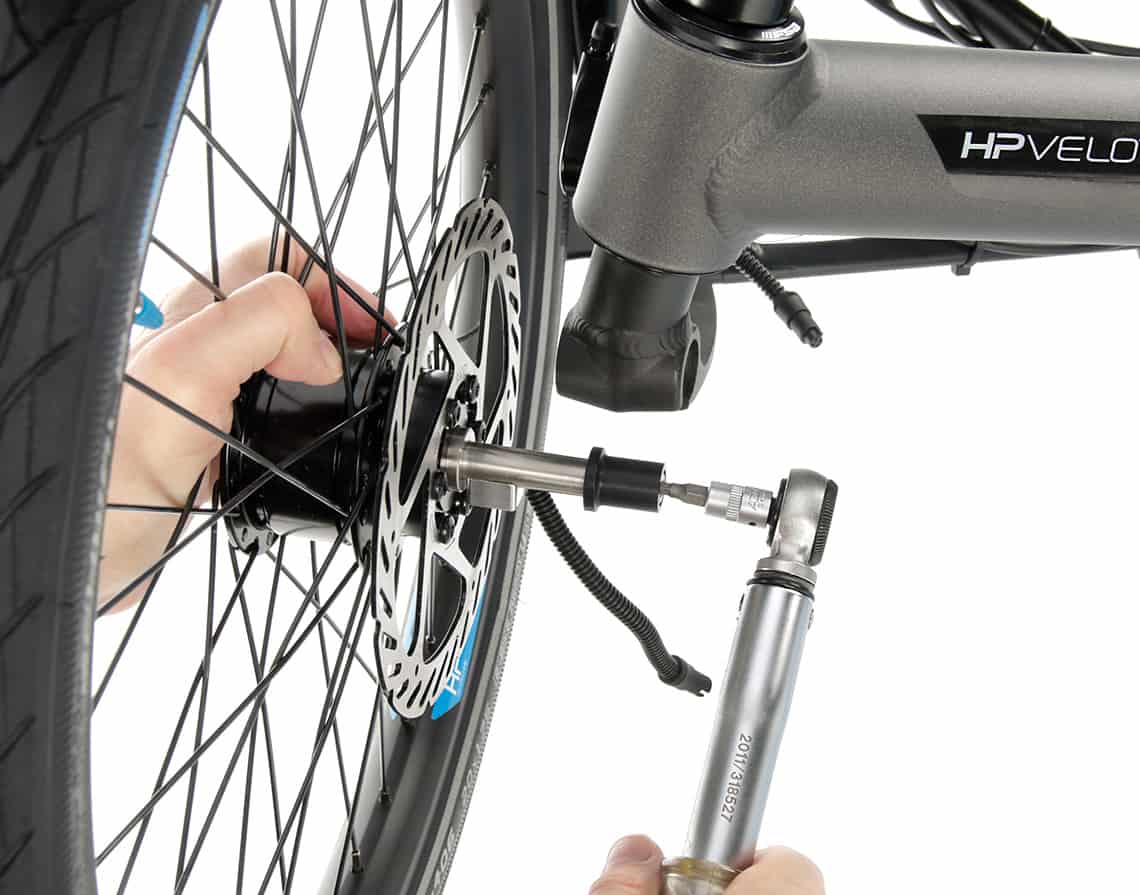 Easy wheel removal
Easy to transport: HP Velotechnik has developed open wheel mounts that allow the front wheels to be easily detached together with the brake disc by loosening just one bolt (HP Performance hubs are standard on Scorpions).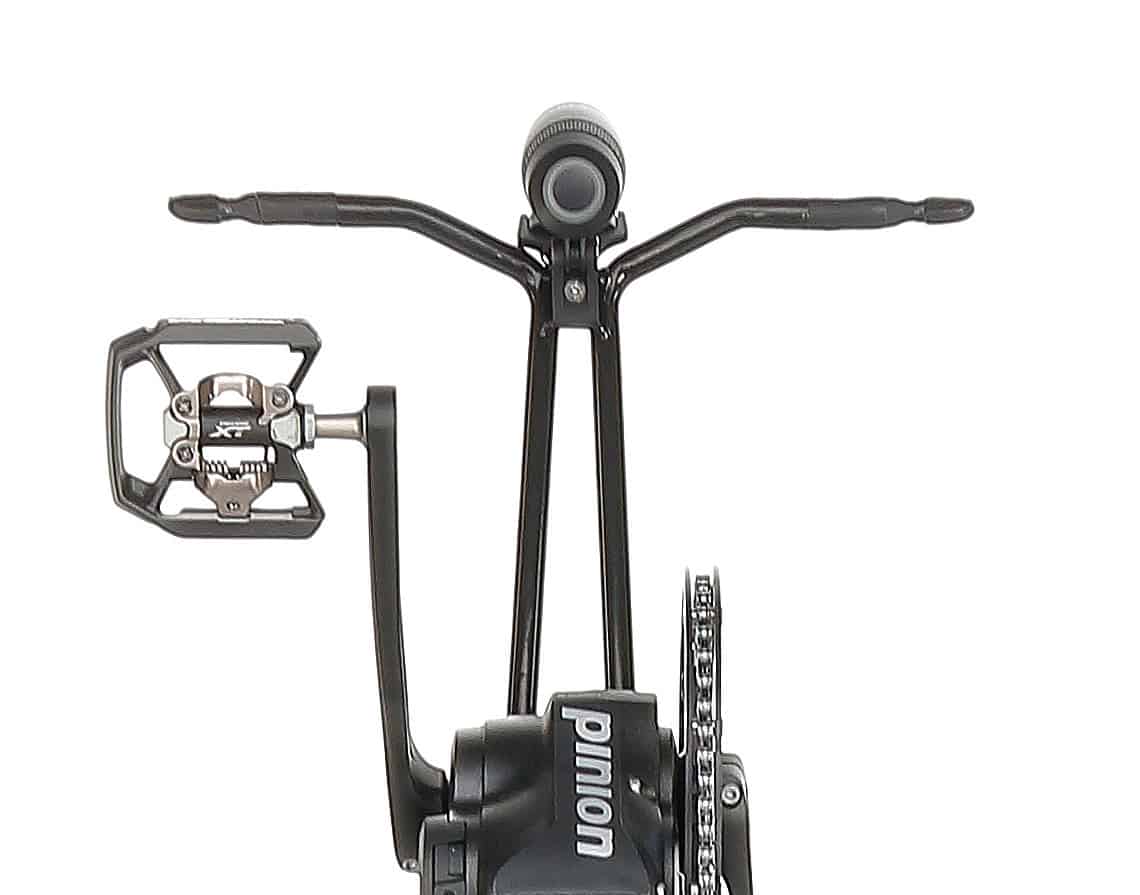 Indicator lights
All trikes with electric drive can have a further safety and comfort option with our WingBling indicator light set. Due to the changes in the European road vehicle legislation this year, these are now standard on our Scorpion FS 26 S-Pedelec. The rider's hands can safely remain on the handlebars while signaling a turn and can concentrate on turning and braking.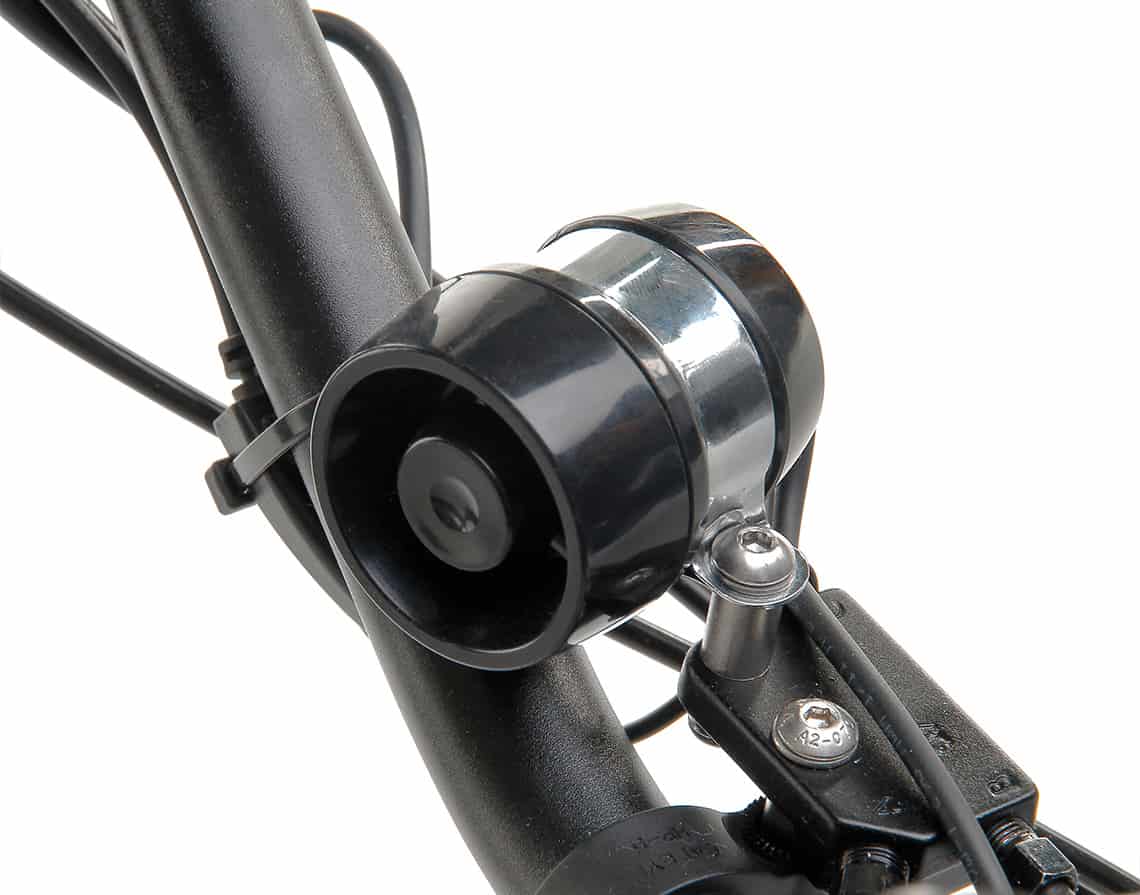 Electric Horn
Our S-Pedelec also comes with an electric horn instead of the usual bell for bicycles. Here as well, the rider's hands remain in contact with the handlebars while using the horn. Even in heavy, urban traffic, the loud acoustic warning allows the HP Velotechnik trike to become a more noticeable partner in the traffic flow. A positive safety plus!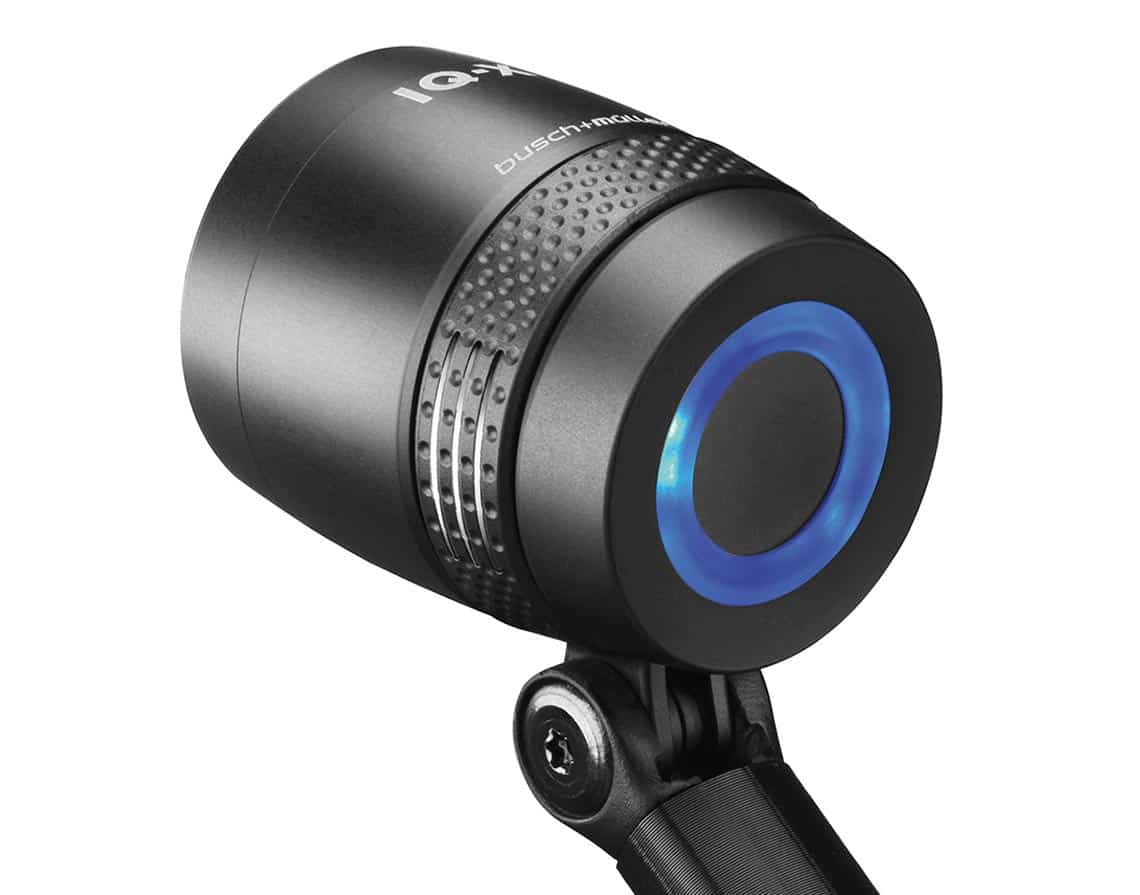 Strong Front Light
The powerful IQ-X E headlamp from Busch + Müller offers more safety through visibility and visibility. Impressive 150 lux and a perfectly tuned light field illuminate the route optimally and at the same time ensure that you are highly visible without blinding other road users.
Optional Features for True Individuals
Have you got your own notion of your ideal bicycle technology? Our modular system enables us to build your recumbent tricycle to meet your needs and desires. A whole range of reliable features and components is available for your high speed recumbent pedelec trike, all of which have been specially developed to excel in everyday use. Here we show some selected examples; you will find the complete selection in our price lists and catalogs as well as our online configurator.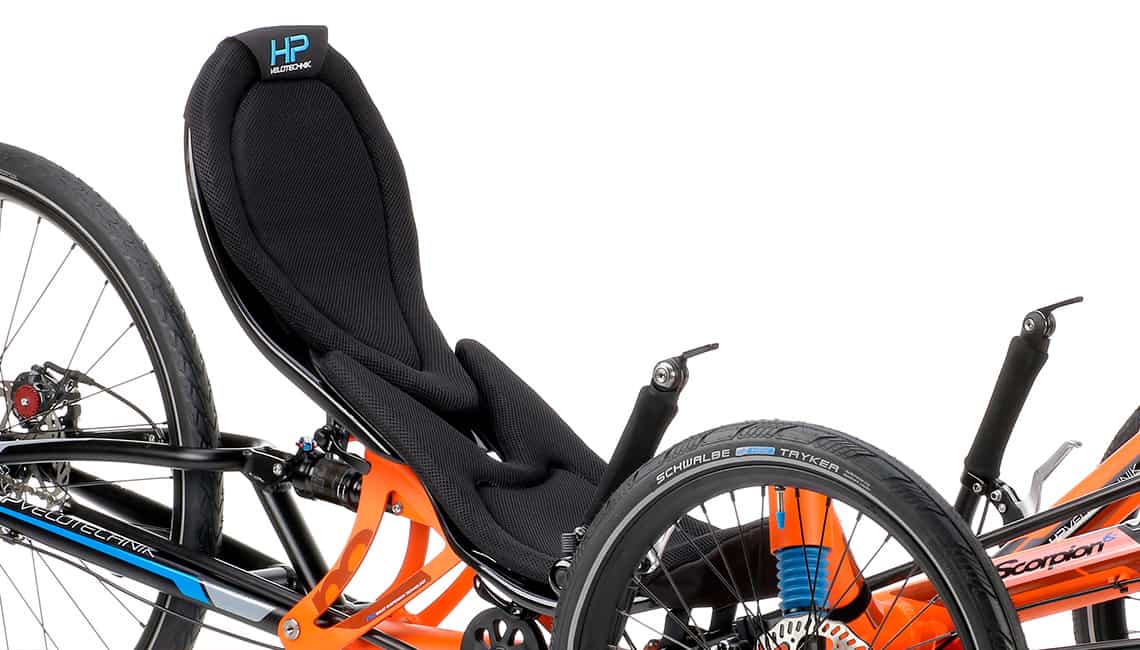 BodyLink-Seat
The
HP Velotechnik seat systems
provide an exemplary ergonomic connection at the key interface between the rider and the trike. With the adjustable
BodyLink
hard shell seat, the lower seat shell offers excellent side support, while the upper seatback gives enough freedom for you to lean dynamically into the curve when cornering. Waterproof seat pad cushion made of EVA foam or breathable
Airflow seat cushion
(multi-layer system).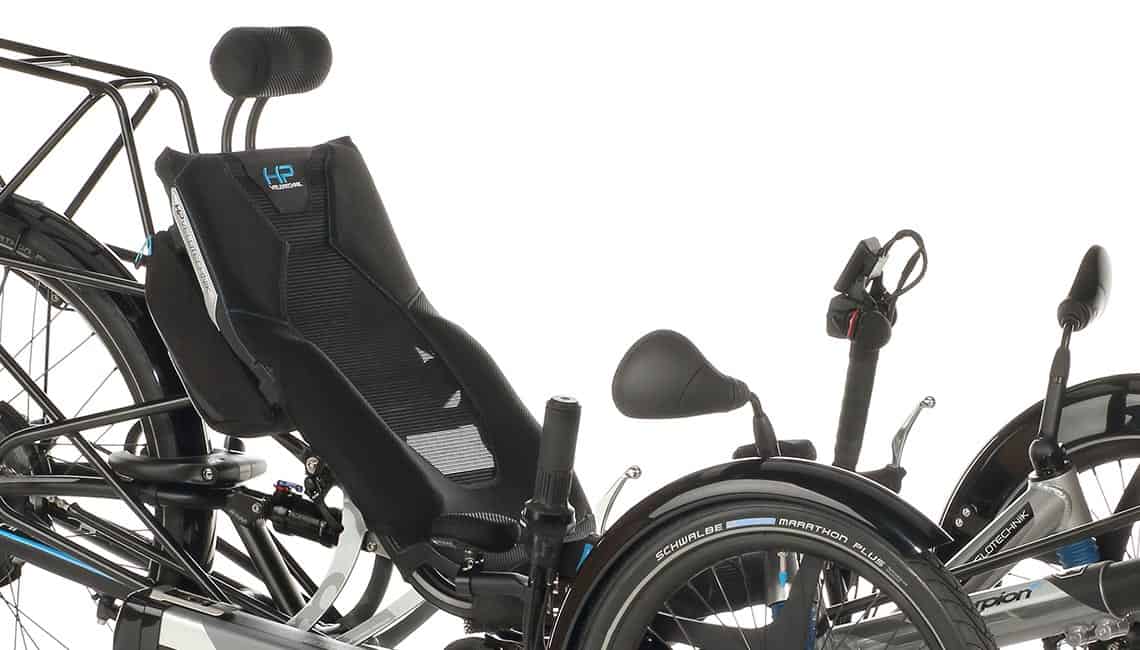 ErgoMesh-Seat
Alternatively, you can mount the airy ErgoMesh mesh seat. It has anatomically-shaped side cushioning for extra support when cornering and a practical zipper pocket in the backrest. Safety plus: Reflective strips on the seat sides. Both seat systems fit the same frame mounts and are thus interchangeable. They can also be removed entirely in 15 seconds a practical feature when it is raining, or you want to put your recumbent bicycle into your car. The ErgoMesh seat gives you a 3 cm higher sitting position than the BodyLink seat.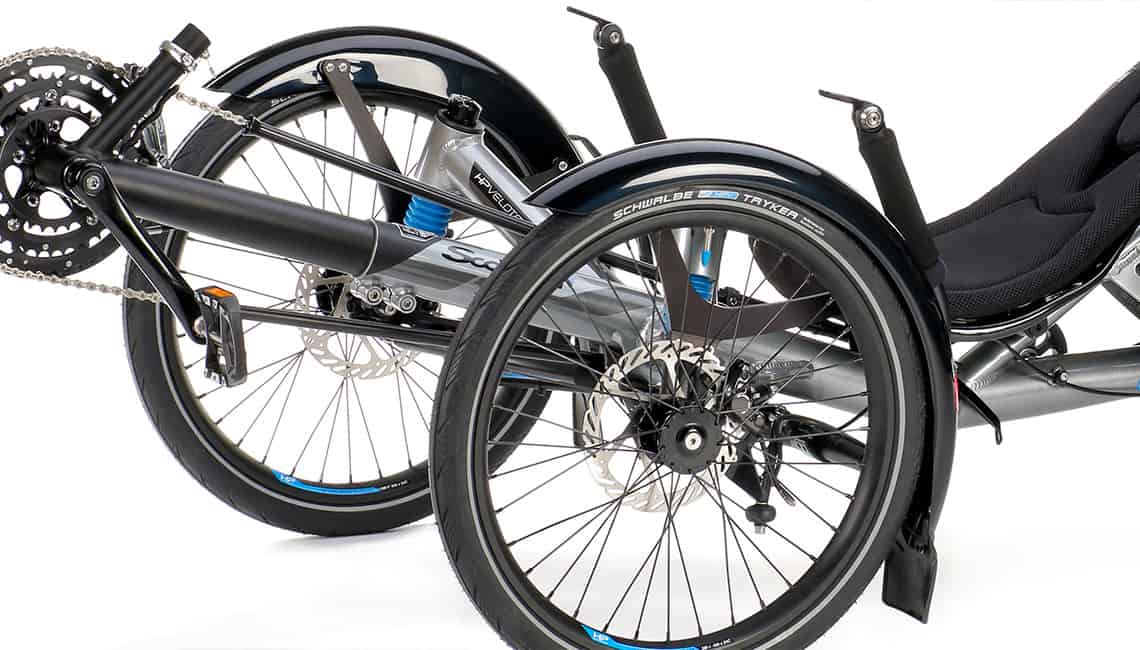 Fenders / Mudguards
Functional fenders: The HP Velotechnik trike fenders offer excellent rider protection against spray from the rear and in particular, from the side. HP Velotechnik enlarged the inside facing part to improve the spray protection to the driver, especially when cornering. Elegant mounting hardware located on the inside of the fender with height adjustment. The rounded shape of the fenders with 60 mm / 2.36" width allows the installation of large-volume, comfortable tires up to 50 mm / 2" width.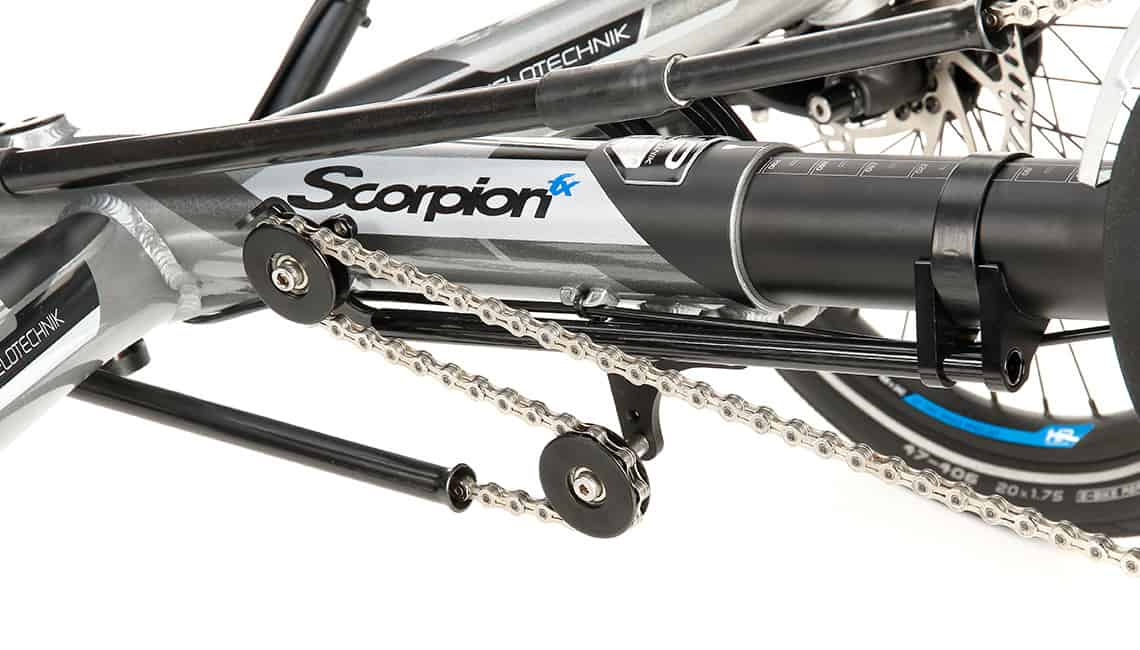 Front Boom Quick Adjust
The optional quick frame adjustment with quick-release levers can be used to adapt the bike to different leg lengths quickly. By pushing in the boom tube, you can also make your Scorpion fs 26 S-Pedelec even more compact for transport.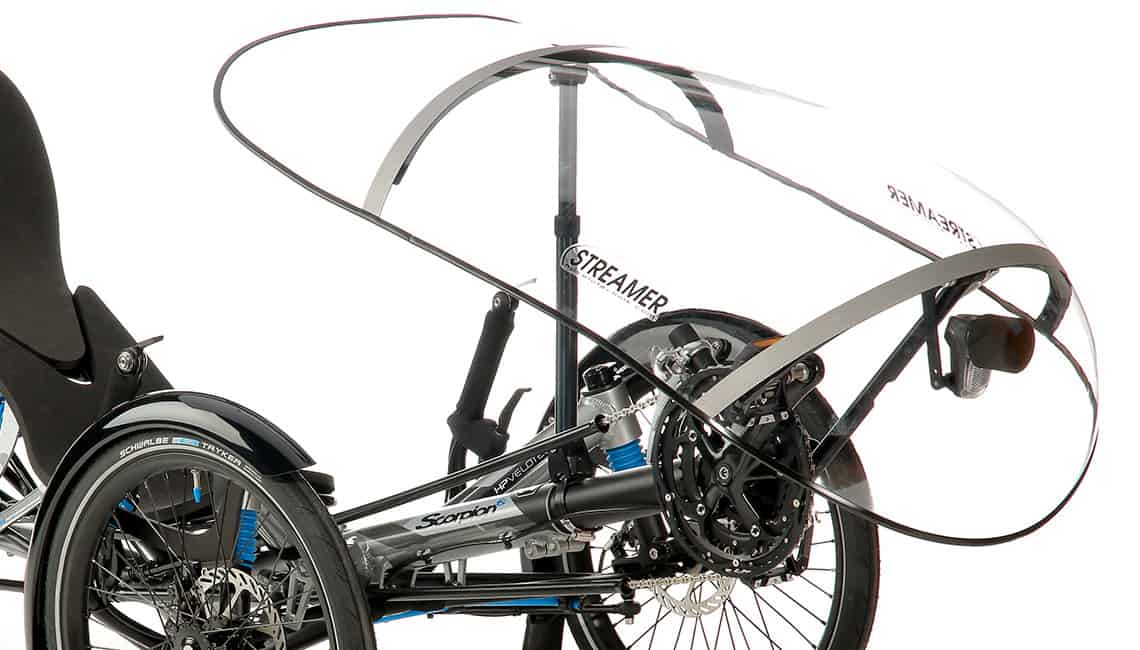 Weather Protection Gear
The
Streamer
front fairing from HP Velotechnik keeps your feet warm and legs dry. The fairing can be easily removed using the quick-release lever and rolled up for transport.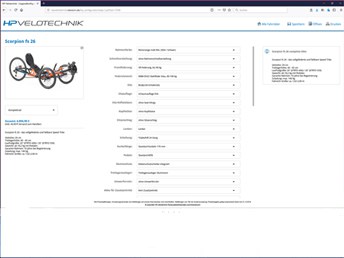 Fast, convenient, and informative: Selecting the components of your fast electric trike is easy with our online configurator. Choose to your heart's content from our versatile modular systems!
Specifications and Technical Data
The outstanding ride of the fast electric trike Scorpion plus 26 S-Pedelec is the result of thoroughly engineered performance technology with precise technical specifications. The detailed figures can be found here in the technical data sheet – from the dimensions to the payload, from the seat height to the appropriate rider size. And of course, we are also happy to show you which colors you can choose for your Scorpion fs 26 S-Pedelec.
Seat hight BodyLink: 29 cm (12")
Seat height ErgoMesh: 32 cm (13")
Seat angle: 41–49° adjustable
Wheel size (front wheel): 20" (ISO 406)
Wheel size (rear wheel): 26" (ISO 559)
Max. tire width: 5 cm (2")
Bottom bracket height: 40–45 cm (16–18")
Ground clearance: 12 cm (5", statically compressed)
Wheelbase: 128 cm (51")
Track width: 78 cm (31")
Width: 83 cm (33")
Length: 187–231 cm (74–91")
Turning circle: 5.51 m (18') outward
Faltmaß: 123 × 83 × 62 cm Folded size: 123 × 83 × 62 cm (49 x 33 x 25")
Dismantled size: 93 × 74 × 54 cm (37 x 29 x 22")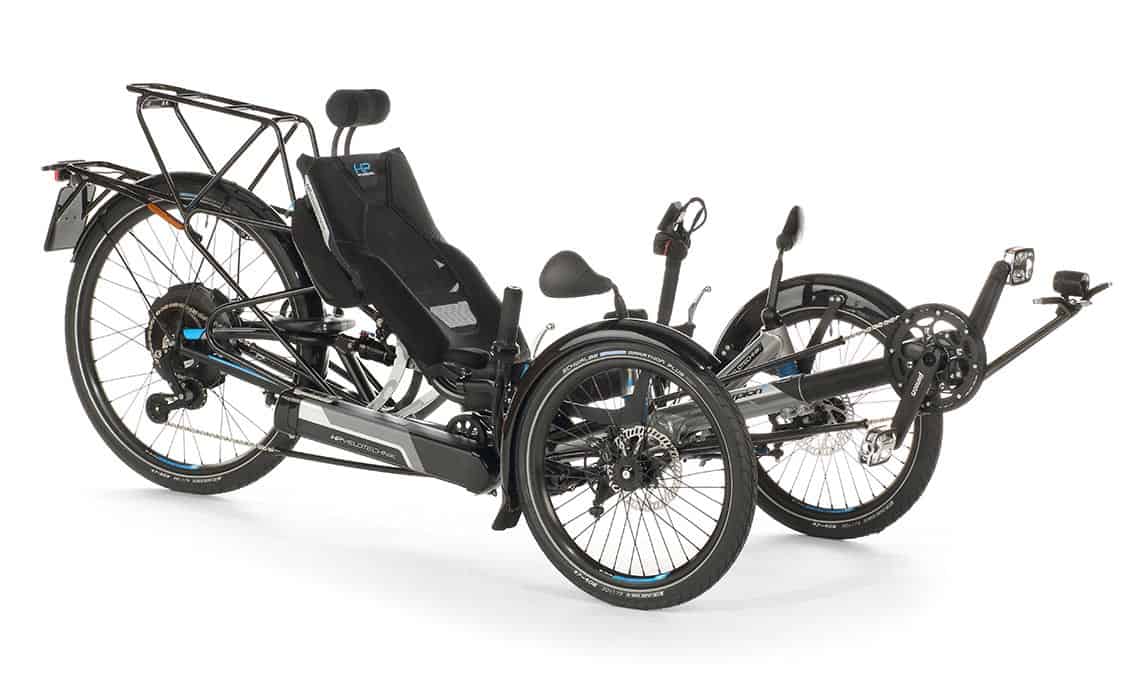 Standard color: Cool grey metallic / swing arm Black
Standard color: Pure orange matt RAL 2004 / swing arm Black (Picture shows sister model Scorpion fs 26)
Give your bike a personal touch: On request, you can have the frame of your HP Velotechnik recumbent bike powder-coated with a custom color completely to your personal taste. You can choose from hundreds of color shades:
Bottom bracket standard: BSA 68 mm
Suspension travel: front 6 cm (2.4") / rear 8 cm (3.1")
Weight: from 37 kg (82 lbs) incl. pedals
Payload: max. 140 kg (309 lbs)
Frame material: Aluminum 7005 T6 heat treated
Swing arm bearing: maintenance-free
Rider height: ca. 1.62 – 2.00 m (5'4" – 6'7")
We are committed to the quality of our products. Therefore we grant a guarantee of 10 years on the frame and the swing arm bearing of our bikes and trikes. For further information, please have a look at our warranty conditions.
They Even Have a catalog? This Is Getting Better and Better!
You will find all the details about the Scorpion fs 26 S-Pedelec recumbent e-bike in our detailed and richly illustrated Scorpion tricycle catalog. Also, you will read lots of background information about tricycles for adults and fascinating reports about trike tours all over the world.
Even now you have the choice with us: Browse here online on our website. Or request your copy in high-quality printing form by post. So you can comfortably recline at home on your sofa and start discovering the world of recumbent bicycles – without obligation and completely free of charge.
Do you want to read more?
They Even Have a catalog? This Is Getting Better and Better!
In our detailed Scorpion tricycle catalog, you can read all the details about the fast electric trike and exciting adventures of riders on a trike.
Request your copy in a high-quality printing form right away. So you can comfortably recline at home on your sofa and start discovering the world of recumbent bicycles – without obligation and completely free of charge.
Here You Can Enjoy the Best Views
You will experience the best reasons for one of our recumbents during an extended test ride. On our website, we can only describe to you the incomparable driving feeling. True to the saying "A picture says more than 1000 words" we want to let our fast electric trike Scorpion fs 26 S-Pedelec speak for itself.
Move the mouse pointer over the image. Use the magnifying glass symbol to open the picture gallery. Alternatively, you can use the link icon to download photos in high resolution, e.g., as a desktop background – simply right-click after opening the image. You can find more high-resolution pictures in our album about Scorpion fs 26 S-Pedelec on Google Photos.
Frequently Asked Questions
All Right, Enough Theory, How Do I Get on The Sporty Tadpole Trike?
A Scorpion fs 26 S-Pedelec is waiting for your test drive at these dealers near you. With the "Advanced Search" you can, of course, also search for other models. Click on the dealer for the details and your desired date for an individual consultation.
The Scorpion Family at a Glance
Are you looking for the complete trike selection from HP Velotechnik?