The sporty foldable touring trike
A Great Trike to Get You Moving Fast
Gekko fx 26: Unfolds a Great Deal of Triking Pleasure
The smooth performance of the large 26 inch rear wheel in this trike is outstanding. Once you have experienced this, you probably won't want to miss this feeling anymore. The long wheelbase ensures a smooth, yet dynamic performance. And yet the large-wheel-version of HP Velotechnik's foldable Gekko recumbent trike remains remarkably handy: all parts stay on the trike when you fold it. Which means: In 10 seconds your trike can be folded up to car boot size with ease!
A focus on sporty riding dynamics – or most importantly a reliable travel companion? You can choose for yourself: The Gekko fx 26 is as versatile as all recumbent bikes and trikes designed by the the expert engineers at HP Velotechnik's headquarters in Kriftel, Germany. Whether you' re looking for purist high-speed maneuvers on a lightweight recumbent trike or want fenders, luggage racks and comfort options: You choose – and we build your dream trike!
26 Inch Drive Wheel for Dynamic Propulsion
The large 26 inch rear wheel gives the Gekko fx 26 a significant boost in dynamic propulsion. The advantages of this chassis design are clear: the long wheelbase and the powerful drive wheel behind the cockpit deliver a noticeably more comfortable triking experience. Key points are smooth running, less rolling resistance and easy-rolling over obstacles.
Impressive: the elegant notchback. The frame's powerful, curved seat stay appears to transfer the power directly into the pilot seat of this trike. The long wheelbase in combination with the dynamically swept forward cross members give the large Gekko fx 26 it's own prominent language of design.
The sturdy smooth-running wheels are optimized for the high side forces on the tricycle. The black anodized HP Velotechnik tricycle rims with rugged aero hollow section combine excellent directional stability, maximum lateral stiffness and low weight for quick acceleration. Further highlights are our hubs with maintenance-free, sealed precision ball bearings and stainless steel spokes.
Wider is better: The wider the track width, the higher is the tilt stability and the faster your trike is when cornering. For this purpose the broad track of 78 cm (30¾") of the Gekko fx 26 provides a lot of room between the wheels for your hands on the wide handlebars, allowing a much wider steering angle for a small turning circle. To enable your fast foldable touring trike to slip casually through doors and gates, HP Velotechnik has developed narrow hubs for a low total width of only 83 cm (32¾").
Top Virtues of the Gekko fx 26
Unfolds Pure Driving Pleasure
Trike Technology Hotspots for Your Comfort
Although the fast touring trike Gekko fx 26 comes with a big rear wheel, you can fold it small, just like its little brother with the 20 inch rear wheel. In no time at all. A practiced trike rider will take only 10 seconds to fold his vehicle to a size of 107 x 83 x 58 cm (32 x 23 x 42″)
Thanks to HP Velotechnik's patented Dual Flat Fold System (D.F.F.) no parts have to be dismantled. Not even if you have chosen to equip your trike the optional electric motor and battery.
The pedal position, which is significantly higher than the seat, ensures efficient power transmission. Together with the adjustable flat seat angle for a streamlined position, it emphasizes the sporty appeal of your Gekko fx 26. Of course, this is also reflected in the other technical details!
Custom CSS for Advanced Carousel - Do not delete
Your foldable touring trike Gekko fx 26 has these technical refinements on board as standard.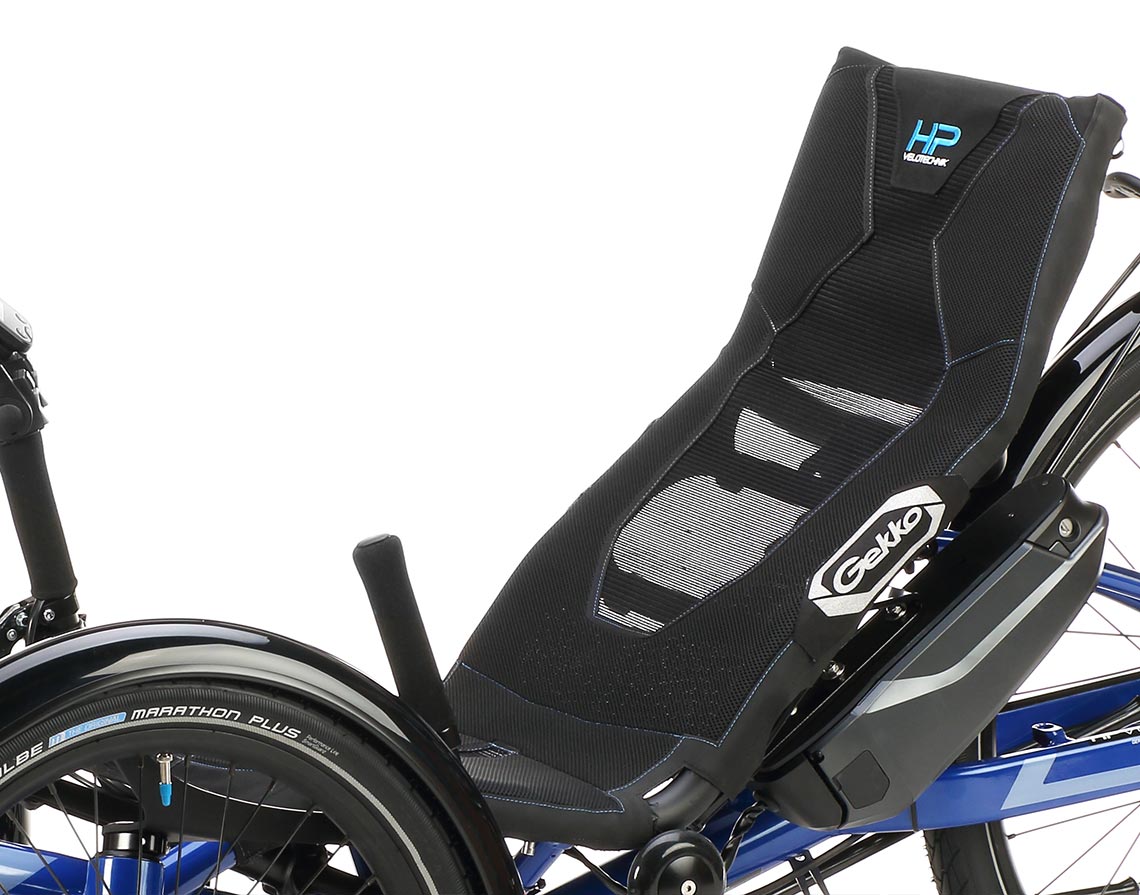 Ergonomic seat
The HP Velotechnik seat system creates an exemplary ergonomic connection at the main interface between the rider and the trike. The well-ventilated mesh seat of the Gekko fx 26 is integrated in the frame structure for maximum stability. The seat features an anatomically shaped, adjustable reclining backrest and a handy zippered pocket for your important little things.
Robust Folding Hinge
Double safety: The robust folding hinge has a locking bolt that unlocks against spring pressure after opening the quick release. The sturdy folding joint has a safety bolt that is unlocked against spring pressure after the quick release is disengaged. Stainless steel precision folding axis from HP Velotechnik.
Ergonomic Handlebars
Comfortably-positioned ergo-bars beneath the seat relieve the strain from your wrists and neck muscles. HP Velotechnik's tried and tested steering geometry combines smooth directional stability with impressive maneuverability. Solid bearing with adjustable cartridge headset on the handlebar and maintenance-free sealed joint heads on the tie rods. The lightweight, high strength knuckles are forged and CNC machined for maximum tracking stability. They are mounted with durable, adjustable headsets rather outside on the frame.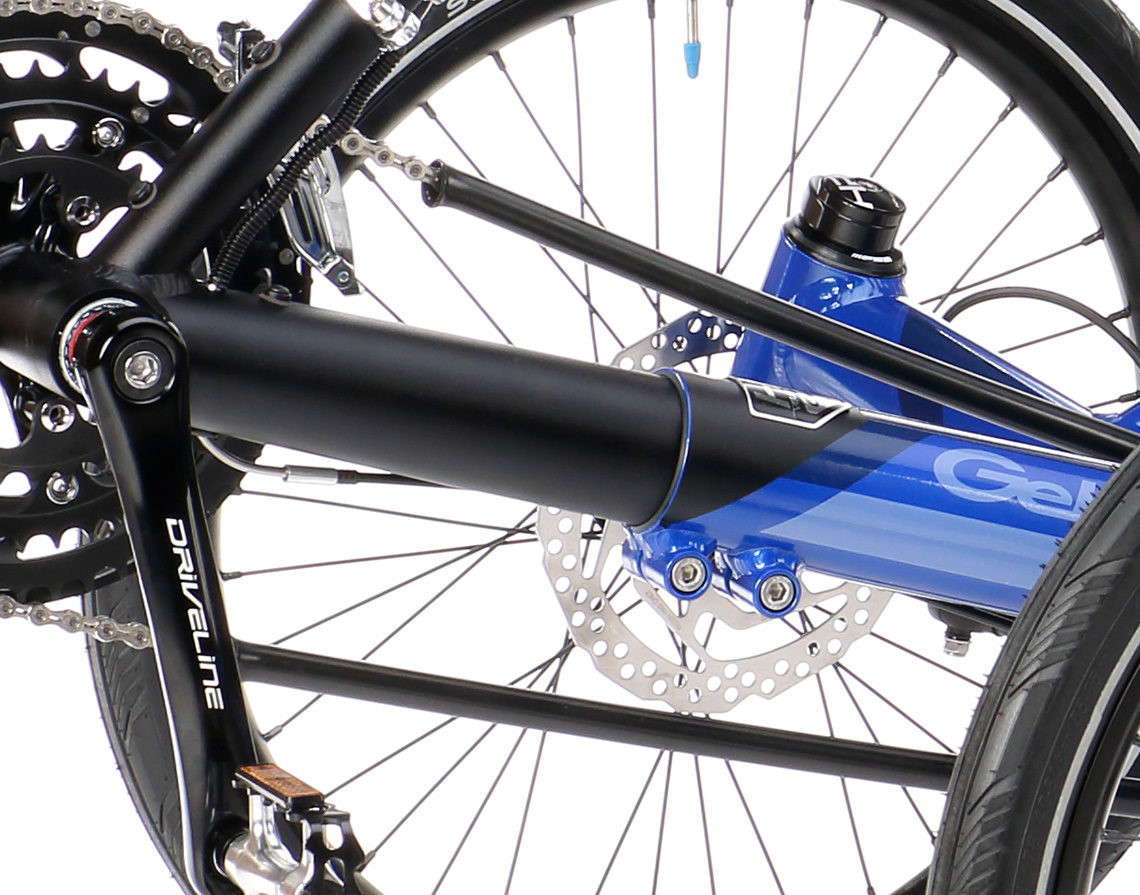 Chain Protection Tubes
Protects your clothes and the chain: The drive train is mostly covered. The unique chain tubes made from durable plastic create minimum friction for a quiet ride. The frame is adjusted to your leg length by shortening or extending the front boom in the main frame.
Disc Brakes
The Gekko fx 26 has a very safe braking action due to the low center of gravity and the long wheelbase. The standard disc brakes ensure maximum braking power even in bad weather. The front wheels are controlled separately so that you can selectively brake the inner wheel when cornering. Due to HP Velotechnik's sophisticated steering geometry, the steering is not affected by braking or sudden bumps on your trail. On request, we build your trike with mechanically or hydraulically coupled front brakes with one-hand operation and a rear disc brake.
Easy wheel removal
Easy to transport: HP Velotechnik has developed open wheel mounts that allow the front wheels to be easily detached together with the brake disc by loosening just one bolt (HP Performance hubs are standard on Scorpions).
Optional Features for True Individuals
Have you got your own notion of your ideal bicycle technology? Our modular system enables us to build your recumbent tricycle to meet your needs and desires. A whole range of reliable features and components is available for your recumbent trike, all of which have been specially developed to excel in everyday use. Here we show some selected examples; you will find the complete selection in our price lists and catalogs as well as our online configurator.
Front Boom Quick Adjust
To adjust the frame to your leg length, you can slide the front boom into or out of the main frame after loosening the two clamping bolts under the main frame. With the optional Quick frame adjustment, the length can be adjusted more quickly. The change in chain length is compensated by smooth-running idler pulleys. By sliding in the front boom during transport, your Gekko fx 26 gets even more compact.
Rear Rack
This optional stable luggage rack is made of 10 mm tube and carries up to 25 kg (55 lbs). Your panniers are kept at a safe distance from the rear wheel by the 2-braced construction. Practical detail: Protective bracket for the tail light with plastic coating. When folding, the carrier remains firmly attached to the frame.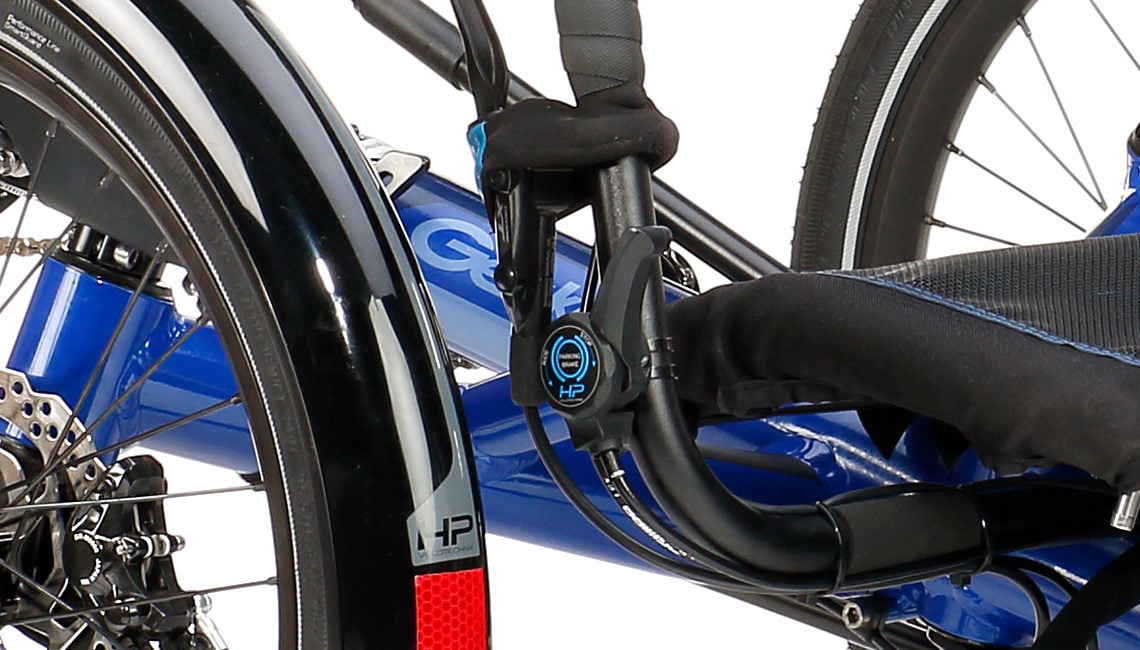 Parking Brake
As a parking brake, we can install a V-brake on the rear wheel. It is operated by a thumb lever at the handlebar.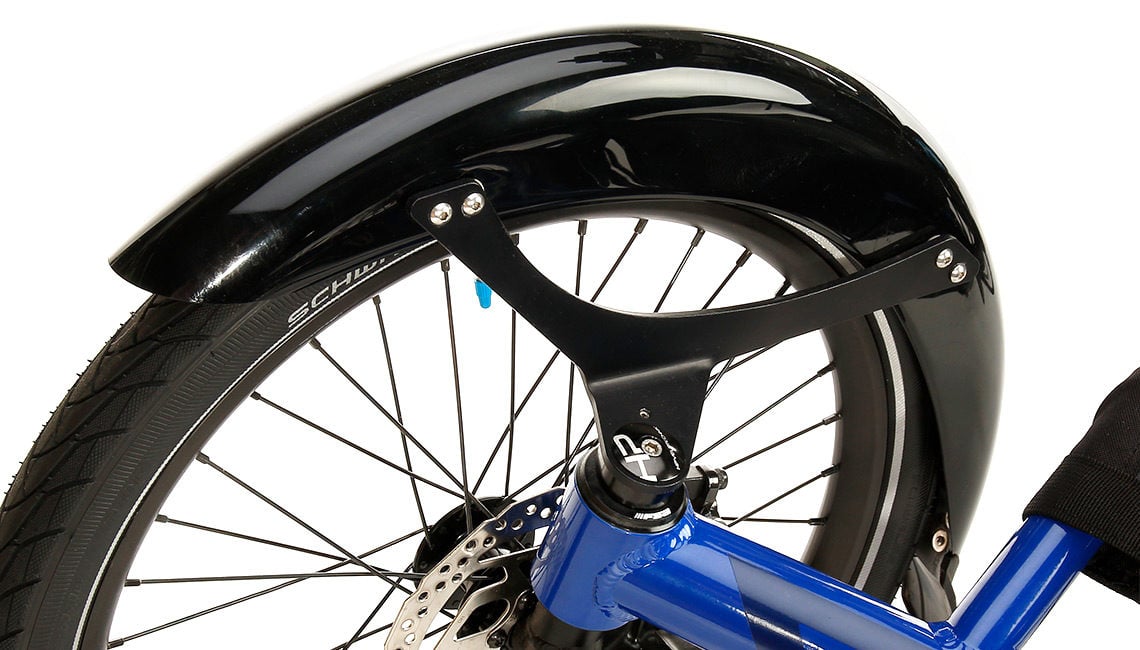 Fenders / Mudguards
Functional mudguards: HP Velotechnik's Trikefender offers excellent splash protection to the rear and especially to the side of the rider. The inside edge of the robust plastic mudguards is extended far down. Elegant internal mounting with height adjustment for tires up to 50 mm (2").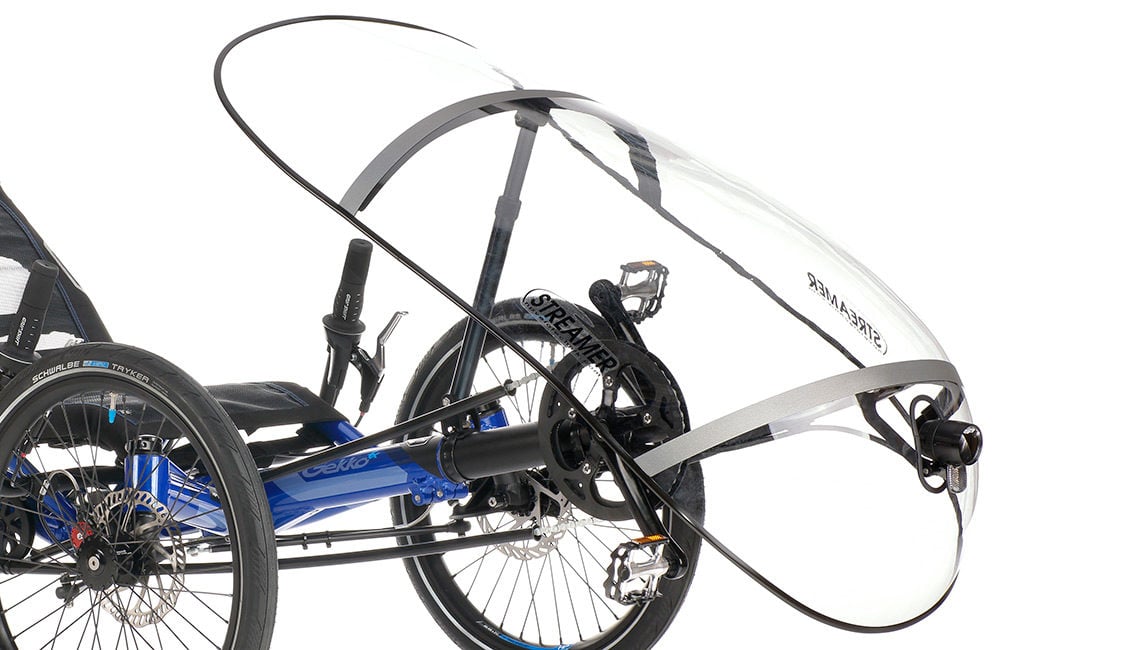 Weather Protection Gear
The
Streamer
front fairing from HP Velotechnik keeps your feet warm and legs dry. The fairing can be easily removed using the quick-release lever and rolled up for transport.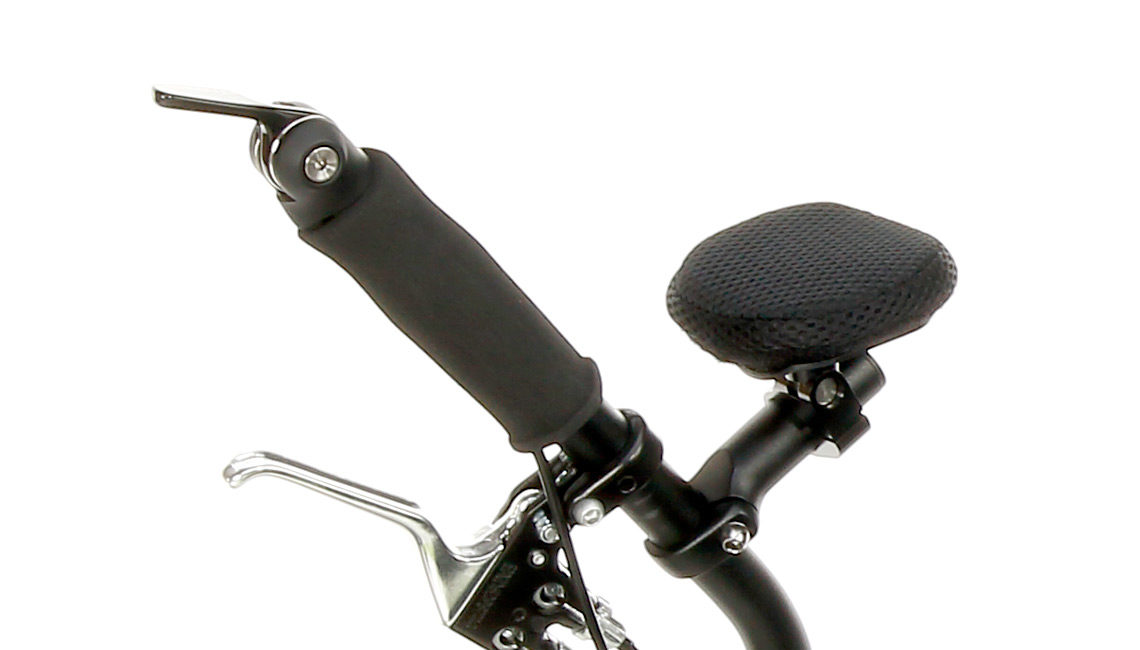 Hand rest
A real boost to comfort for all trike riders. The hands easily guide the handlebars without the need for strenuous holding effort on the handlebar grip. The comfortably padded hand rests can be individually adjusted in angle and inclination. It is also available as a version with hand fixation – ideal to complement the one-hand operation of brake and gearshift.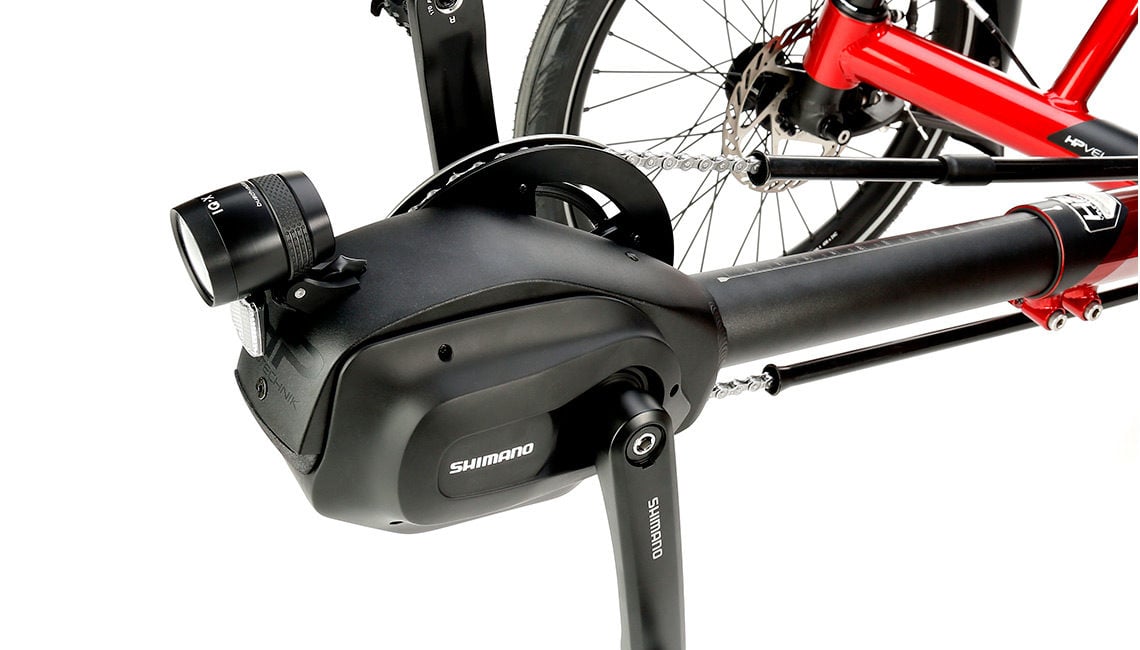 Electric Power-Assist
Do you offer
electric drive assistance
? Certainly, we do – this is another domain of our trikes! HP Velotechnik can optionally equip all vehicles with a powerful electric motor. More and more people discover the easy way of riding an HP Velotechnik trike while sitting laid back in absolute comfort. No other type of bicycle fits electric motors as perfectly as recumbent trikes. Why is obvious: The ease of pedaling and the ergonomic sitting position make the ride even more pleasant. The built-in aerodynamic advantage of your recumbent trike can also be exploited electrically: less drag means more range. The e-assist system integrates elegantly into the trike's design. This applies not only to the hub motor in the rear wheel or the bottom bracket motor but also to the control unit on the handlebar and the battery.
Exclusive Offers for US Customers​
Gekko fx 26 in Performance or Comfort Setup
+++++ Gekko US models currently not available. Gekko 26 expected to be available again from Spring 2022, Gekko fx models from end of 2022. +++++
Smiles for everyone: The US-Edition Gekko models not only combine HP Velotechnik quality with an attractive price but also give you several feature-packed setup levels to choose from. To top it all off and set you smiling and riding as soon as possible, we keep these US models ready for immediate shipping with our logistic partners in the USA.
Three configurations were carefully selected to meet the specific preferences of American recumbent enthusiasts. You can choose between sport-oriented, performance-driven or comfort-focused components for our US Gekkos.
Veterans looking for independence, well-being, and quality of life should get in contact with their local VA Medical Center. Learn about possible funding and opportunities for health and healing through adaptive sports with an HP Velotechnik trike!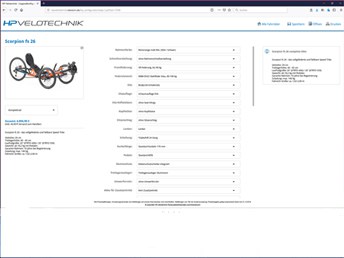 Fast, convenient, and informative: Selecting the components of your trike is easy with our online configurator. Choose to your heart's content from our versatile modular systems!
Specifications and Technical Data
The outstanding ride of our nimble tadpole trike is of course based on thoroughly engineered performance technology with precise technical specifications. The detailed figures can be found here in the technical data sheet – from the dimensions to the payload, from the seat height to the appropriate rider size. And of course, we are also happy to show you which colors you can choose for your Gekko fx 26.
Seat height: 35 cm (13.7")
Seat angle: 39–47°
Wheel size (front wheel): 20" (ISO 406)
Wheel size (rear wheel): 26" (ISO 559)
Max. tire width: 5 cm (2")
Bottom bracket height: 38–48 cm (15 – 19")
Ground clearance: 13 cm (5 1/8")
Wheelbase: 114 cm (45")
Track width: 78 cm (31")
Width: 83 cm (33")
Length: 187–219 cm (73–86")
Turning circle: 4,65 m (15¼´) outward
Folding size: 107 × 83 × 58 cm (32 x 23 x 42")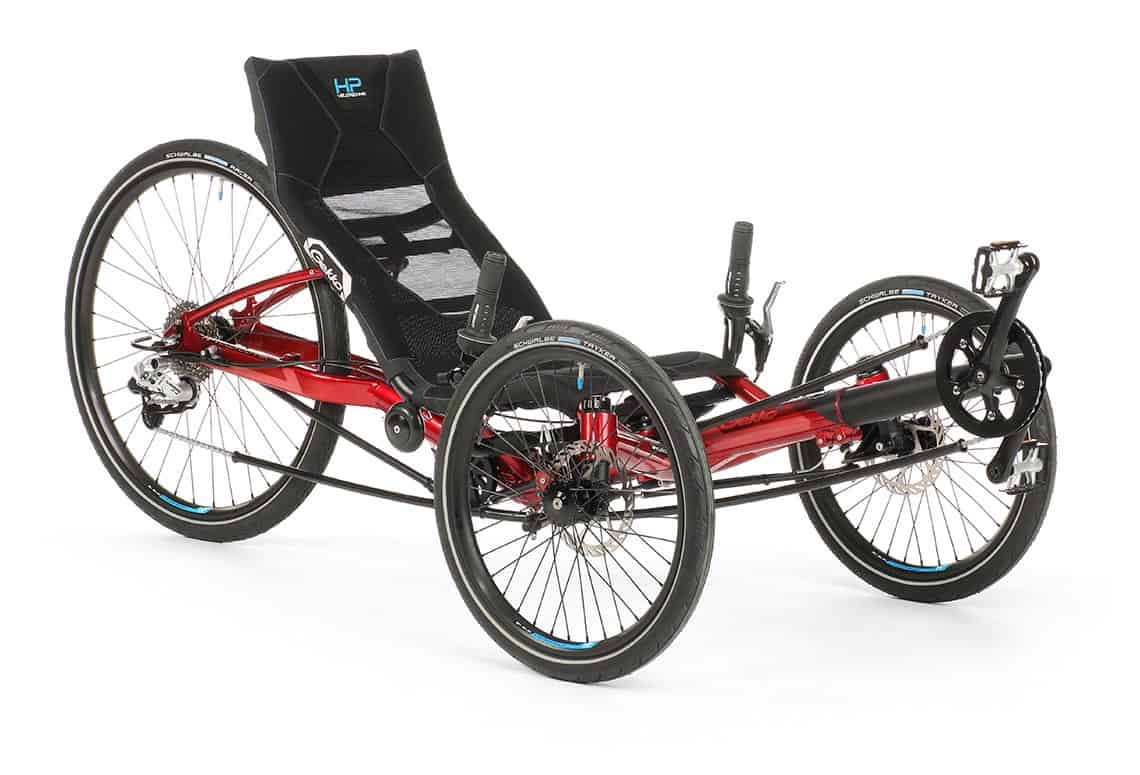 Standard color: Magma red
Standard color: Deep blue
Give your bike a personal touch: On request, you can have the frame of your HP Velotechnik recumbent bike powder-coated with a custom color completely to your personal taste. You can choose from hundreds of color shades:
An overview and further information about our custom colors can be found in our color chart.
Bottom bracket standard: BSA 68 mm
Weight: from 16,7 kg (39 lbs) incl. pedals
Payload: max. 130 kg (286 lbs)
Frame material: Aluminum 7005 T6 heat treated
Rider height: ca. 1,60 – 2,00 m (5'3"– 6'6")
We are committed to the quality of our products. Therefore we grant a guarantee of 10 years on the frame and the swing arm bearing of our bikes and trikes. For further information, please have a look at our warranty conditions.
They Even Have a catalog? This Is Getting Better and Better!
You will find all the details about the Gekko fx 26 in our detailed and richly illustrated Gekko tricycle catalog. In addition, you will read lots of background information about tricycles for adults and the recumbent bike manufacturer HP Velotechnik.
Even now you have the choice with us: Browse here online on our website. Or request your copy in high-quality printing form by post. So you can comfortably recline at home on your sofa and start discovering the world of recumbent bicycles – without obligation and completely free of charge.
Time to sit back and relax?
They Even Have a catalog? This Is Getting Better and Better!
In our detailed Gekko tricycle catalog you can read all the details about the Gekko fx 26 and lots of background information about adult tricycles from HP Velotechnik.

Request your copy in a high-quality printing form right away. So you can comfortably recline at home on your sofa and start discovering the world of recumbent bicycles – without obligation and completely free of charge.
Here You Can Enjoy the Best Views
You will experience the best reasons for one of our recumbents during an extended test ride. On our website, we can only describe to you the incomparable driving feeling. True to the saying "A picture says more than 1000 words" we want to let our fast foldable touring trike Gekko fx 26 speak for itself.
Move the mouse pointer over the image. Use the magnifying glass symbol to open the picture gallery. Alternatively, you can use the link icon to download photos in high resolution, e.g., as a desktop background – simply right-click after opening the image. You can find more high-resolution pictures in our album about Gekko fx 26 on Google Photos.
Gekko fx 26 Frequently Asked Questions
All Right, Enough Theory, How Do I Get on The Sporty Tadpole Trike?
A Gekko fx 26 is waiting for your test drive at these dealers near you. With the "Advanced Search" you can, of course, also search for other models. Click on the dealer for the details and your desired date for an individual consultation.
The Gekko Family at a Glance
Are you looking for the complete trike selection from HP Velotechnik?