The nimble fast folding trike
The Nimble Fast Folding Trike
Gekko fx 20: From Compact Size to Full Riding Pleasure in Ten Seconds
Time for a change of perspective. With the Gekko fx 20, a small change in attitude offers great new prospects. Sit back and relax in the comfortable seat. Raise your legs casually. Enjoy the panoramic view. Plenty of riding pleasure ahead of you! And the best about it: It's a folding trike.
Speeds up not only your heart rate: The Gekko fx 20 remarkably unfolds into a good deal of riding pleasure. To enable you to carry the Gekko fx 20 quite compactly wherever you'd like to go, the engineers at HP Velotechnik have equipped the foldable version of their nimble touring trike with an amazingly fast, easy-to-operate, sophisticated folding system.
Folding Trike with a Unique Twist
Particularly useful: All components remain mounted on the trike – unlike conventional folding trikes, in which the seat, wheels or rack must be removed first and transported separately All this is made possible by HP Velotechnik's patented Dual Flat Fold (D.F.F.) folding system, which uses only two quick-release levers for the Gekko fx 20. With little practice, you can fold your Gekko fx 20 into a compact size of 83 x 52 x 82 cm (32¾ x 20½ x 32 1/3″) in ten seconds.
Your advantage: After the swift folding, the package can be parked vertically to save space. So you can carry it easily in winding staircases or through train doors. On the platform, you simply wheel the folded Gekko fx 20 on its integrated transport wheels.
Cunning design: The solid frame construction of the Gekko fx 20 combines safe road holding with sporty handling, precise steering, low weight, and minimal space requirements. The frame cross member, which is bent far back and positioned close to the seat, and the robust, angle- and width-adjustable handlebar ensure easy entry and exit. In addition to innovative bicycle technology, the Gekko fx 20 also benefits from many years of tricycle construction experience of the expert engineers at HP Velotechnik. Tough and with a lot of traction, your Gekko fx 20 is your faithful companion in everyday life and when traveling.
Top Virtues of the Gekko fx 20
Out in Front for Connoisseurs
Your Gekko fx 20 Shows Ergonomics at It's Best
Finally, a cycle on which you'd like to remain seated for another round after the tour. Finally, a cycle on which you'd like to remain seated for another round after the tour. In terms of ergonomics, your folding trike Gekko fx 20 is far superior to conventional upright bikes. Instead of balancing your whole body weight on a small, hard saddle, lean back comfortably in the wide mesh seat. The incline of the anatomically shaped backrest can be variably adjusted. It offers pleasant back support and relieves your spine. Relax: You can simply forget about an aching bottom, numb private parts, aching spinal discs or a stiff neck.
To make it easy for you to get in and get out the frame cross member that connects the front wheels is bent backward in such a way that you can put your feet securely on the ground close to the seat. Smaller riders will appreciate the built-in, extra wide heel clearance of the Gekko fx 20.
In the recumbent position you spare your knees when pedaling and can systematically regulate the stress of the muscles during fitness training. The sporty pedal position of the Gekko fx 20 enables an optimal power support in the seat and gives you a streamlined, fully relaxed posture. Due to the open upper body posture, constricting pressure on the abdomen and your organs is avoided. Instead, the lungs can fully enlarge and bring your cardiovascular system to full capacity. Learn fast on the Gekko fx 20: Riding pleasure is the best heart rate accelerator!
Custom CSS for Advanced Carousel - Do not delete
Your folding trike Gekko fx 20 has these technical refinements on board as standard.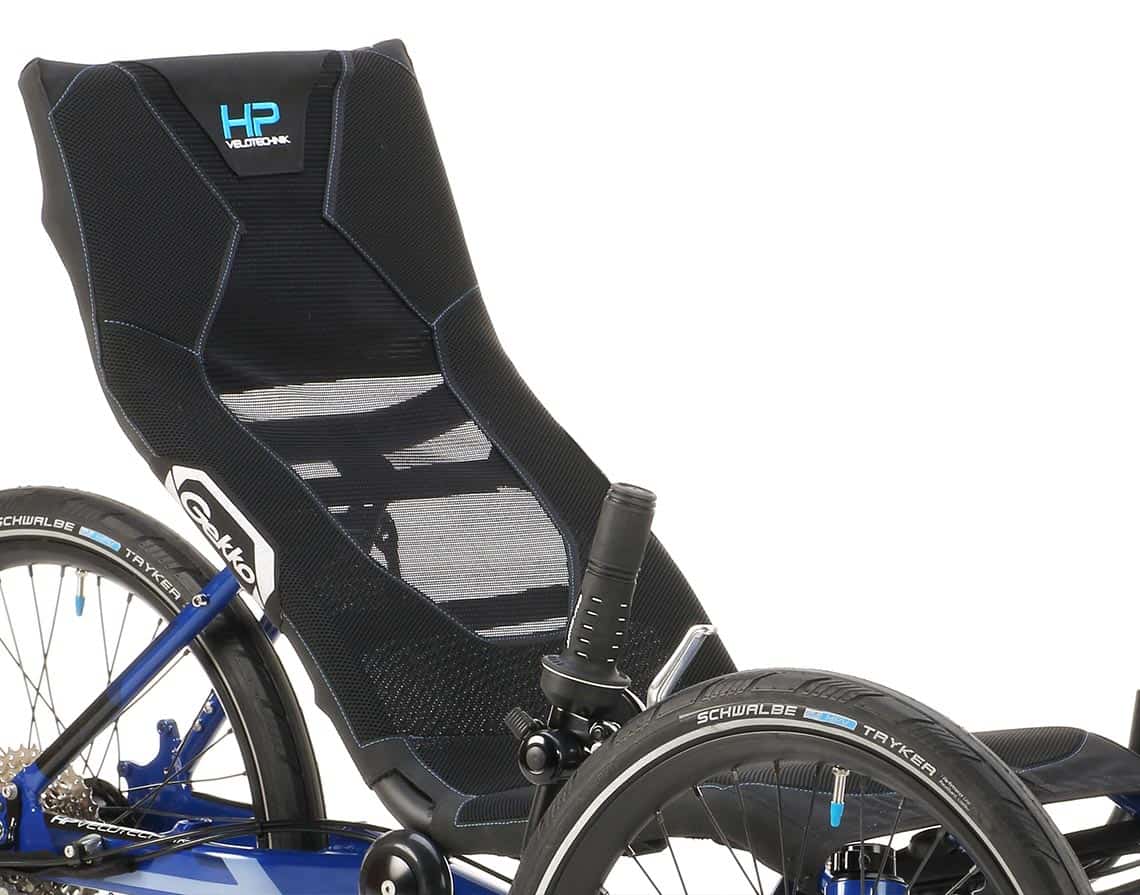 Ergonomic seat
The HP Velotechnik seat system creates an exemplary ergonomic connection at the main interface between the rider and the trike. The well-ventilated mesh seat of the Gekko fx 20 is integrated in the frame structure for maximum stability. The seat features an anatomically shaped, adjustable reclining backrest and a handy zippered pocket for your important little things.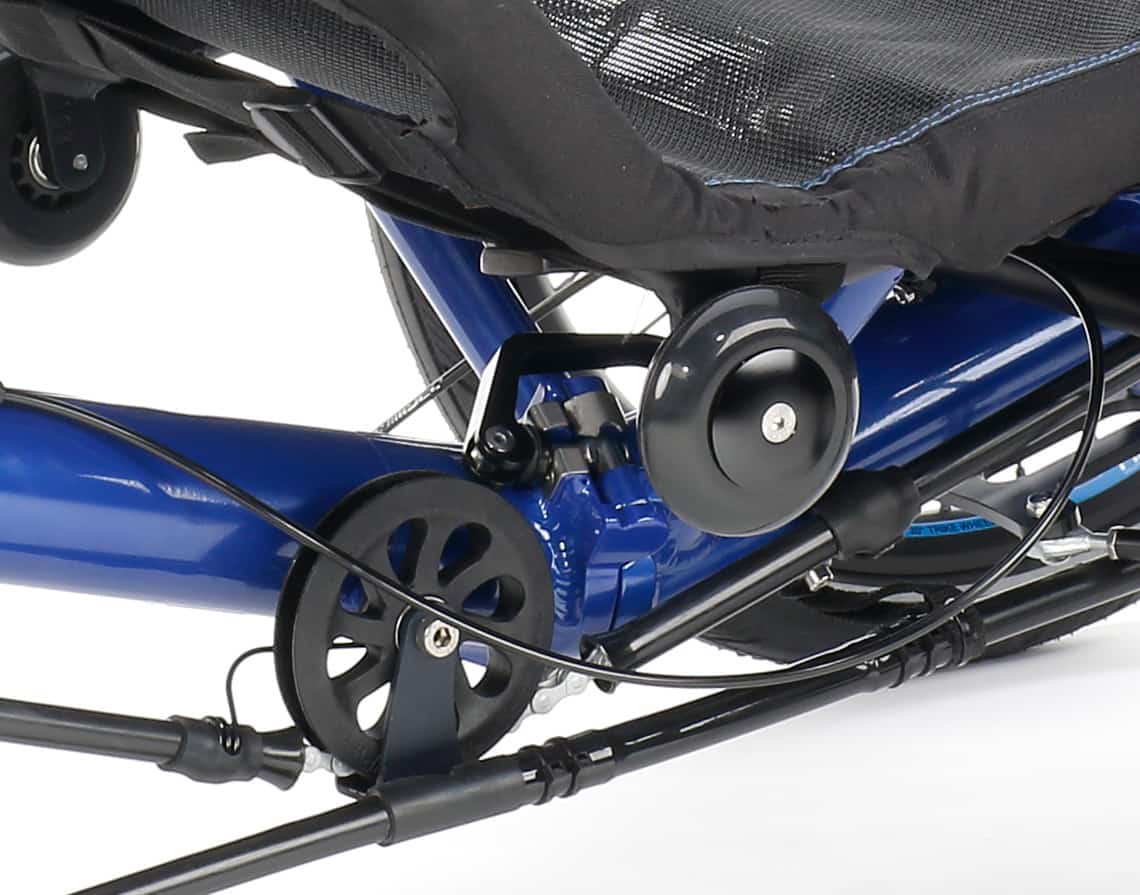 Robust Folding Hinge
Double safety: The robust folding hinge has a locking bolt that unlocks against spring pressure after opening the quick release. The sturdy folding joint has a safety bolt that is unlocked against spring pressure after the quick release is disengaged. Stainless steel precision folding axis from HP Velotechnik.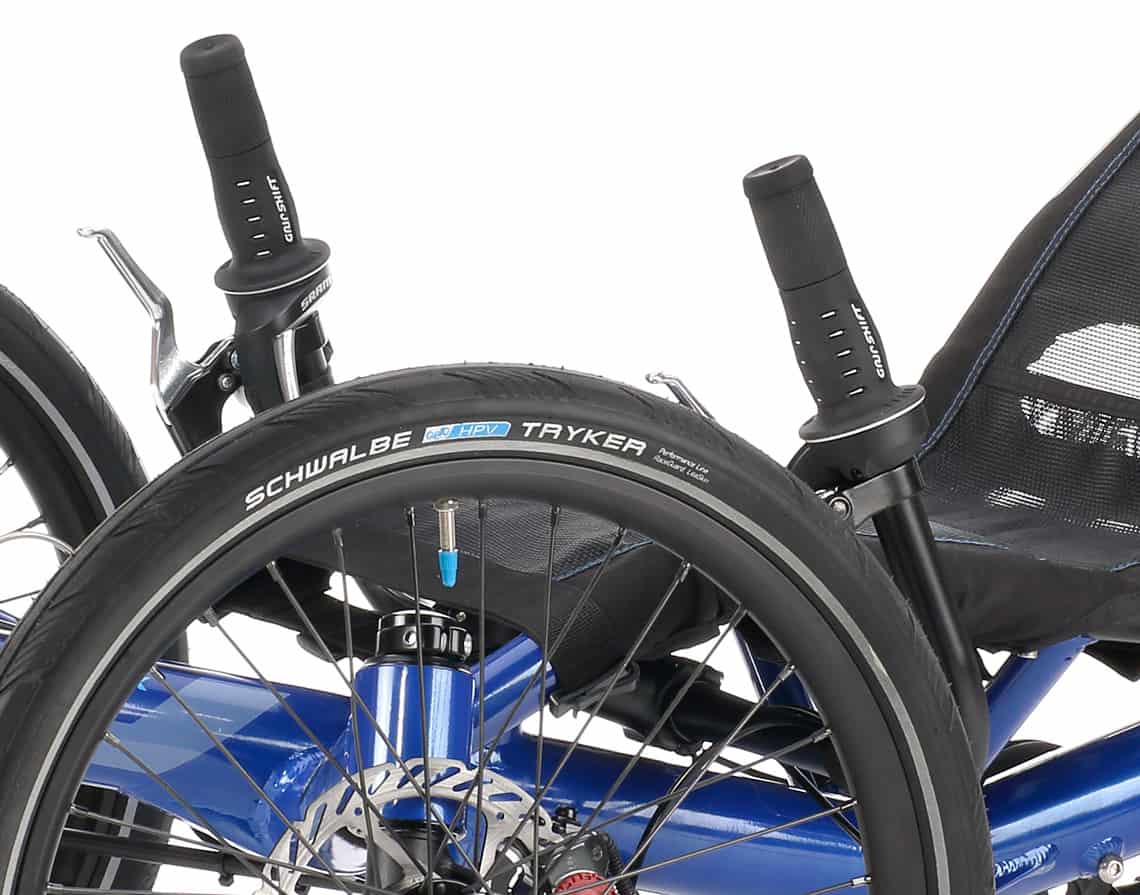 Ergonomic Handlebars
Comfortably-positioned ergo-bars beneath the seat relieve the strain from your wrists and neck muscles. HP Velotechnik's tried and tested steering geometry combines smooth directional stability with impressive maneuverability. Solid bearing with adjustable cartridge headset on the handlebar and maintenance-free sealed joint heads on the tie rods. The lightweight, high strength knuckles are forged and CNC machined for maximum tracking stability. They are mounted with durable, adjustable headsets rather outside on the frame.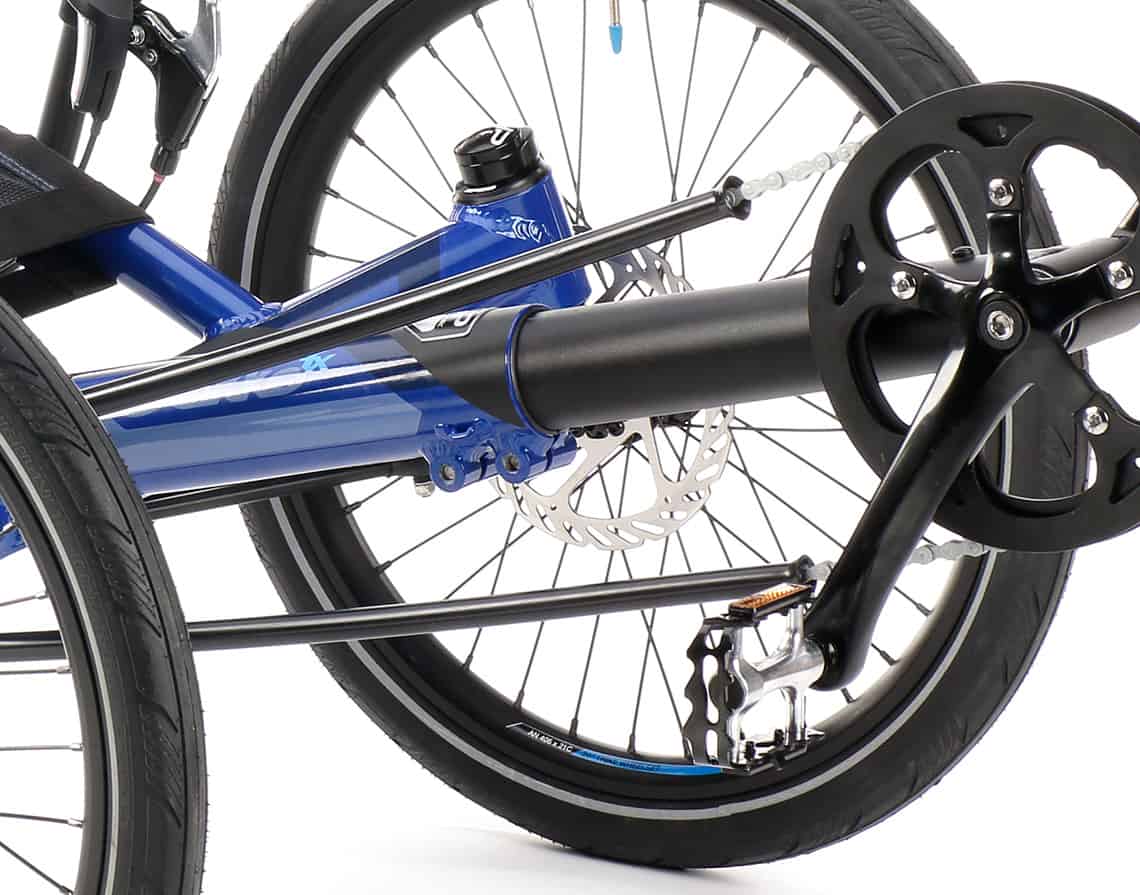 Chain Protection Tubes
Protects your clothes and the chain: The drive train is mostly covered. The unique chain tubes made from durable plastic create minimum friction for a quiet ride. The frame is adjusted to your leg length by shortening or extending the front boom in the main frame.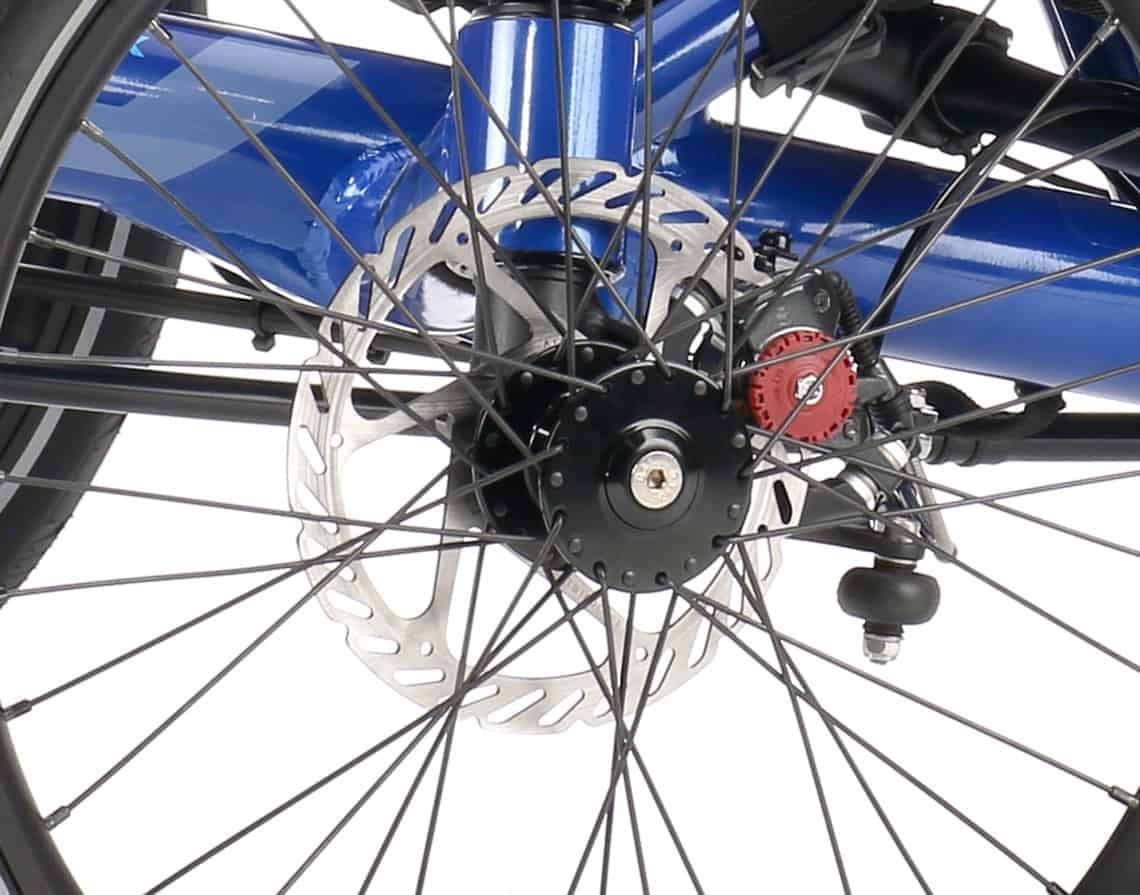 Disc Brakes
The Gekko fx 20 has a very safe braking action due to the low center of gravity and the long wheelbase. The standard disc brakes ensure maximum braking power even in bad weather. The front wheels are controlled separately so that you can selectively brake the inner wheel when cornering. Due to HP Velotechnik's sophisticated steering geometry, the steering is not affected by braking or sudden bumps on your trail. On request, we build your trike with mechanically or hydraulically coupled front brakes with one-hand operation and a rear disc brake.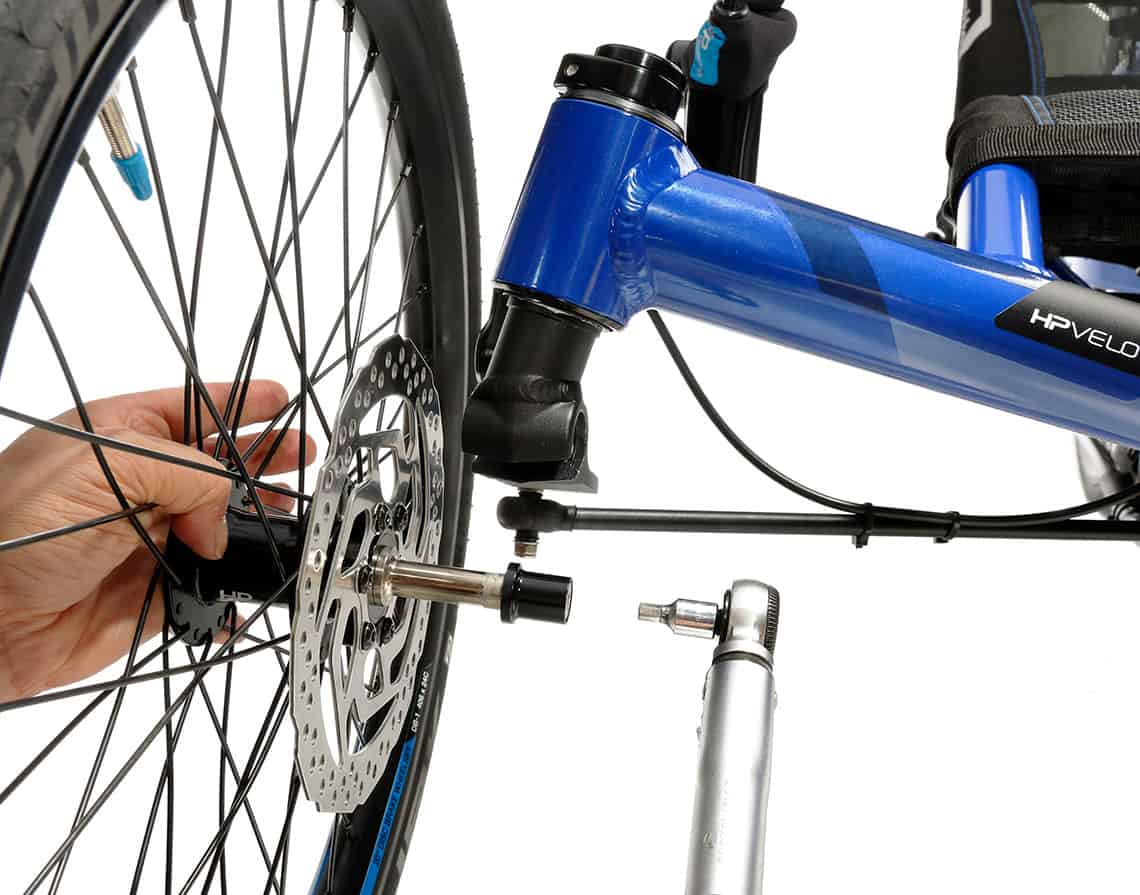 Easy wheel removal
Easy to transport: HP Velotechnik has developed open wheel mounts that allow the front wheels to be easily detached together with the brake disc by loosening just one bolt (HP Performance hubs are standard on Scorpions).
Optional Features for True Individuals
Have you got your own notion of your ideal bike technology? Our modular system enables us to build your recumbent tricycle to meet your needs and desires. A whole range of reliable features and components is available for your compact folding recumbent trike, all of which have been specially developed to excel in everyday use Here we show some selected examples; you will find the complete selection in our price lists and catalogs as well as our online configurator.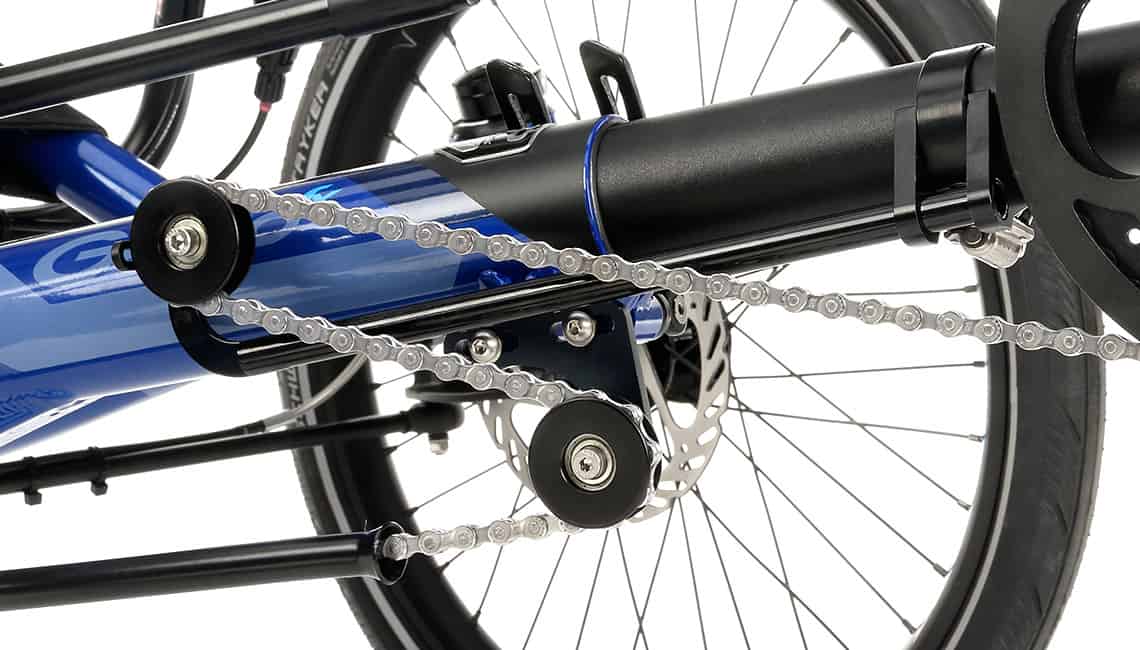 Front Boom Quick Adjust
To adjust the frame to your leg length, you can slide the front boom into or out of the main frame after loosening the two clamping bolts under the main frame. With the optional Quick frame adjustment, the length can be adjusted more quickly. The change in chain length is compensated by smooth-running idler pulleys. By sliding in the front boom during transport, your Gekko fx 20 gets even more compact.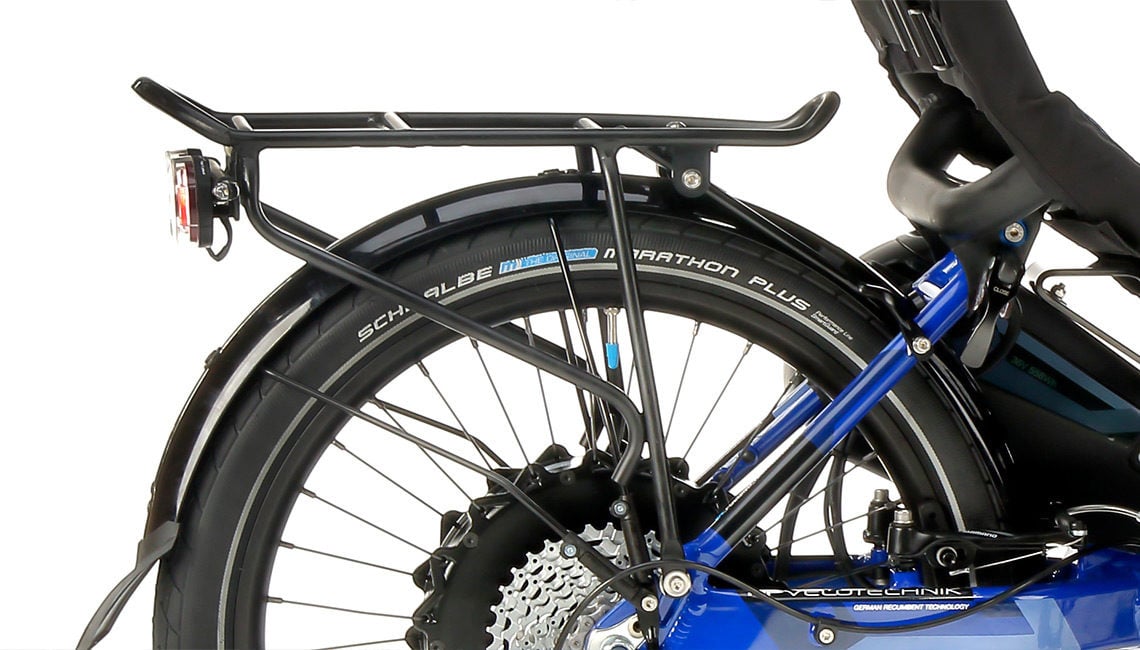 Rear Rack
This optional stable luggage rack is made of 10 mm tube and carries up to 25 kg (55 lbs). Your panniers are kept at a safe distance from the rear wheel by the 2-braced construction. Practical detail: Protective bracket for the tail light with plastic coating. When folding, the carrier remains firmly attached to the frame.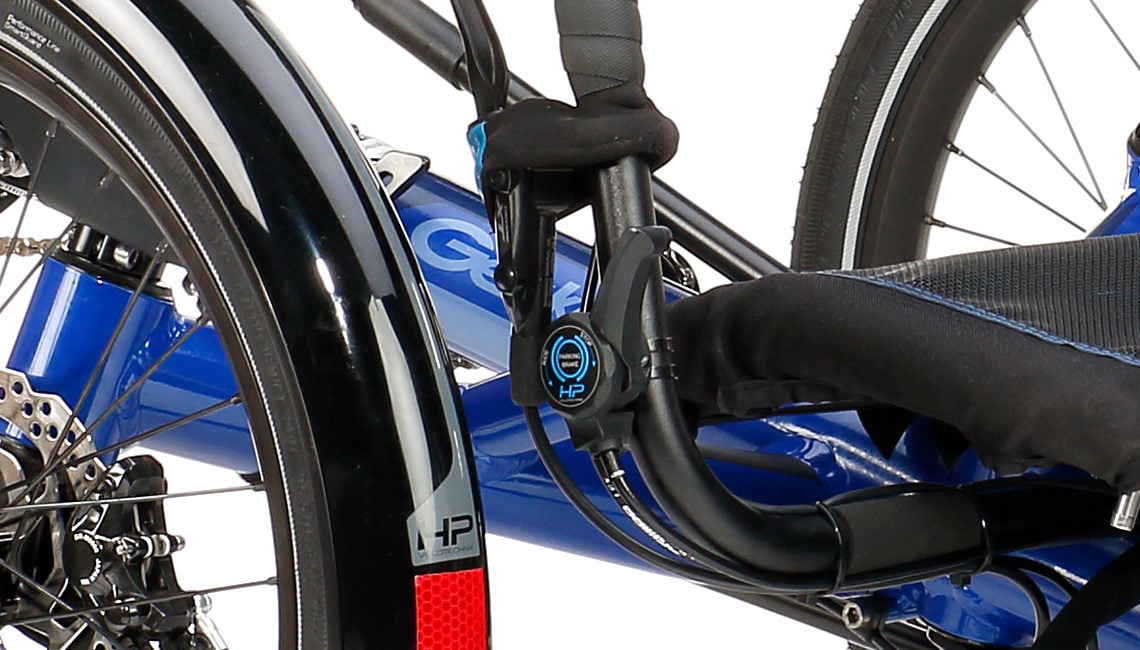 Parking Brake
As a parking brake, we can install a V-brake on the rear wheel. It is operated by a thumb lever at the handlebar.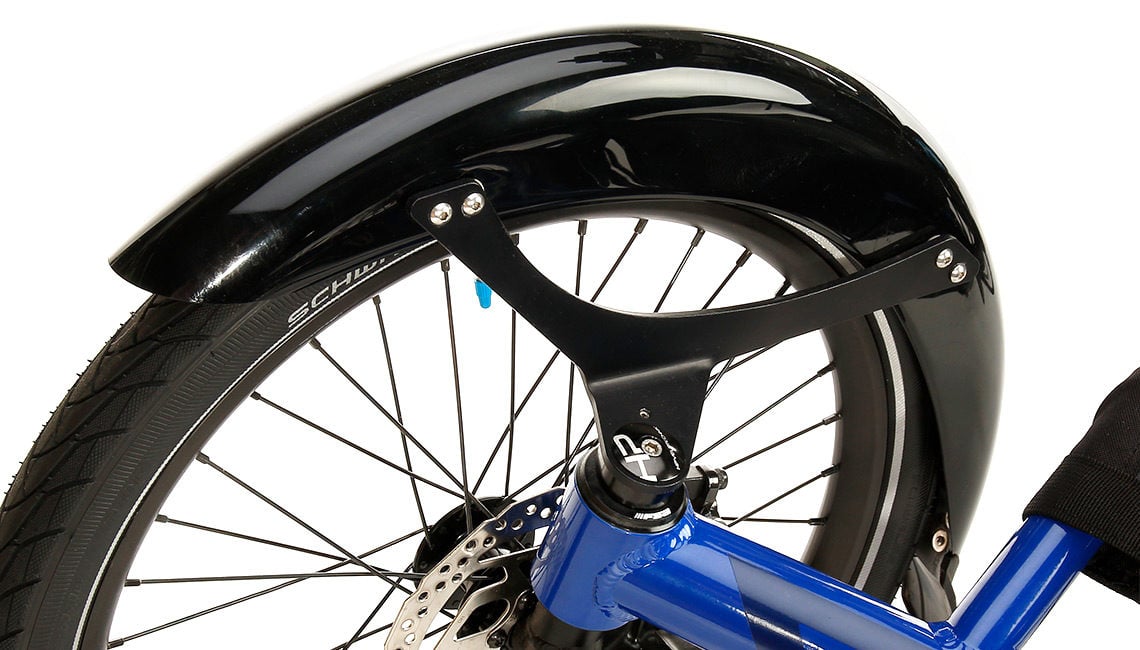 Fenders / mudguards
Functional mudguards: HP Velotechnik's Trikefender offers excellent splash protection to the rear and especially to the side of the rider. The inside edge of the robust plastic mudguards is extended far down. Elegant internal mounting with height adjustment for tires up to 50 mm (2").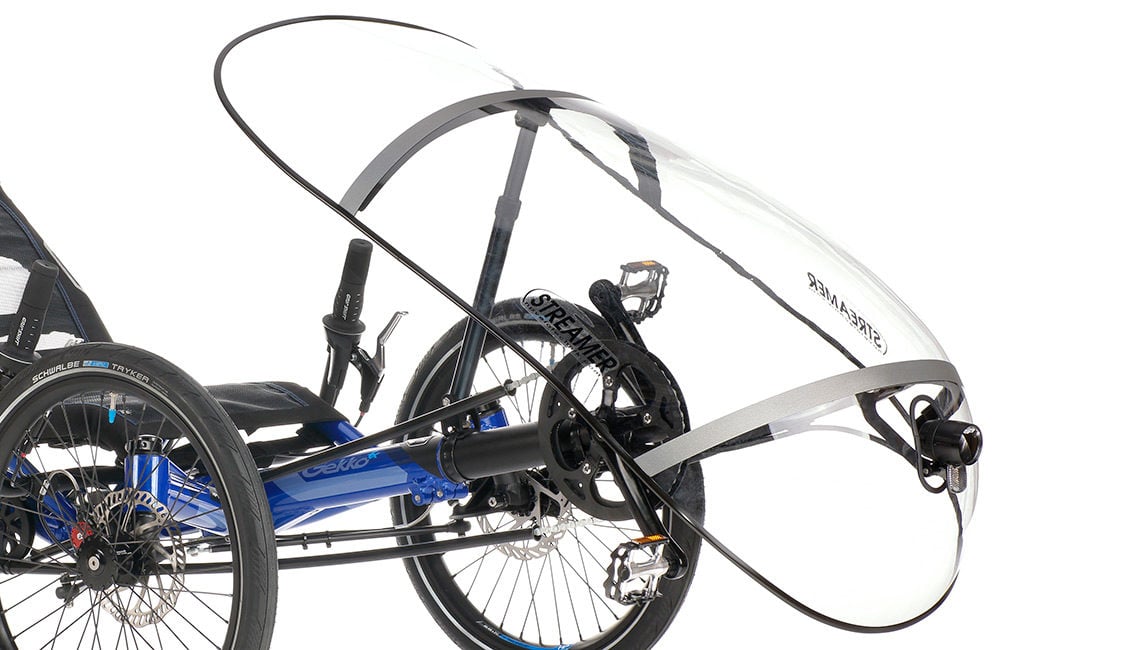 Weather Protection Gear
The
Streamer
front fairing from HP Velotechnik keeps your feet warm and legs dry. The fairing can be easily removed using the quick-release lever and rolled up for transport.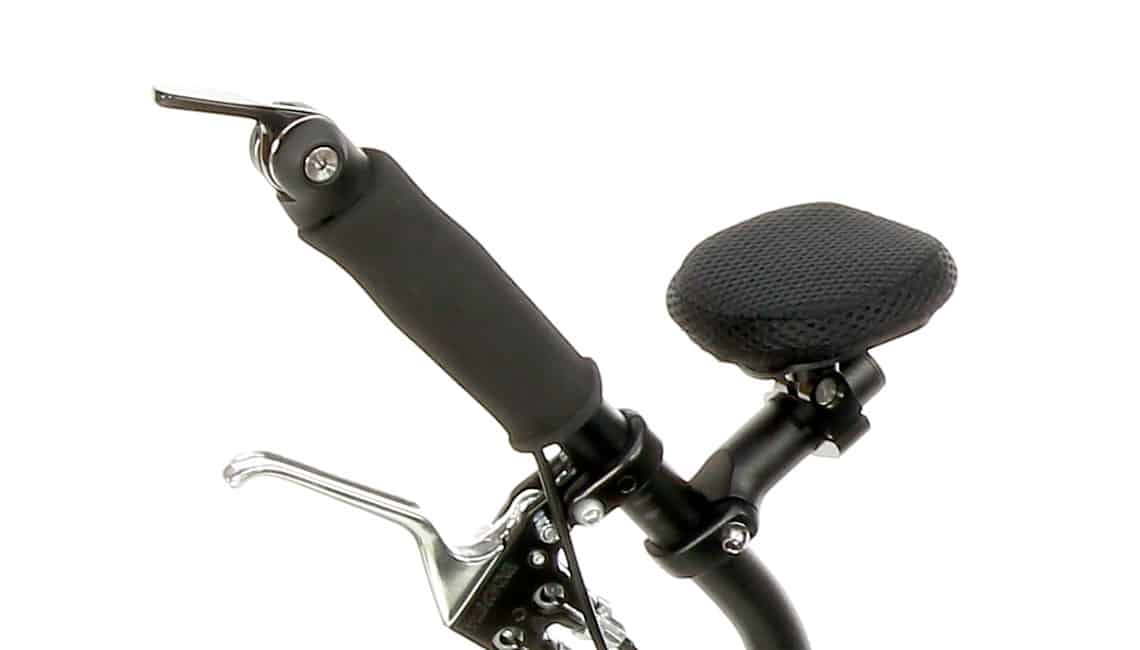 Hand rest
A real boost to comfort for all trike riders. The hands easily guide the handlebars without the need for strenuous holding effort on the handlebar grip. The comfortably padded hand rests can be individually adjusted in angle and inclination. It is also available as a version with hand fixation – ideal to complement the one-hand operation of brake and gearshift.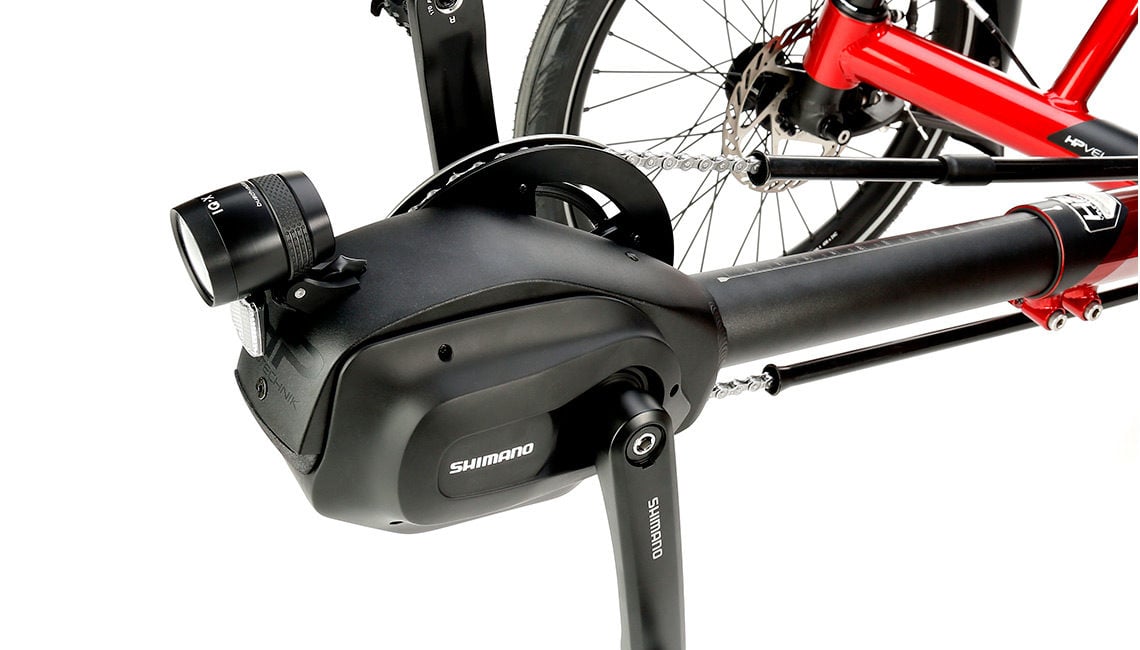 Electric Power-Assist
Do you offer
electric drive assistance
? Certainly, we do – this is another domain of our trikes! HP Velotechnik can optionally equip all vehicles with a powerful electric motor. More and more people discover the easy way of riding an HP Velotechnik trike while sitting laid back in absolute comfort. No other type of bicycle fits electric motors as perfectly as recumbent trikes. Why is obvious: The ease of pedaling and the ergonomic sitting position make the ride even more pleasant. The built-in aerodynamic advantage of your recumbent trike can also be exploited electrically: less drag means more range. The e-assist system integrates elegantly into the trike's design. This applies not only to the hub motor in the rear wheel or the bottom bracket motor but also to the control unit on the handlebar and the battery.
Exclusive Offers for US Customers​
Our Gekko Models in Sport, Performance and Comfort Setup or as Hand Bike
Smiles for everyone: The US-Edition Gekko models Gekko 26, Gekko fx 20 and Gekko fx 26 not only combine HP Velotechnik quality with an attractive price but also give you several feature-packed setup levels to choose from. To top it all off and set you smiling and riding as soon as possible, we keep these US models ready for immediate shipping with our logistic partners in the USA.
Veterans looking for independence now have a unique choice: They can equip their Gekko fx 26 or Gekko 26 with Hands-On-Cycle. This is the world's only fully encapsulated hand drive with many more comfort extras. Get in contact with your local VA Medical Center and learn more about possible funding.
Looking for your personal Gekko? No problem! You have the choice of the budget oriented Sport configuration, (Gekko fx 20 and Gekko 26) or for our 26″ models between the Performance configuration and the Comfort configuration. Additionally you can customize your Gekko with comfort or safety equipment such as rear mirrors and mudguards.
The configurations were carefully selected to meet the specific preferences of many American recumbent enthusiasts. For fully customizing your Gekko see what is in store in our current price lists or our online configurator (see below). These customised models you can order straight ahead from our recumbent manufacture in Kriftel.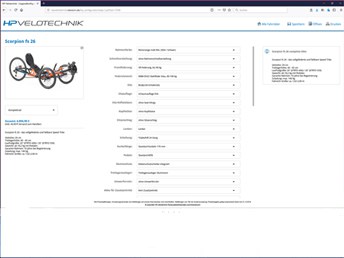 Fast, convenient, and informative: Selecting the components of your foldable recumbent bike is easy with our online configurator. Choose to your heart's content from our versatile modular systems!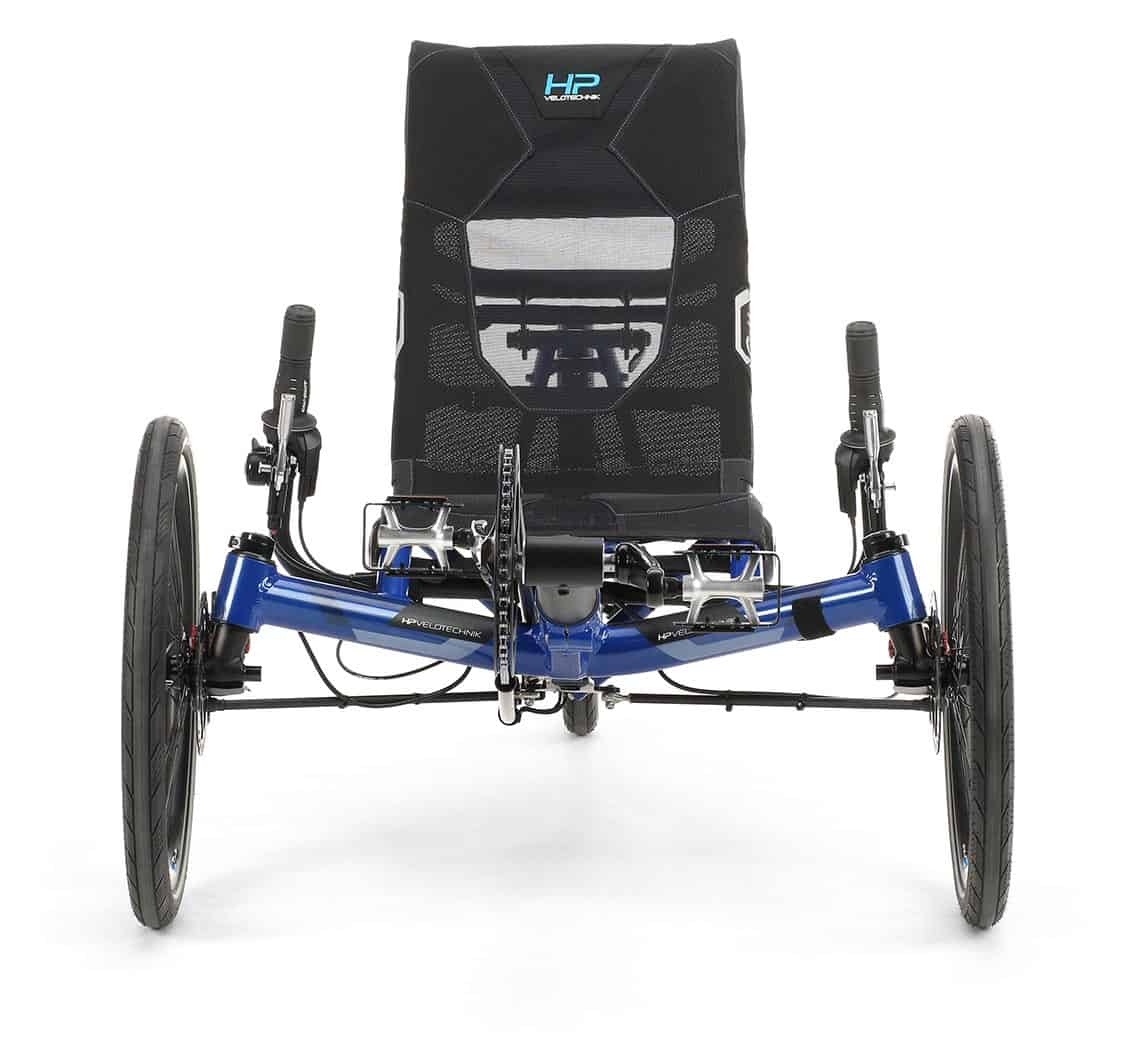 Specifications and Technical Data
The outstanding ride of our nimble tadpole trike is of course based on thoroughly engineered performance technology with precise technical specifications. The detailed figures can be found here in the technical data sheet – from the dimensions to the payload, from the seat height to the appropriate rider size. And of course, we are also happy to show you which colors you can choose for your Gekko fx 20.
Seat height: 35 cm (13.7")
Seat angle: 39–47°
Wheel size (front wheel): 20" (ISO 406)
Wheel size (rear wheel): 26" (ISO 559)
Max. tire width: 5 cm (2")
Bottom bracket height: 38–48 cm (15 – 19")
Ground clearance: 13 cm (5 1/8")
Wheelbase: 100 cm (39 1/3")
Track width: 78 cm (31")
Width: 83 cm (33")
Length: 165–197 cm (65 –78")
Turning circle: 4,25 m (14´) outward
Folding size: 83 × 52 × 82 cm (32¾ x 20½ x 32 1/3")
Standard color: Magma red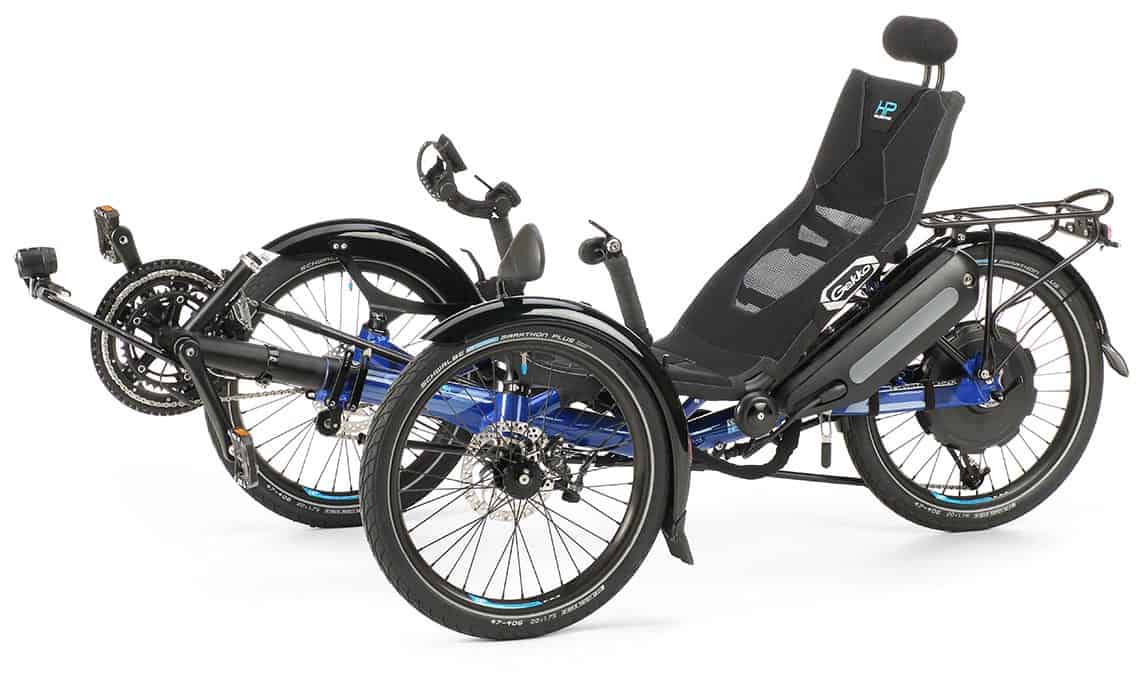 Standard color: Deep blue
Give your bike a personal touch: On request, you can have the frame of your HP Velotechnik recumbent bike powder-coated with a custom color completely to your personal taste. You can choose from hundreds of color shades:
An overview and further information about our custom colors can be found in our color chart.
Bottom bracket standard: BSA 68 mm
Weight: from 15,8 kg (35 lbs) incl. pedals
Payload: max. 130 kg (286 lbs)
Frame material: Aluminum 7005 T6 heat treated
Rider height: ca. 1,60 – 2,00 m (5'3"– 6'6")
We are committed to the quality of our products. Therefore we grant a guarantee of 10 years on the frame and the swing arm bearing of our bikes and trikes. For further information, please have a look at our warranty conditions.
They Even Have a catalog? This Is Getting Better and Better!
You will find all the details about the Gekko fx 20 in our detailed and richly illustrated Gekko tricycle catalog. In addition, you will read lots of background information about tricycles for adults and the recumbent bike manufacturer HP Velotechnik.
Even now you have the choice with us: Browse here online on our website. Or request your copy in high-quality printing form by post. So you can comfortably recline at home on your sofa and start discovering the world of recumbent bicycles – without obligation and completely free of charge.
Time to sit back and relax?
They Even Have a catalog? This Is Getting Better and Better!
In our detailed Gekko tricycle catalog you can read all the details about the Gekko fx 20 and lots of background information about adult tricycles from HP Velotechnik.

Request your copy in a high-quality printing form right away. So you can comfortably recline at home on your sofa and start discovering the world of recumbent bicycles – without obligation and completely free of charge.
Here You Can Enjoy the Best Views
You will experience the best reasons for one of our recumbents during an extended test ride. On our website, we can only describe to you the incomparable driving feeling. True to the saying "A picture says more than 1000 words" we want to let our folding trike Gekko fx 20 speak for itself.
Move the mouse pointer over the image. Use the magnifying glass symbol to open the picture gallery. Alternatively, you can use the link icon to download photos in high resolution, e.g., as a desktop background – simply right-click after opening the image. You can find more high-resolution pictures in our album about Gekko fx 20 on Google Photos.
Gekko fx 20 Frequently Asked Questions
*The video embedded here is provided via the YouTube platform. When you start playing the video – even with the extended privacy settings used by us – a connection to the provider's servers is established. Among other data, information may be transmitted that allows YouTube to analyze your surfing behavior, for example. This applies in particular if you are logged into your YouTube account.
All Right, Enough Theory, How Do I Get on The Comfortable E-Chopper?
A Gekko fx 20 is waiting for your test drive at these dealers near you.
Attention: A filter for this model is preset! With the "Advanced Search" you can also search for other models. Click on the dealer for the details and your desired date for an individual consultation.
The Gekko Family at a Glance
Are you looking for the complete trike selection from HP Velotechnik?