Ability & Adaptive Cycling
Medical Aids and Acessories for Physical Rehabilitation and Therapy
Great technology must look good – clean, tidy and functional Of course, this claim also applies to the accessories that we design at HP Velotechnik. Especially when it comes to accessories for special needs! Our line of ability & adaptive cycling options turns aids such as foot holders, hand rests or walking stick locks into highly functional design pieces.
With the practical and intuitive velcro retainers, the foot holder and hand fixation become a real eye-catcher. The sophisticated fixing system conceals a Velcro strap with an amazing snap-on mechanism. A quick jerk on the buckle – and hand or foot are released.
As part of our product line for physical rehabilitation and therapy purposes, our padded hand supports are also available in a version with (one-sided) hand fixation, especially for use with the one-hand operation option (further down on this page). The quick access ensures easy insertion of the forearm with restricted movement capabilities. The fixation of the arm allows it to be moved and mobilized during steering movements.
With the standing-up aid, you get a handle that can be mounted left or right or in pairs over the front wheels. The standing-up aid provides you with firm support to pull yourself up out of the seat or to support yourself when getting in. The handles can be easily adjusted or removed after loosening a quick release. Some users also use them to mount action cameras, navigation devices or the like.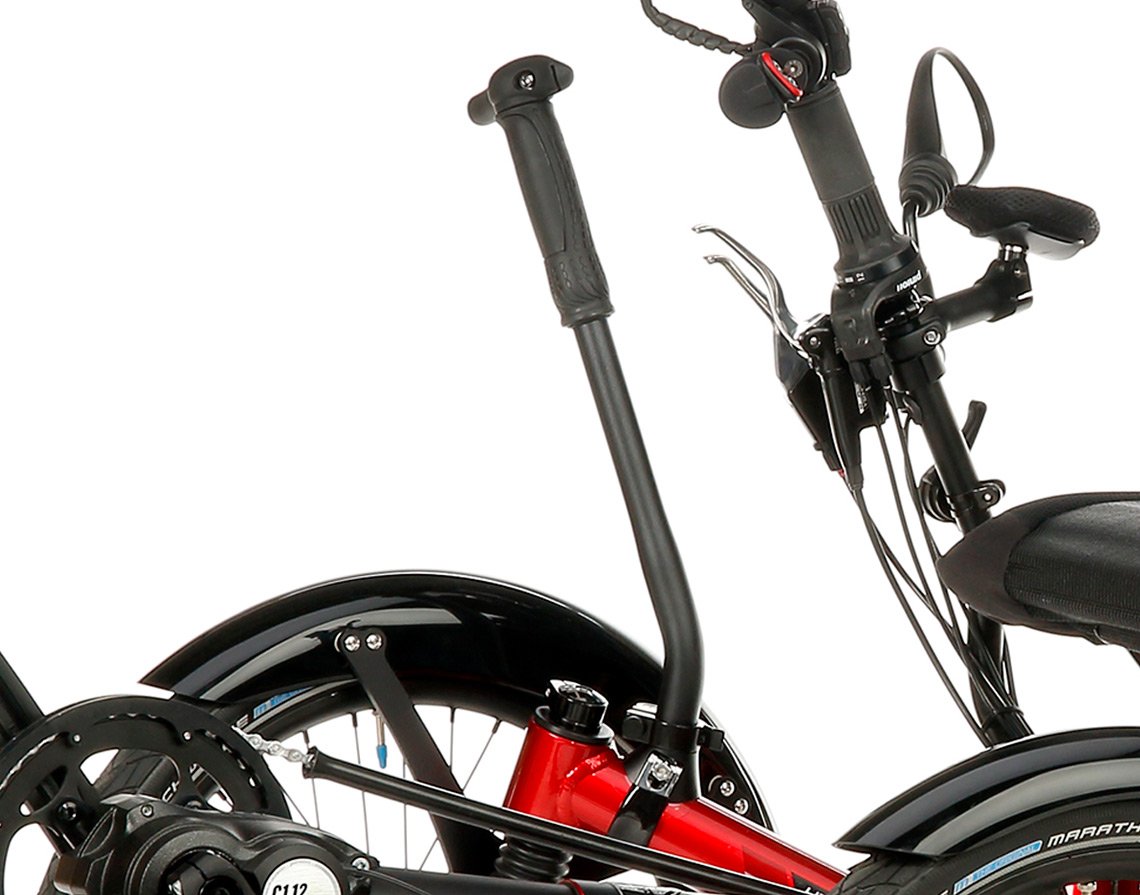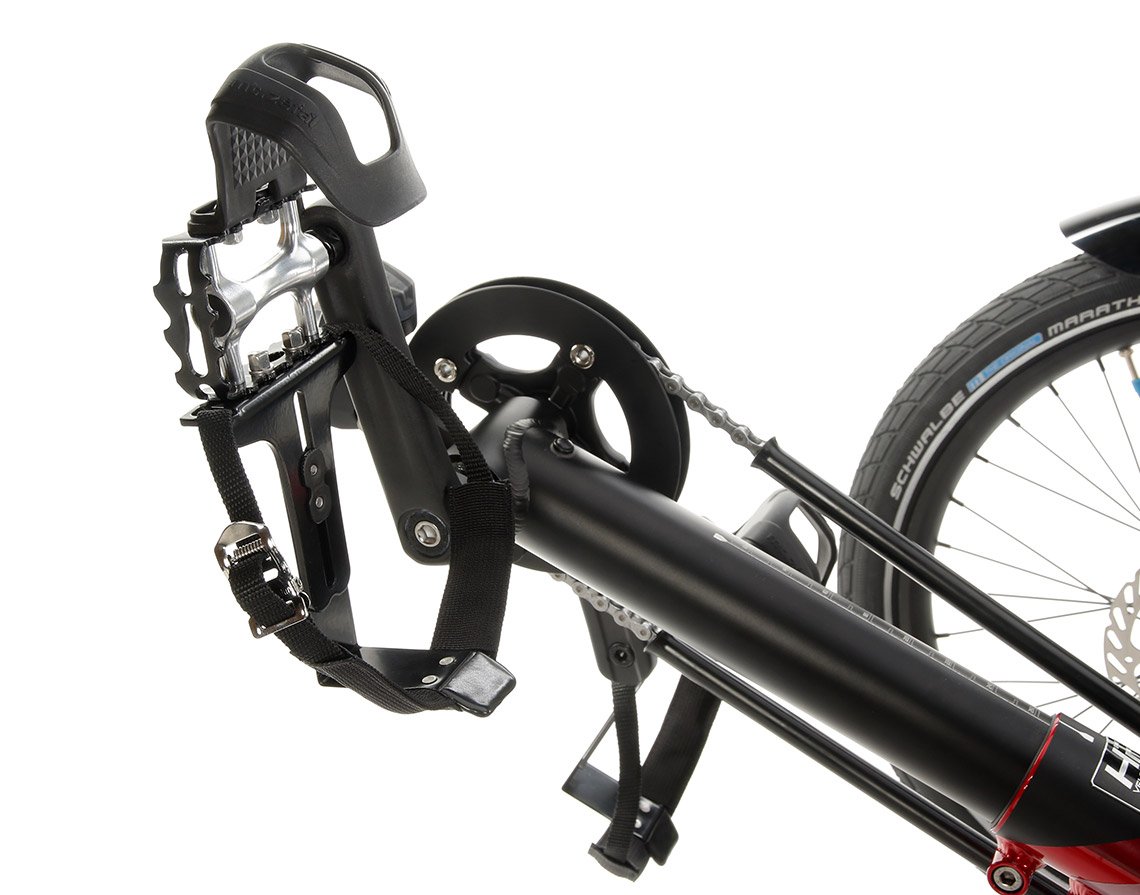 Pedal With Heelstrap and Foot Clamp
The alternative pedal for those who cannot or do not want to use a system pedal. Easy, quick access with any shoe thanks to the balanced rest position. With one-hand fixing of the heel for safe and efficient pedaling. To get out, the shoe can be released immediately with one grip. Available as an option for complete bikes or as a set for retrofitting.
ErgoPedal With Safety Release
The ErgoPedal with safety release allows the foot to be secured and adjusted to the angle and width of the foot. Practical one-hand velcro fasteners with spring steel inlay. The SPD safety binding allows freedom of movement when pedaling which is easy on the joints and can be safety plus as it releases the foot in critical situations.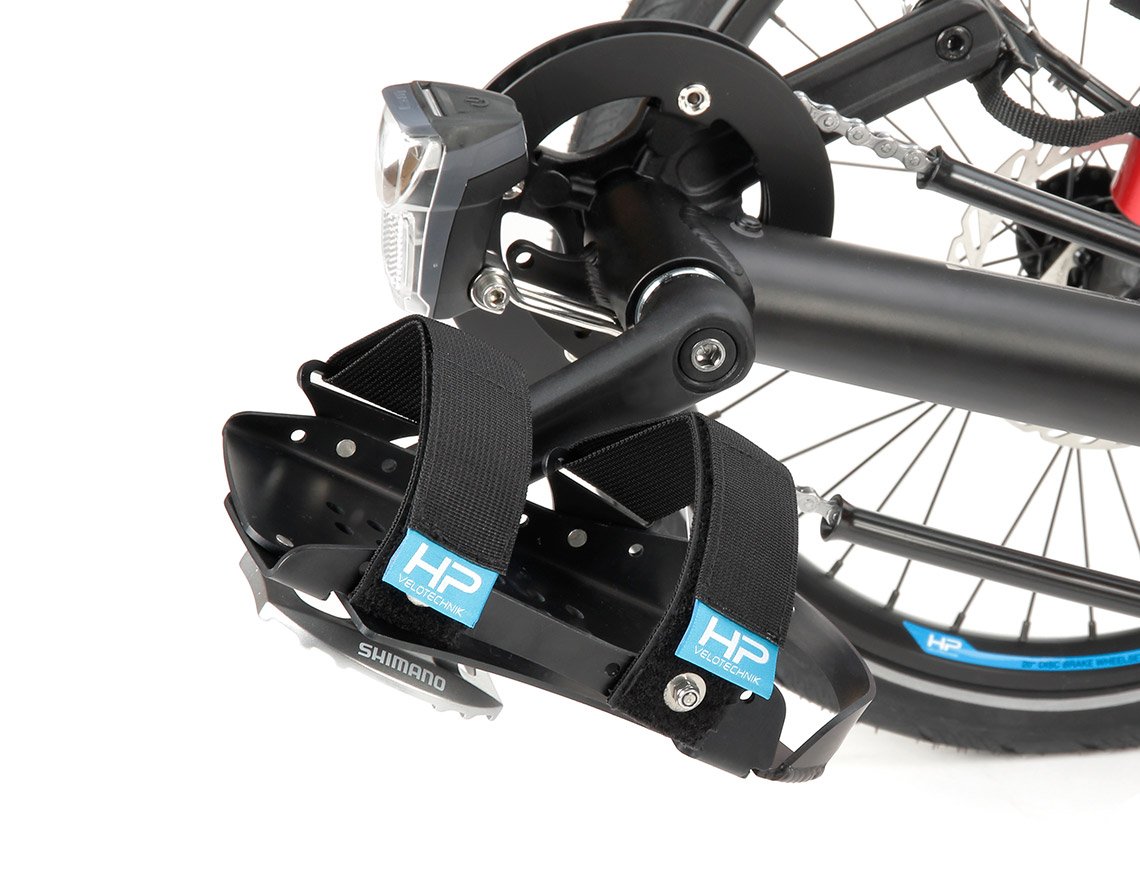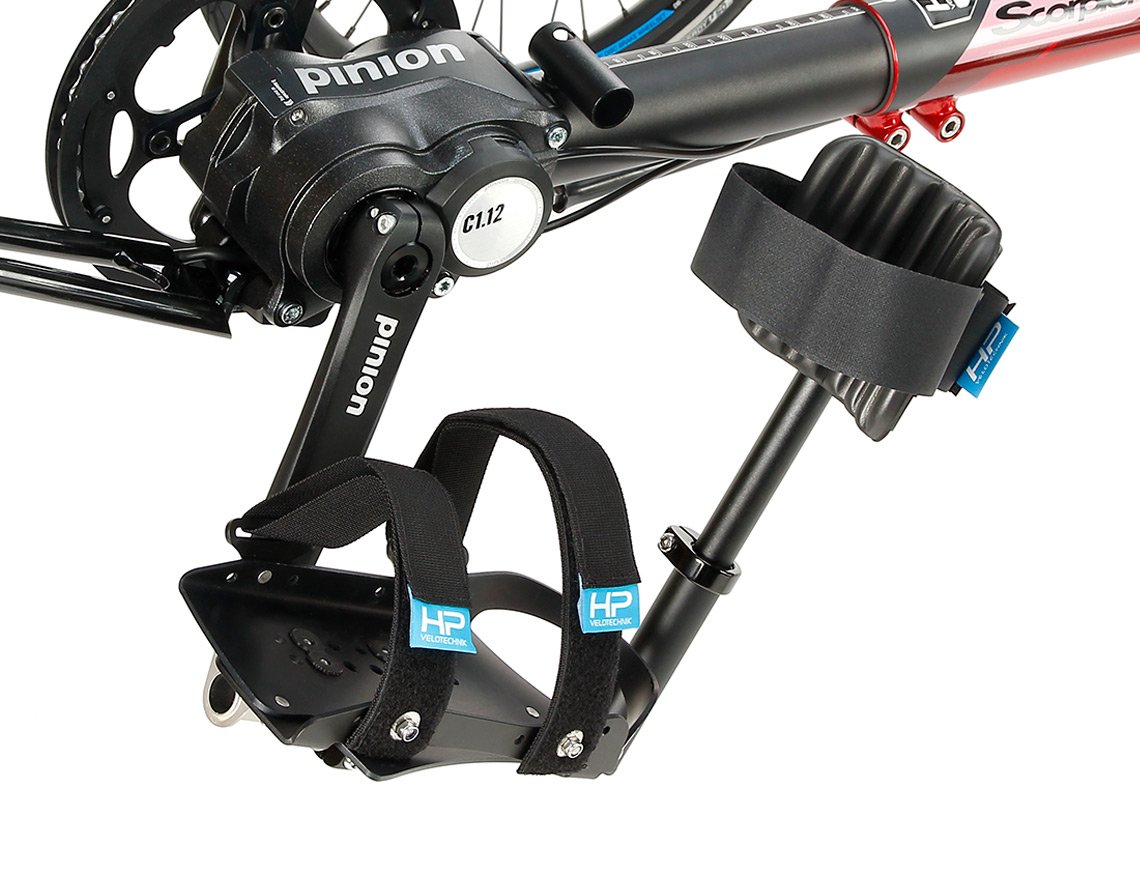 ErgoPedal With Calf Brace
Especially for users with functional limitations of the lower leg or foot: Our ErgoPedal with calf brace enables active or passive movement and mobilization with every crank turn. Angle, width and height of the lower leg fixation adjustable. For a maximum stabilization of the lower leg this variant works without a SPD binding.
Easy insertion, safe carrying and quick removal of walking aids such as canes or walking sticks. The practical quick-release mechanism adjusts continuously to diameters from 20 to 30 mm, HP Velotechnik's spring steel fixation ensures a secure hold and releases the walking aid quickly and without tiresome handling thanks to one-hand operation.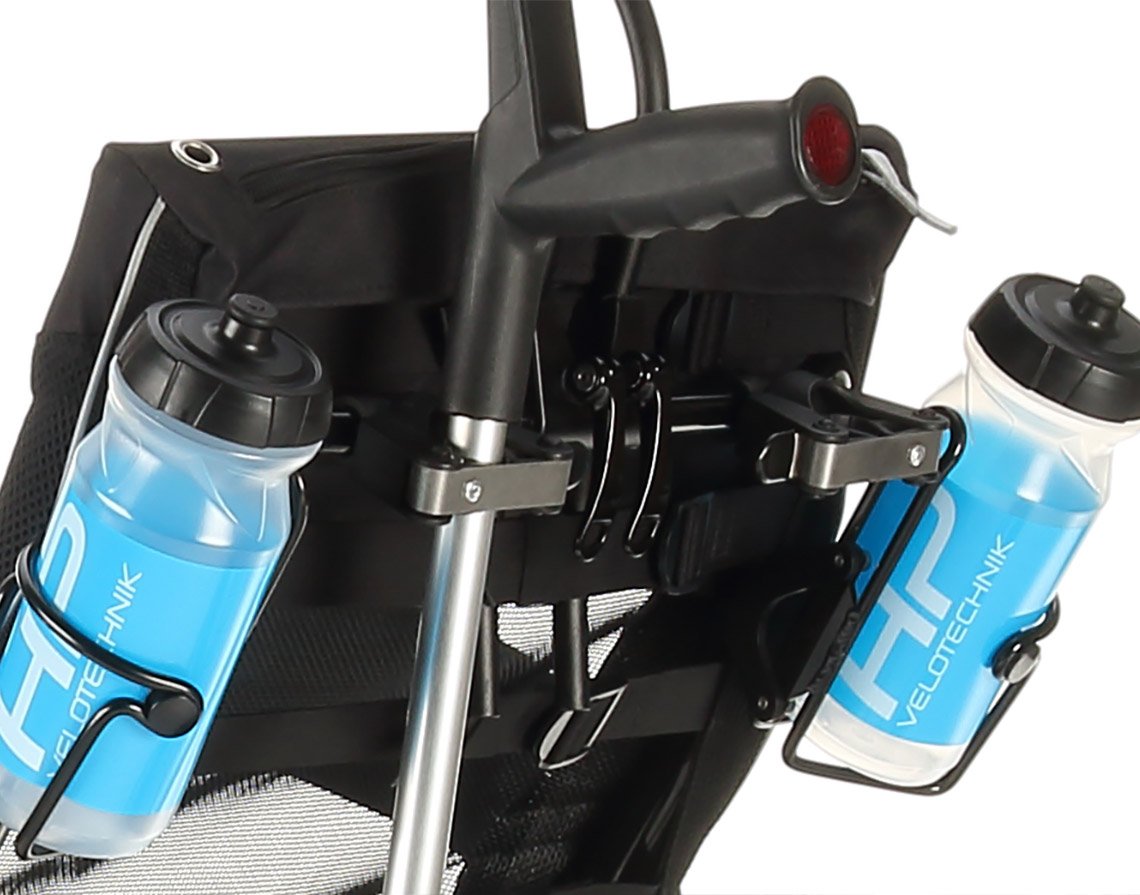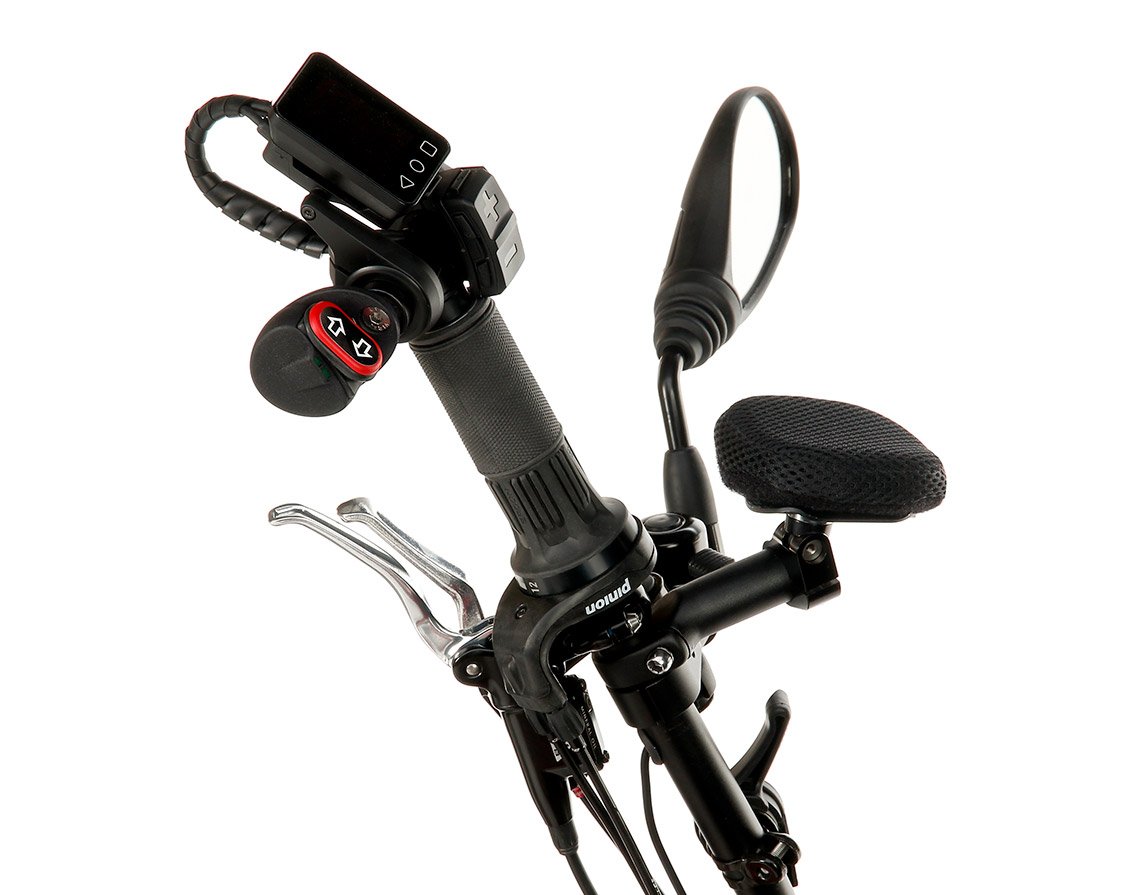 One-Hand Operation for Shifting and Braking
On request, we can install coupled front disc brakes that can be operated by hand and a disc brake with parking brake function on the rear wheel. By selecting the mounting side (right/left) for the brake, you also determine the mounting side of the one-hand operation of the gear shifters. Available for all drivetrains including E-assist, except Tripleshift 24.
The extra high ErgoMesh HS mesh seat is 11 cm (4.3″) higher than the normal ErgoMesh mesh seat and 14 cm (5.5) higher than the BodyLink hardshell seat. In addition, the HS XL variant is 5 cm (2″) wider and has a seat/backrest 5 cm (2″) longer than the ErgoMesh HS variant.
The higher seating position facilitates getting in and out and improves visibility in traffic, but reduces tipping stability when cornering fast.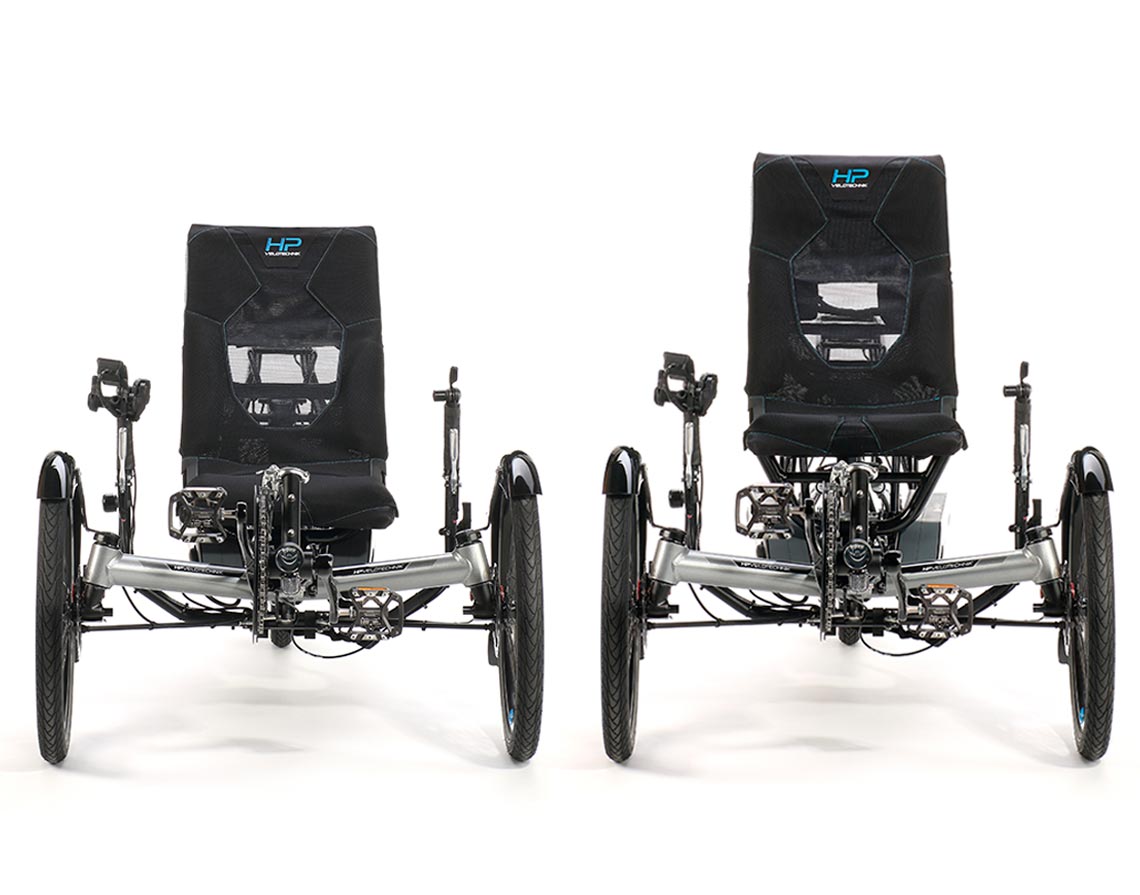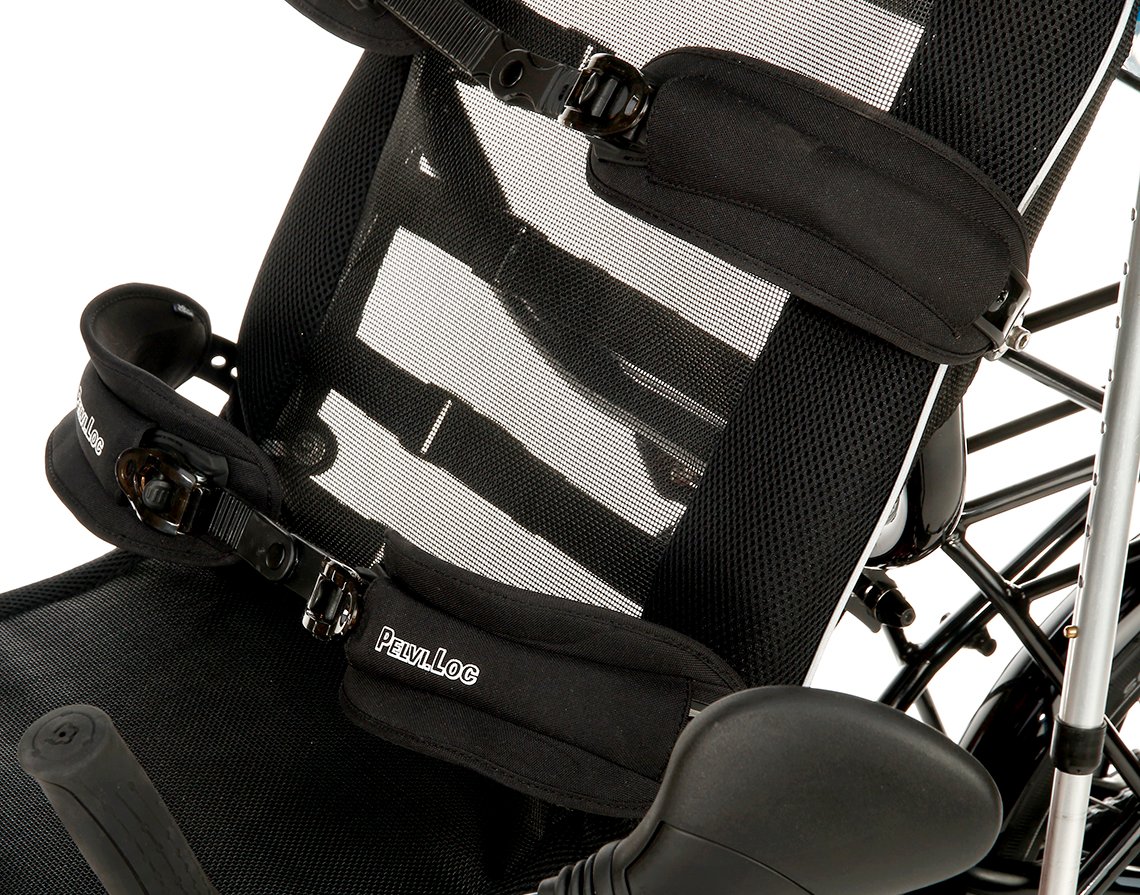 Support Belts for Mesh Seats
HP Velotechnik offers support belts that are extremely easy to use for optimum fixation of the upper body and pelvis: The large range width can be adjusted by using the ratchet strap. Suitable for the ErgoMesh seat and the seats of our Gekko trike series.
Just open two quick releases and you can adjust your recumbent to different lengths. Developed by HP Velotechnik, the front boom quickadjust gives you the advantage to easily change the length of the recumbent for transport or at any time a "shorter" trike is needed.
Adjustment range approx. 5 cm (5.9″).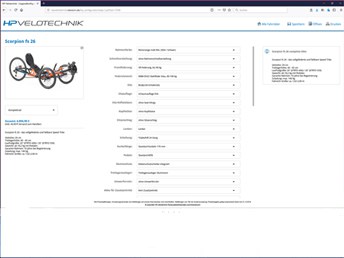 Our complete range of equipment and accessories!
You can find all our options in our online configurator. Here you can configure and customize your bike according to your needs.