Our Groundbreaking Handbike: Hands-On-Cycle
The Hand-Powered Drive for Trikes From HP Velotechnik
Our Hands-On-Cycle handbike module is a completely new concept in which a single sub-assembly turns a foot-operated bicycle into a hand-operated vehicle. In practice, this means that handcycling has never been so safe and inclusive for people with disabilities.
The fully encapsulated hand cycle drive is mounted on HP Velotechnik's proven trikes: 20 years of experience in tricycle construction merge with Hands-On-Cycle's groundbreaking design to create a uniquely elegant, compact and comfortable combination.
Thanks to Hands-On-Cycle, you can, once again, set off on bicycle tours and bike excursions with family and friends. And most comfortable: The two sturdy base vehicles, Scorpion fs 20 and Gekko fx 26 are ideal even on bad roads, the Scorpion is even fully suspended.
Unique integration: HP Velotechnik integrates the hand-operated drive including gears and cables in a closed housing. This is an enormous safety advantage. With the Hands-On-Cycle you avoid contact of with rotating and oily drive parts with your upper body and arms. Other advantages over conventional handcycles: The vehicles have an astonishingly small turning circle, and the tidy cockpit offers the best possible operating comfort.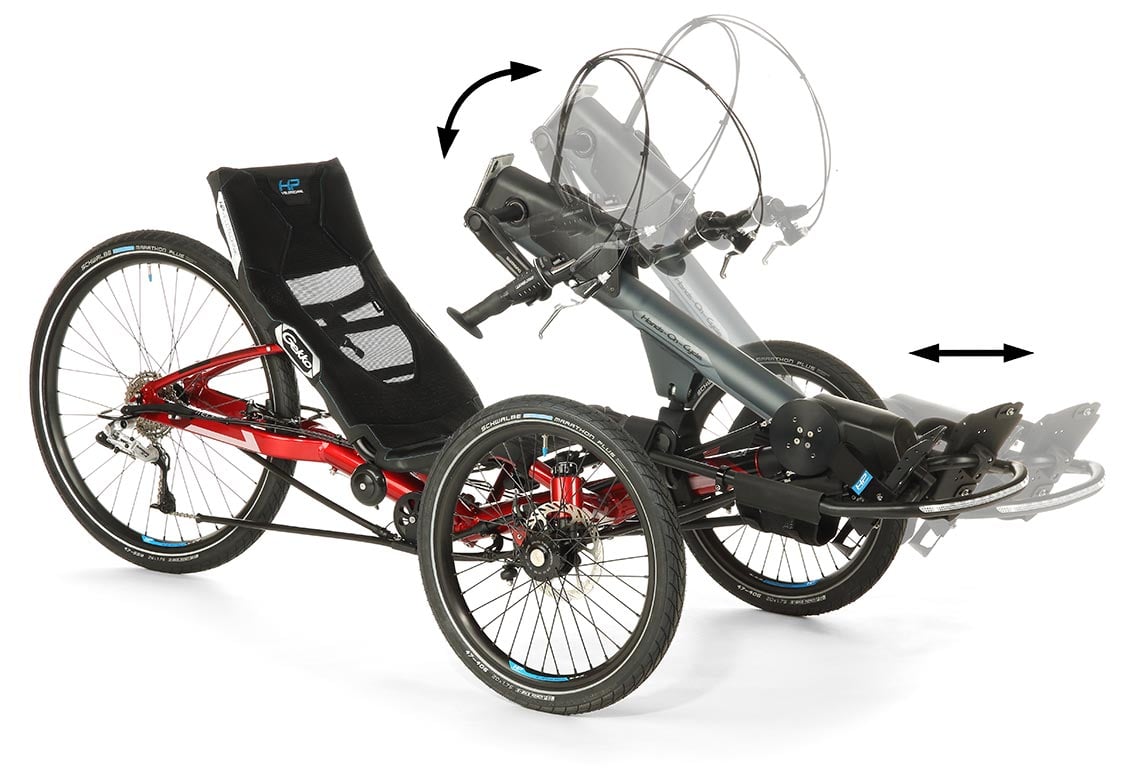 This Hand Cycle Drive Is Made to Fit You
The Hands-On-Cycle can be seamlessly adjusted for people with a height of 1.60 to 2.00 m* (5.2′ – 6.6′) and arm lengths of 70 to 94 cm (27.5″ – 37″)*. Optimizations are possible in all three dimensions here. The length adjustment range of the Hands-On-Cycle unit in the main frame is 6 cm (2.4″); the footrest can be extended by up to 14 cm (5.5″).
The pole has an adjustment angle of 14°. The grip width can be varied between 52 and 62 cm (20.5″ – 24.4″). Another possibility for adjustments is offered by the flexible seat systems from HP Velotechnik.
The Hands-On-Cycle is prepared designed for dedicated customized dedicated options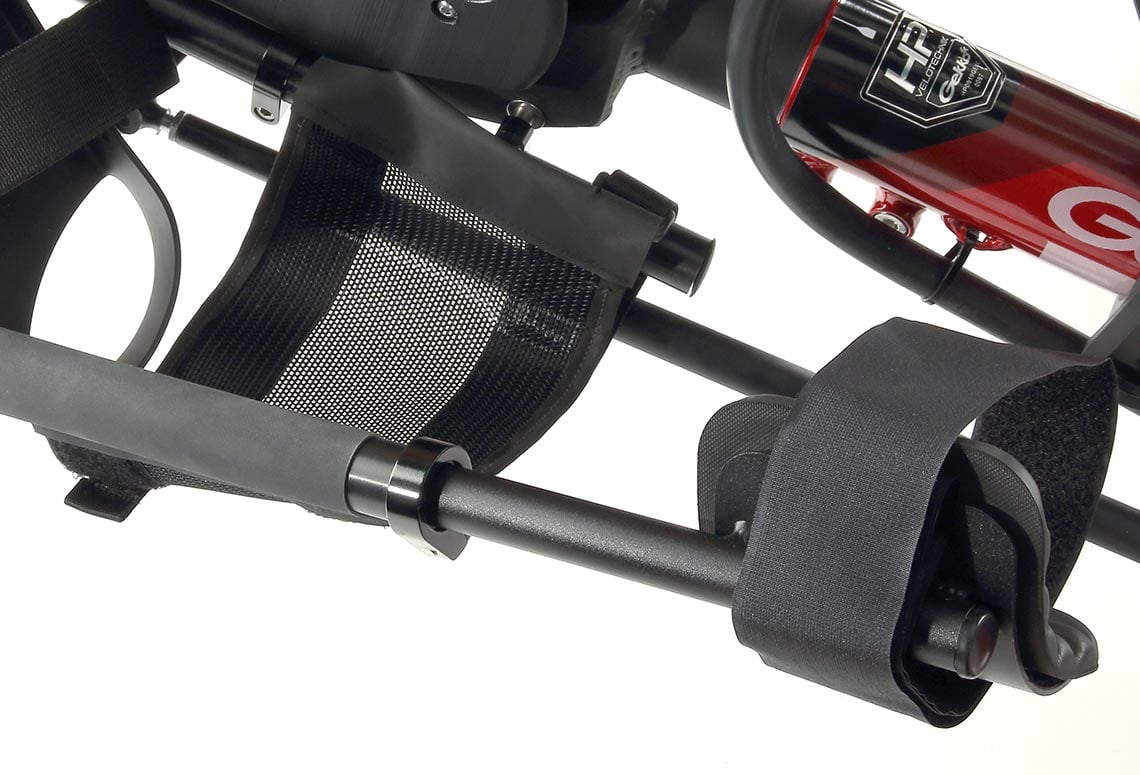 Your Handbike Adapts to You
Hands-On-Cycle: As Variable as Your Requirements
HP Velotechnik mounts the Hands-On-Cycle on two models: the lightweight and compact Gekko fx 26 (right) and the comfortable and full-suspension Scorpion fs 20 (left). Both models can be individually adapted to your requirements and special needs with our modular custom system.
Basic drivetrain with 3×8 gears is the Tripleshift 24 gearing – a combination of a stand-shiftable 3-speed hub plus 8-speed cassette with twist shifters. For deceleration, Shimano BR-MT200 hydraulic disc brakes are a standard feature. With options such as the luggage rack or side bag mounts, you expand the range of use of your new touring partner immensely. For the ultimate in comfort equip your trike with a powerful electric motor!
A complete breakdown of options and prices can be found in the Scorpion and Gekko catalogs as well as in the online configurator. The configurator also allows you to check whether your desired setup is compatible with the specific requirements for the Hands-On-Cycle.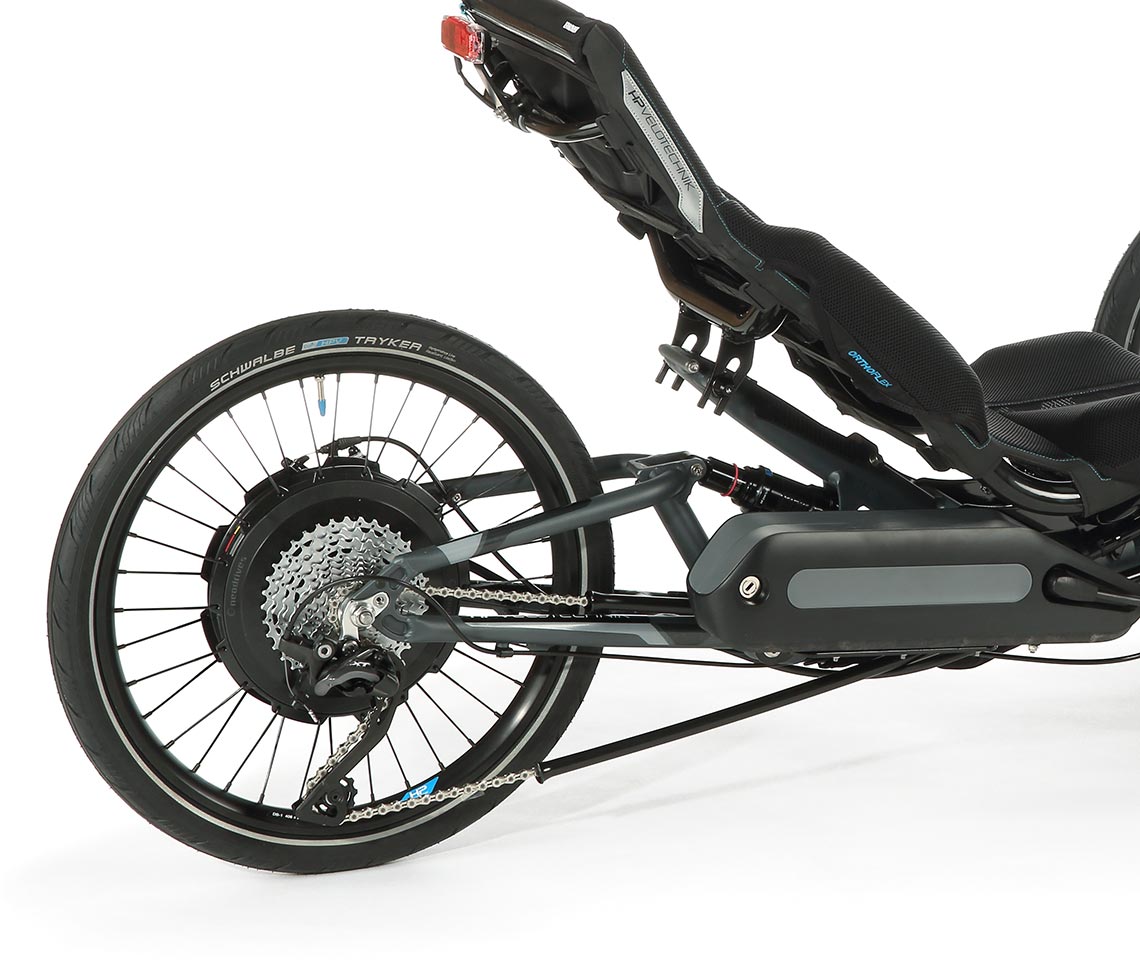 Extra Power in the Rear: Hands-On-Cycle With Motor Assistance
Of course, the Hands-On-Cycle is prepared for the megatrend in the field of bicycles: If you so choose, we can install a powerful electric motor. In order to turn your hand powered bike into a pedelec (support up to 25 km/h), we use the rear hub motor Z20 from Neodrives in combination with the 10-speed derailleur Deore XT from Shimano. All controls and the color display are right in your field of vision in the cockpit.
The battery range is up to 145 kilometers or 90 miles (capacity 612 Wh). The 40 Nm of the extremely quiet hub motor transfers power directly to the rear wheel. The surcharge for the motor unit is: 3,090 Euros.
Note: For safety reasons, the reverse function of the Neodrives motor cannot be used in combination with the Hands-On-Cycle.
Technical Data of the Applicable Trikes
Suspension travel (front/ rear)

190 bis 210 cm (6.2′ – 6.9′)

205 bis 223 cm (6.7′ – 7.3′)

85 bis 100 cm (33.5″ – 39.4″)

83 bis 98 cm (32.7″ – 38.6″)

Folding dimensions (L x W x H)

105 x 83 x 98 cm (41 x 33 x 39″)

120 x 83 x 100 cm (47 x 33 x 40″)

Extra weight due to
Hands-On-Cycle

Payload (rider & luggage)

1,84 – 10,50 m (6 – 34.4′)

1,78 – 9,28 m (5.8 – 30.4′)

1,56 – 8,34 m (5.1 – 27.4′)

1,54 – 8,09 m (5 – 26.5′)

Development (with E-assist / XT 10)

2,36 – 7,74 m (7.7 – 25.4′)

2,29 – 7,50 m (7.5 – 24.6′)

Color (main frame,
with corrosion layer,
color & clear coat)

Blue shade grey matt,
Colza yellow or
custom color

Magma red,
Deep blue or
custom color

Price (incl. Hands-On-Cycle)

from € 8.280,– / US$ 9,110.–

from € 6.380,– / US$ 7,080.–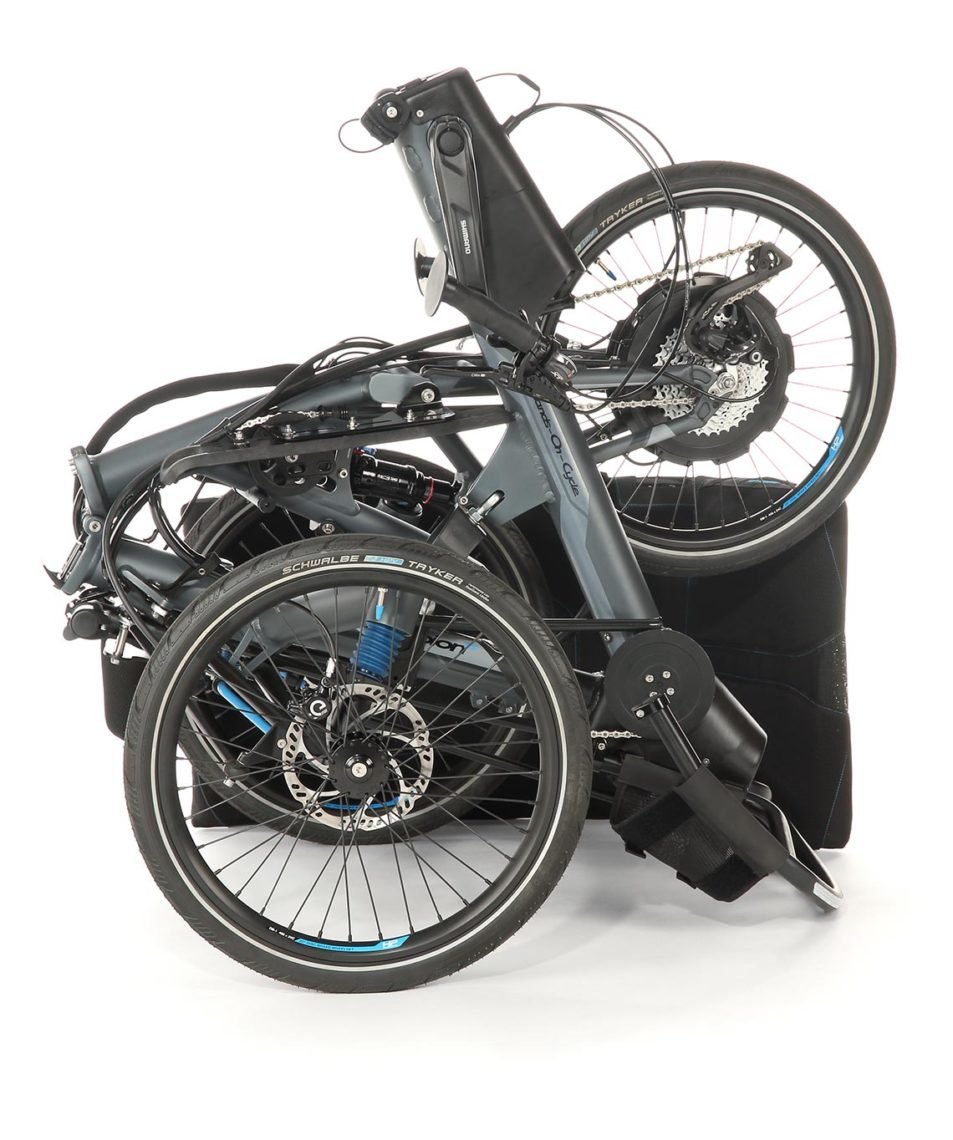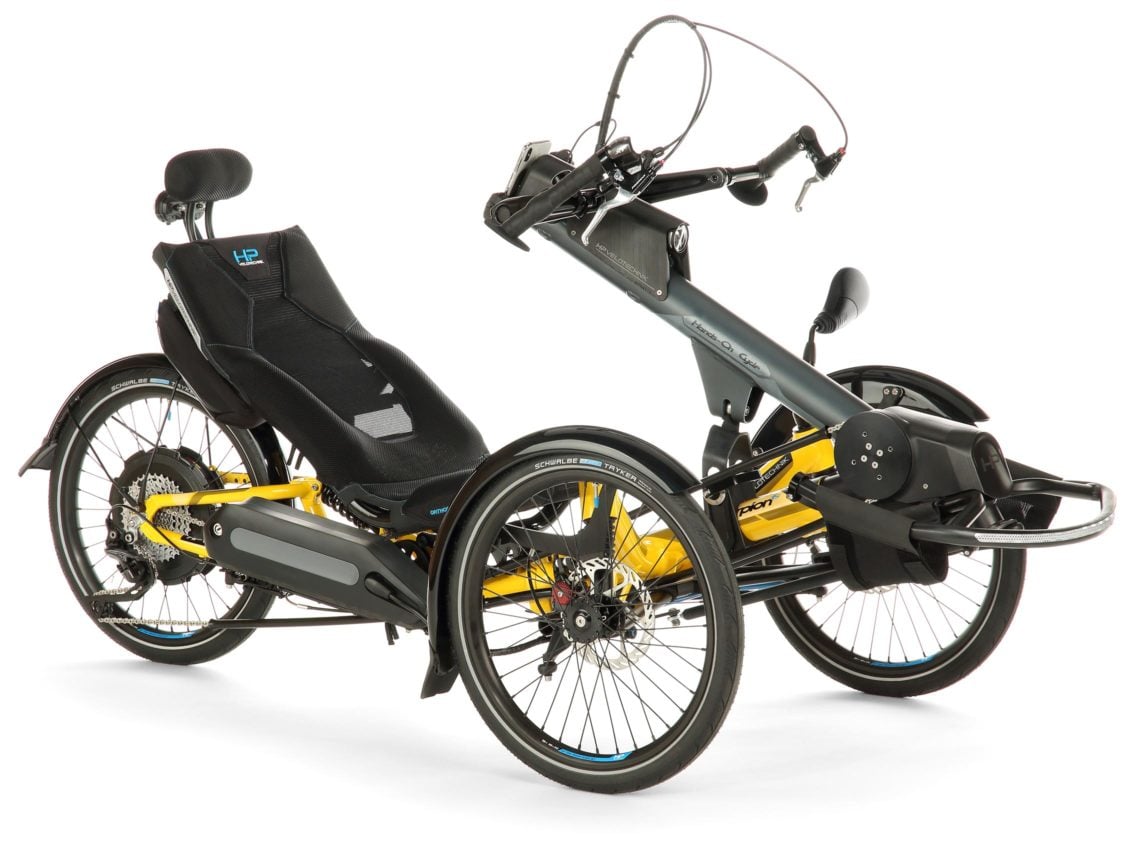 Where Can I Test and Buy the Hands-On-Cycle?
These dealers near you can order your trike with our Hands-On-Cycle handbike module. Use the "Arrange a test ride" button to contact our specialist retail partners. They will gladly tell you whether a trike with hand drive is available for a test ride in their store. Click on the dealer of your choice for details and to arrange your preferred appointment for an individual consultation.