Adult Trike From HP Velotechnik
Why a Tricycle for Adults Offers Many Advantages
An adult trike is often considered as an alternative when cycling on a classic upright bike is no longer possible. And many three wheel bikes for adults are accordingly based on conventional bicycle geometry; except that instead of a single rear wheel, two wheels are attached on the backside.
Tricycles for adults from HP Velotechnik, on the other hand, are designed from scratch as a three-wheeler trike. Our recumbent trikes for adults thus play off an array of design-related advantages – and it's not just seniors or people with disabilities who benefit from this. Adult trikes from HP Velotechnik are always a good choice – for athletes, bike travelers or commuters.
Tadpole Trike Design at Its Best
Adult trikes of the Gekko and Scorpion series are designed as so-called tadpole trikes. The young form of frogs or toads have a large head and a small tail. Similar to this, the front part of our tadpole trikes is wider, while the rear part is long and narrow. Our tricycles for adults are equipped with two steered front wheels, with a single wheel in the slim rear section providing propulsion. There, either a compact 20-inch drive wheel or, in the more sporty variants, a dynamic 26-inch wheel is used.
Three-wheelers in tadpole design are exceptionally stable against tipping and skidding – especially if you suddenly have to brake in a curve. This is because the centrifugal forces pushing to the side combine with the braking force directed to the front. The resulting force vector points diagonally forward – and thus toward the wide track of the front axle. On our full-suspension recumbent trikes, a stabilizer specifically counteracts the dipping of the outside front wheel, which absorbs a large part of these forces.
In general, the braking power on bicycles is particularly high at the front wheel and our tadpole trikes have two of them! This provides for an enormous deceleration on the two compact 20-inch front wheels even with relatively small brake discs, without the tricycle easily overturning forward.
With our tadpole trikes for adults, you also always have the widest part of the vehicle in view. This greatly reduces the risk of unexpectedly getting caught on an obstacle, and is also helpful when transporting using a two-lane bicycle trailer. By the way, with the exception of the Scorpion plus models, our tadpole three wheel recumbents have a maximum width of 83 centimeters (33 inches). This means your trike will slip through in or out of any standard-width door frame.
Tricycle With 2 Wheels in the Back
With our new Delta tx we make safe cycling easier than ever before! In order to make the bike particularly inviting, comfortable and safe for the target group, we are relying for the first time in our 30-year company history on a design with two wheels at the rear and one wheel at the front.
The scooter trike with high seat was developed specifically for people who want a lot of support and comfort when cycling and therefore need a stable, tip-resistant vehicle with a low entry height.
The design is just as convincing as the riding characteristics: The Delta tx with its suspended rear section is an absolute lightweight (from 32 kg / 70 lbs) in the e-scooter trike class. For transport, it can be disassembled into three parts in a matter of minutes to save space.
Comfort & Lots of Accessories
Recumbent Trikes Not Only for Seniors
Our tricycles for adults are particularly well suited for seniors or people with physical limitations or disabilities. Older people especially appreciate the easy boarding of the high comfort Scorpion plus 20 or Scorpion plus 26 tricycles. But the other bikes of the Scorpion series also offer a convenient seat height in combination with the ErgoMesh HS seat or the high version of the ErgoMesh Premium seat. In any case, you don't have to swing your leg high over the bike, as is necessary with classic diamond frame bikes, or as is partly the case with tricycles based on classic bike frame design.
Among our recumbent trike accessories, you will find a wide variety of options that make cycling with a handicap easier, or even possible at all. Equip your tricycle with stand-up aids, special pedals, one-hand operation for gears and brakes or crutch holders and experience completely new possibilities and the joy of being mobile again.
But of course our accessories for tricycles do not only offer options for rehab and therapy. They also include a whole range of accessories that ensure comfort on the tricycle, protect you from wind and weather, increase safety or allow you to transport your luggage. This opens up a much wider range of possible uses for you.
Match Your Tricycle to Your Lifestyle
Whether for sports and leisure, bicycle touring or the way to work: a tricycle from HP Velotechnik offers plenty of advantages and versatility to adults looking for a powerful training tool, a travel bike or a vehicle for commuting, or even as a replacement for your car.
The dynamic chassis of our adult three-wheelers guarantees safe handling when cornering at high speeds, and straight-line stability, even with luggage – whether in the variant with 20-inch or 26-inch rear wheel. Our suspended trikes from the Scorpion series feature sophisticated suspension technology that smooths out even the roughest irregularities on the road surface, independent of pedaling and drive influences. This translates to a ton of riding fun and control over your three-wheel recumbent in any situation.
Our folding recumbent tricycles can be collapsed with just a few steps and are handy for transport in the car or on public transport. This also enables them to be stored in a space-saving way at home or when traveling by bike. Particularly quick to fold are the lightweight, low-priced tricycles of the Gekko series.
Transporting luggage is one of the great strengths of all our adult trikes. Here, the models with a compact 20-inch rear wheel score particularly well, as this allows large amounts of cargo to be accommodated on the trike thanks to its robust space-saving frame design.
Tricycles With Electric Drive
Turn Your Trike Into an E-Bike
All our tricycles can be optionally equipped with an electric drive. In the class of regular three-wheeled pedelecs with an electric assistance of up to 25 km/h (16 mph), four different drive systems provide extra power as desired and turn your trike into an e-bike. Choose either the extremely quiet neodrives Z20 hub motor in the rear wheel, or one of three bottom bracket motors from the Shimano STEPS series. Here we offer models from the comfortable entry-level model to the powerful EP8 performance package.
For each electric drive, up to two gearing options are available. As unique safety feature, our tricycles with electric motors (e-trikes) can be equipped with a bicycle turn indicator to signal direction changes without having to take your hand off the handlebars.
High-speed not only for adults: A high performance star among our motorized recumbent trikes is the Scorpion fs 26 S-Pedelec. With support up to a speed of 45 km/h, this tricycle in the fast electric bike category is considered a European class L2e-P light motorcycle. In Europe this three-wheeled rocket may be driven in road traffic with a class AM driver's license already from the age of 16.
Electric Drives for Your Trike
Learn more about the electric motor systems we provide for our adult tricycles.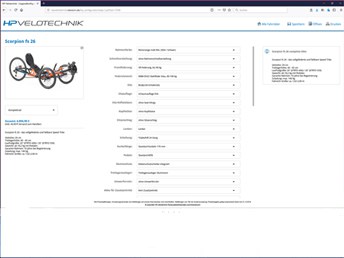 Configure Your Tricycle Now!
Fast, convenient and informative: Even putting together your tricycle is fun with our online configurator. Choose to your heart's content from our versatile modular systems!
Discover the Whole Variety of Our Recumbents!
Recumbent bikes & trikes with two or three wheels with practical accessories: HP Velotechnik is for you!