The comfortable travel recumbent bike
Where Do You Want to Ride Today?
Put Your Feet up High and Enjoy the Panoramic View
The evolution reveals: A small change of your posture can lead to a boost in performance and comfort. Whether you like to enjoy cycling your favourite path by the lake, exercise your body on the slopes in the hillside or commute on the way to work – lean back, relax and enjoy your bike with a view.
The Streetmachine Gte combines the knowledge of more than 25 years of development work in a travel and touring bike that is unparalleled. Your advantages: The high seat for the best overview, the precise steering and the well-engineered accessories for even the most adventurous cycle tours.
Delivering maximum riding pleasure as standard. Raise your legs up in comfort. With a few powerful pedal strokes you will accelerate unusually fast. After just a few minutes you'll have the hang of it and your new bike safely under control – agile in narrow streets and smooth-running on the country road. From now on you can enjoy cycling the most comfortable way!
Versatile Recumbent Bike for Travel, Tour & Everyday Rides
Your Streetmachine Gte is as versatile as the way from Paris to Bangkok, from NY to LA. The plan for your next cycling adventure is already on your mind? This comfortable travel recumbent bike is your faithful companion, designed and built to offer the highest standards of comfort and sophistication. And it has a whole host of features that set it apart from other bikes of its type. A Streetmachine Gte does exactly what you want it to do with the minimum of input. It practically rides itself, leaving you free to concentrate on the road ahead, or just to relax and enjoy the scenery.
For the Streetmachine Gte we offer a system of reliable components and accessories, which we have developed for the most demanding everyday use.
Keep an eye on things. The Streetmachine Gte is our recumbent bike with the highest sitting position. Sitting at a hand's width above most road users, you have a good view trough car windows in city traffic.
The Streetmachine Gte is a real treat with relaxing comfort. The full suspension gives you safety, as control and road grip are improved. With a good suspension, you can ride faster. So even a tour on gravel roads can become a pleasure.
Important: The quality of a cycle's suspension becomes particularly clear when carrying a great deal of luggage or riding on hills. The No-Squat suspension design of the Streetmachine Gte offers complete comfort with no performance loss. The combination of a very stiff rear frame triangle with the sophisticated positioning of the swing arm pivot point, the large ball-bearing chain idler, and the hydraulically damped rear shock effectively prevent compression due to driving forces and unpleasant pedal rebound. You can accelerate powerfully, even on the mountain slopes.
Top Virtues of the Streetmachine Gte
Custom CSS for Advanced Carousel - Do not delete
Your comfortable travel recumbent bike Streetmachine Gte has these technical refinements on board as standard.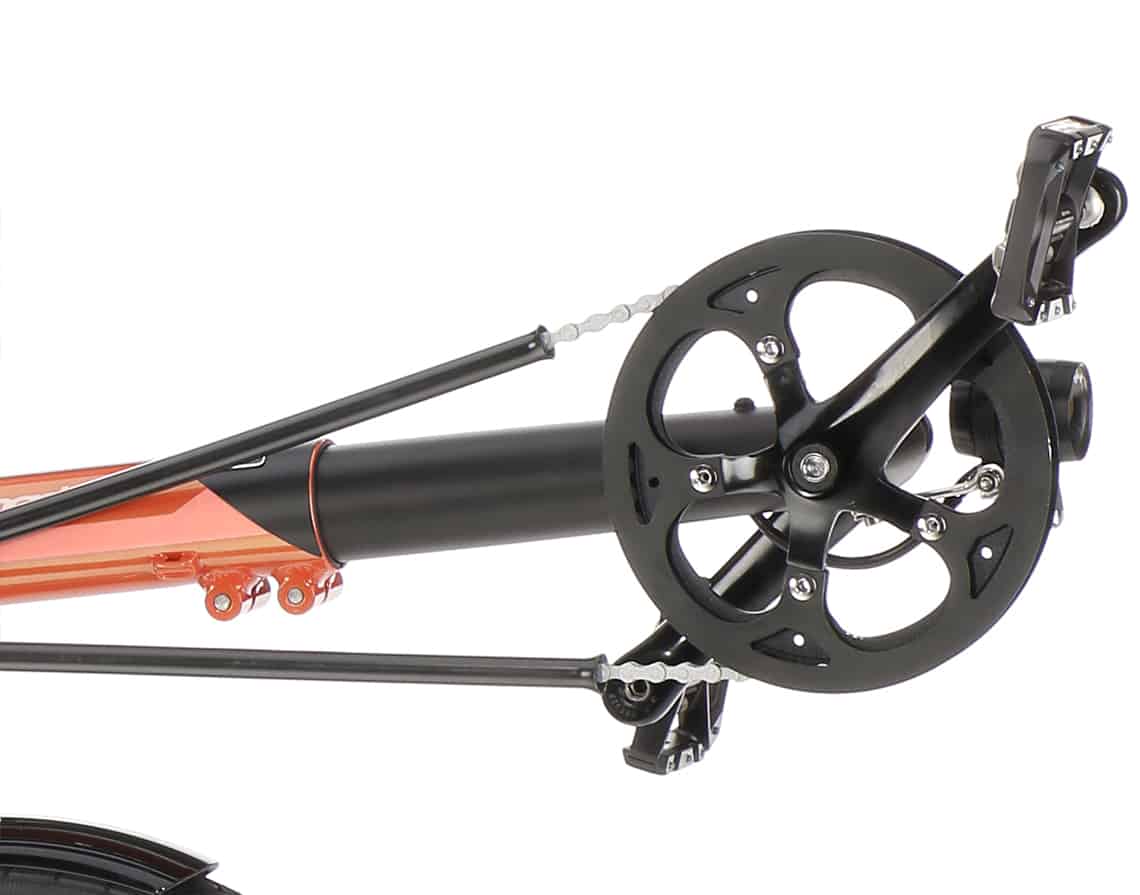 Chain Protection Tubes
Protects your clothes and the chain: The drive train is mostly covered. The unique chain tubes made from durable plastic create minimum friction for a quiet ride. The frame is adjusted to your leg length by shortening or extending the front boom in the main frame.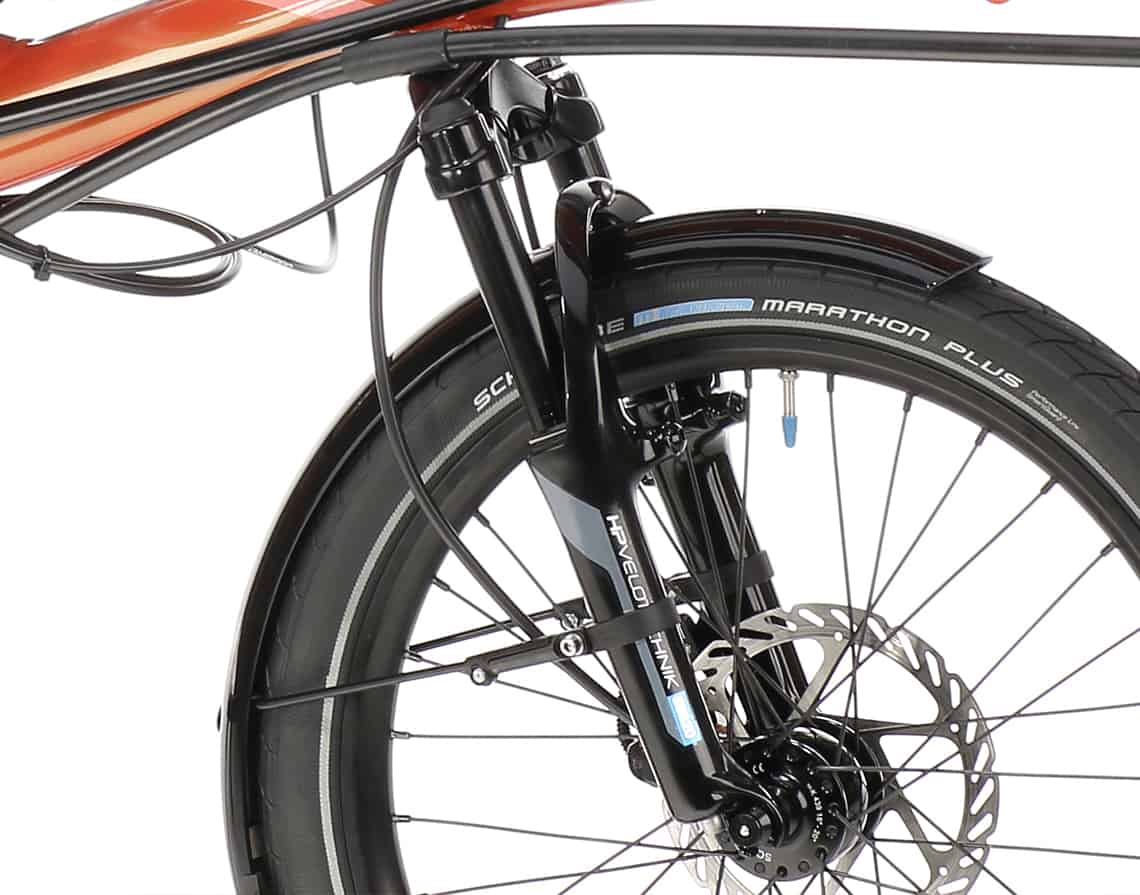 Suspension fork
HP Velotechnik integrates comfortable recumbent bike suspension forks. The Spinner Grind2 has a reliable spring system with interchangeable steel springs and adjustable spring preload. We install disc brakes for you as standard. This guarantees reliable braking power even on long downhill rides or in wet conditions and protects the rims from wear.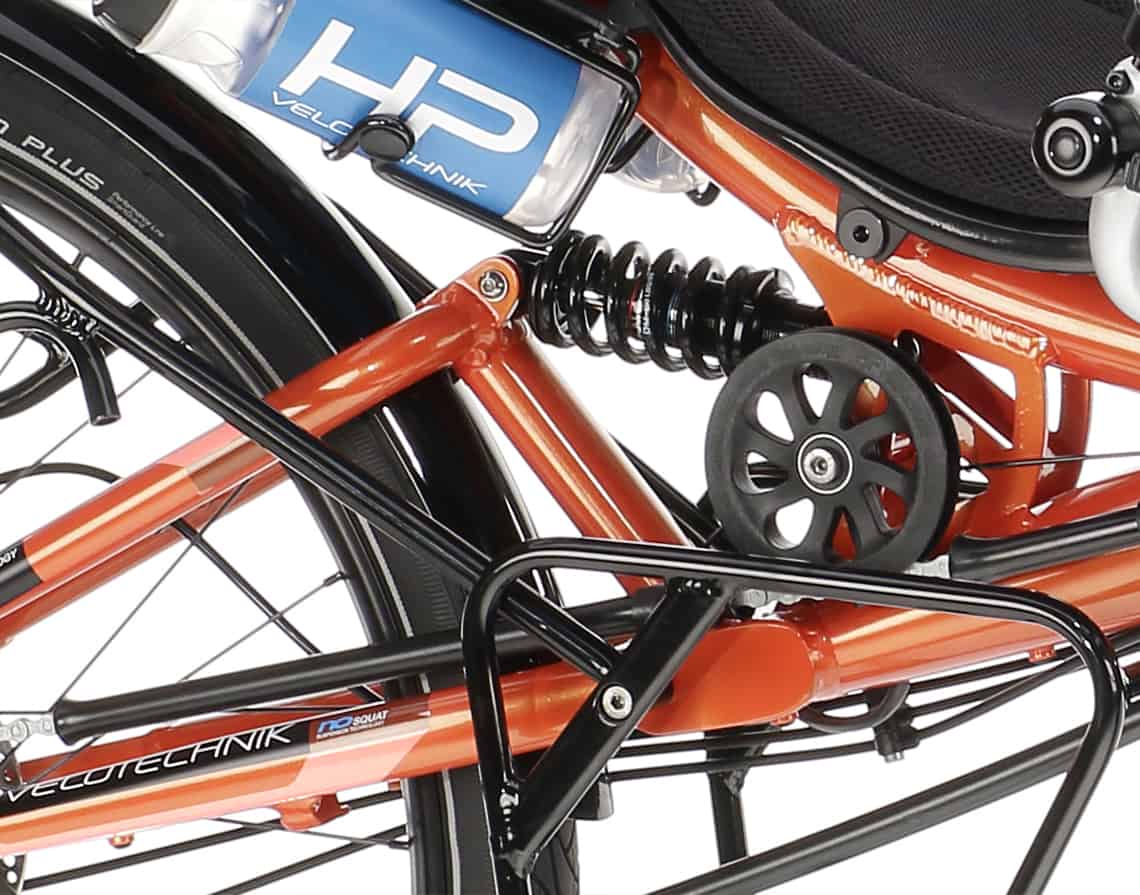 Suspension
HP Velotechnik's adjustable suspension provides superior ride comfort on your fast electric bike. The suspension utilizes HP Velotechnik's tried-and-tested No-Squat suspension concept. It reliably prevents drive forces from affecting the suspension and unpleasant pedal kickback. This enables you to accelerate at all times powerfully.
Optional Features for True Individuals
Have you got your own notion of your ideal bicycle technology? Our modular system enables us to build your recumbent tricycle to meet your needs and desires. A whole range of reliable features and components is available for your bike, all of which have been specially developed to excel in everyday use. Here we show some selected examples; you will find the complete selection in our price lists and catalogs as well as our online configurator.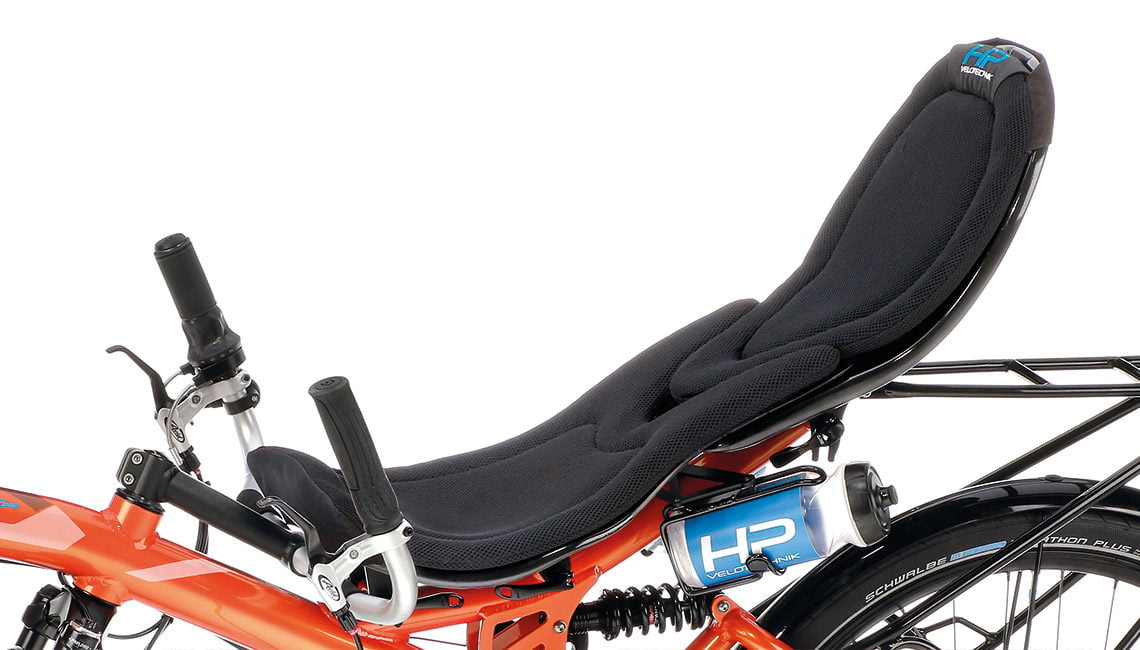 BodyLink Seat
At the most important contact area between rider and bike, the
seat systems from HP Velotechnik
create an exemplary ergonomic connection. With the
BodyLink
seat, two anatomically shaped hard seat shells, connected by a flexible middle section, provide an unprecedented sitting comfort on your recumbent bicycle. Integrated length adjustment to adapt to your body size. Seat back inclination, pelvic support and the height of the front edge of seat can be adjusted by quick release levers according to your riding situation. Spinal canal with large ventilation openings. Waterproof seat pad cushion made of EVA foam or breathable
Airflow seat cushion
(multi-layer system).
ErgoMesh Seat
Alternatively, you can mount the airy ErgoMesh mesh seat. The seat has ergonomic side padding and a practical integrated pocket for small parts in the backrest. Safety plus: Reflective stripes on the sides of the seat. Both seats fit on the same frame mount and can be removed in 15 seconds using the quick-release - convenient when parking in the rain or for transport in the car.
Under seat steering
Comfortably positioned ergo-bars beneath the seat. Your wrists and neck are relieved from strain. The direct connection allows the front wheel to precisely follow your steering movements. The standard handlebar is 60 cm (23.6") wide with slightly curved grip ends. On request we mount an extra wide handlebar with 65 cm (25.6") width and straight handle ends. The wider handlebar gives you more steering angle, but the wider arm position increases your air resistance slightly. If you order the ErgoMesh seat, we will fit the extra-wide handlebar.
Above Seat Steering
Alternative Above Seat Steering for best possible aerodynamics. All control elements remain in view as you are used to. A robust inclination adjustment and the stability of the pivot point are important. We combine the GlideFlex hinge of our partner Terracycle with our curved, height-adjustable stem. Whether Above Seat Steering or Under Seat Steering: You will always be in perfect control of your Streetmachine Gte.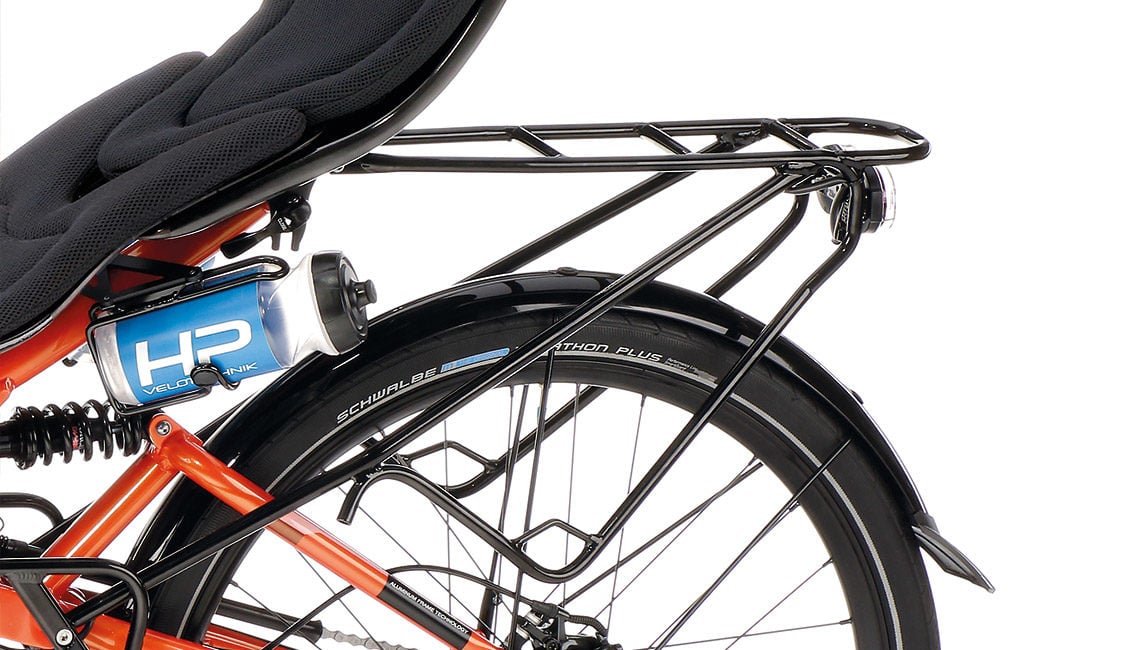 Rear Rack
Your luggage will be fully suspended: Your equipment will find plenty of space on our sturdy carrier made of high-strength 12 mm tube. With the deep side-bars it offers a secure support for panniers. Well integrated: A protection for your taillight and a flag mount.
Lowrider
Ideal for heavy bags: Lowrider under the seat for 2 large bike bags. Good road holding due to low centre of gravity. Integrated kickstand mount with optimum position in the middle of the bike.
Air Shock
On request, we can install the ultra-light Monarch RL spring element from RockShox. The spring stiffness can be easily adjusted to the payload using a shock pump. Equipped with adjustable hydraulic rebound damping and lockable compression damping, it excels with excellent responsive suspension performance.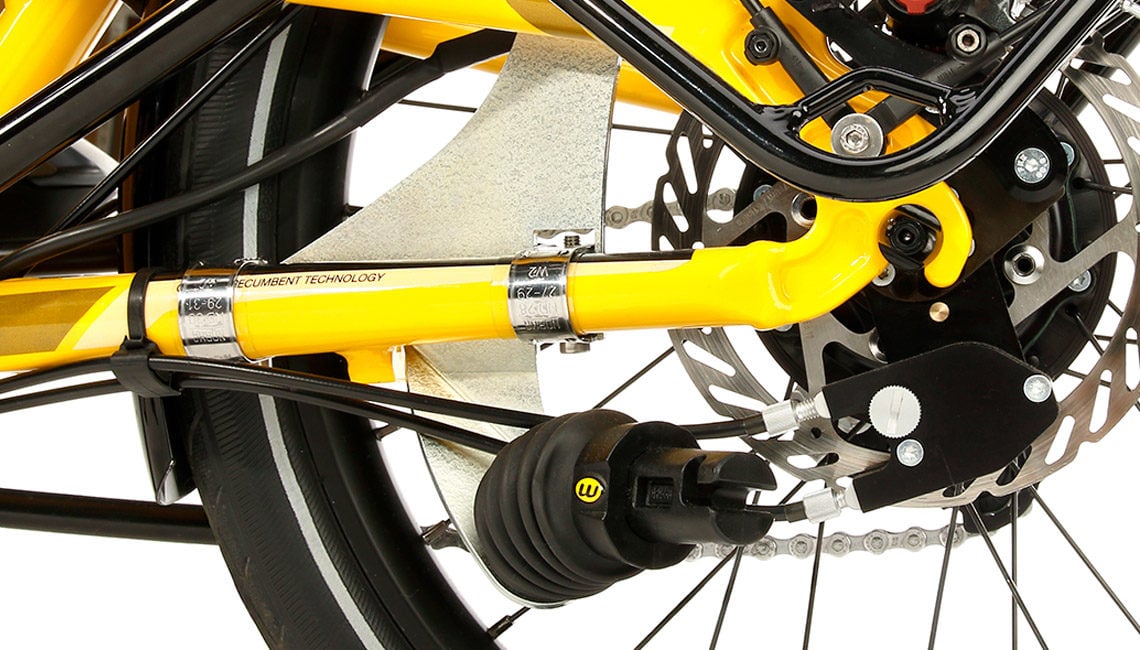 Trailer coupling
The Streetmachine Gte is suitable for trailers (single or double track) up to 40 kg (88 lbs) weight. Ideal for the transport of children or your really big tour.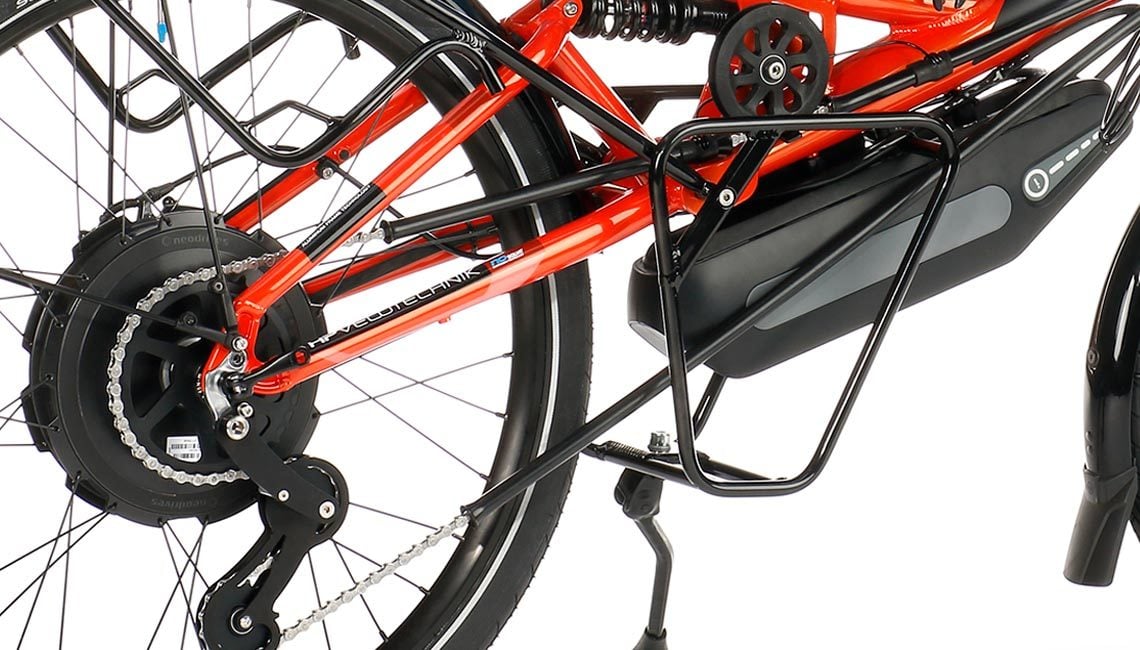 Electric Power-Assist
Do you offer
electric drive assistance
? Absolutely - recumbents come to top form there! HP Velotechnik can optionally equip all vehicles with a powerful electric motor. More and more people are discovering the world of cycling with casually raised legs and a relaxed sitting position on a recumbent bicycle. The megatrend "electric assist" shows its best side with this type of bicycle. The built-in aerodynamic advantage of your recumbent trike can also be exploited electrically: less drag means more range. The e-assist system integrates elegantly into the trike's design. This applies not only to the hub motor in the rear wheel, but also to the control unit on the handlebar and the battery.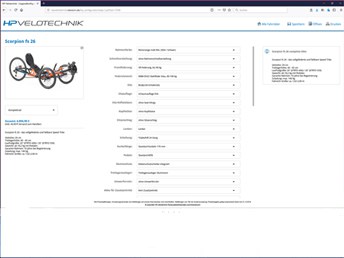 Fast, convenient, and informative: Selecting the components of your comfortable travel recumbent bike is easy with our online configurator. Choose to your heart's content from our versatile modular systems!
Specifications and Technical Data
The outstanding ride of our comfortable travel bike is of course based on thoroughly engineered performance technology with precise technical specifications. The detailed figures can be found here in the technical data sheet – from the dimensions to the payload, from the seat height to the appropriate rider size. And of course, we are also happy to show you which colors you can choose for your Streetmachine Gte.
Seat hight BodyLink: 63 cm (24.8")
Seat height ErgoMesh: 66 cm (26")
Seat angle: 39–47°
Wheel size (front wheel): 20" (ISO 406)
Wheel size (rear wheel): 26" (ISO 559)
Max. tire width: 5 cm (2")
Bottom bracket height: 69 cm (27.2")
Wheelbase: 104 cm
Length: 170–195 cm (67–77")
Hight: 110 cm (43.3")
Handlebar width: 60 cm (23.6") or 65 cm (26")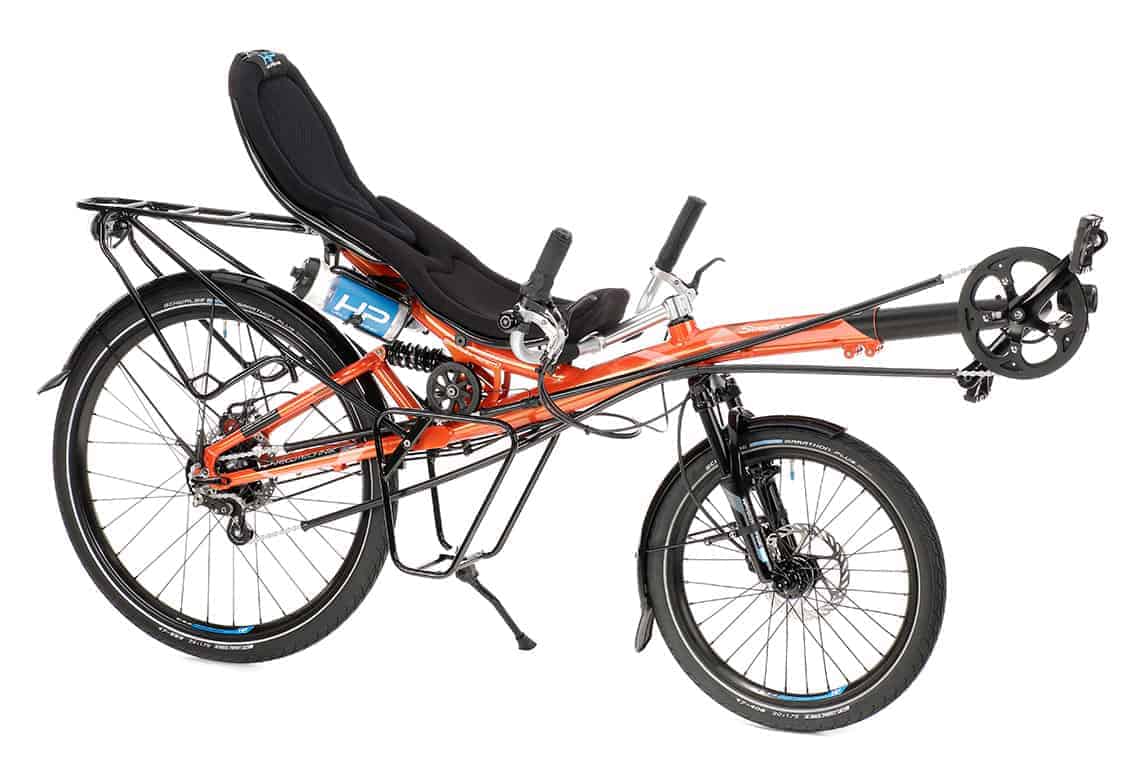 Standard color: Pearl orange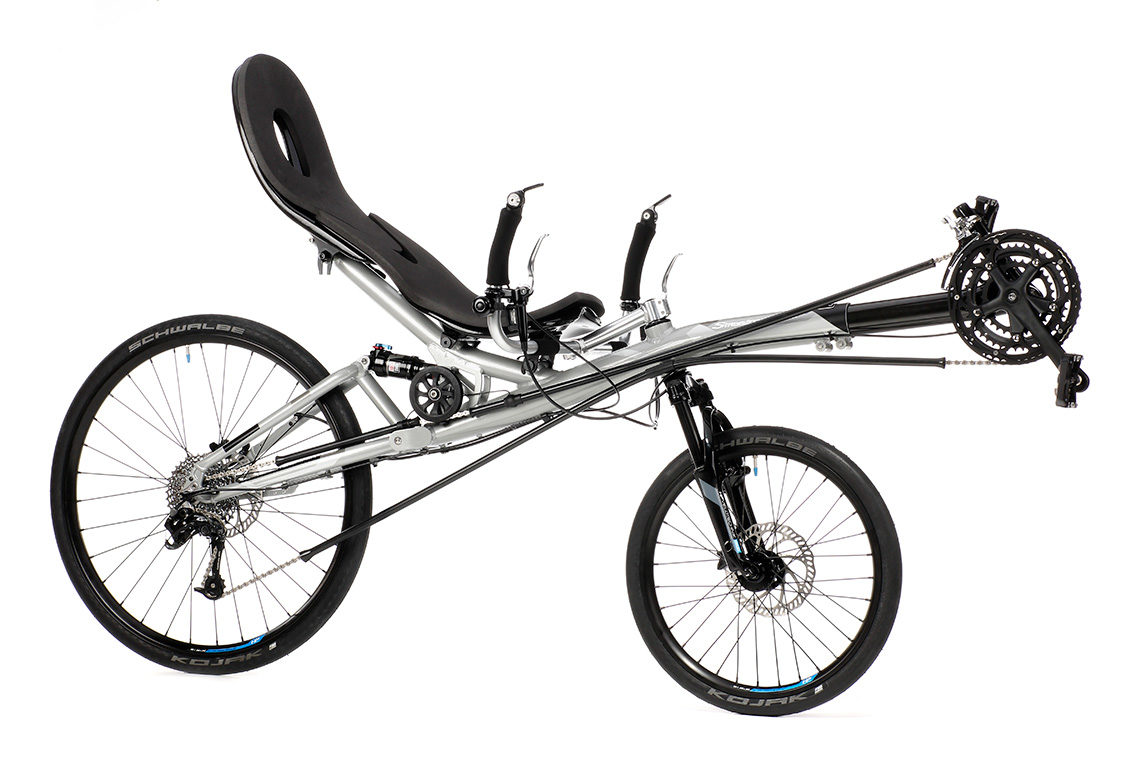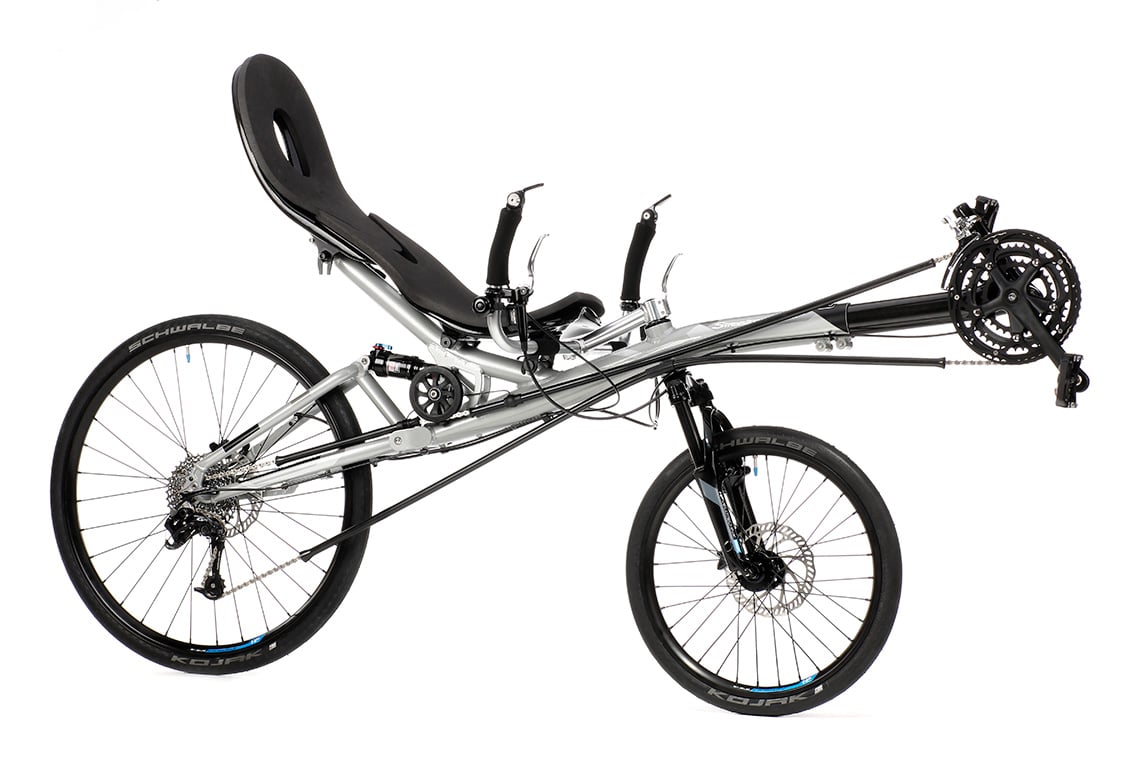 Standard color: Silver grey
Give your bike a personal touch: On request, you can have the frame of your HP Velotechnik recumbent bike powder-coated with a custom color completely to your personal taste. You can choose from hundreds of color shades:
An overview and further information about our custom colors can be found in our color chart.
Bottom bracket standard: BSA 68 mm
Suspension travel: front 5 cm (2") / rear 8 cm (3.1")
Weight: from 14.6 kg (33 lbs) incl. pedals
Payload: max. 130 kg (286 lbs)
Frame material: Aluminum 7005 T6 heat treated
Swing arm bearing: maintenance-free
Steerer tube: oversized for 1" integrated headset
Rider height: ca. 1.64 – 2.00 m (5'5" – 6'7")
We are committed to the quality of our products. Therefore we grant a guarantee of 10 years on the frame and the swing arm bearing of our bikes and trikes. For further information, please have a look at our warranty conditions.
They Even Have a catalog? This Is Getting Better and Better!
You will find all the details about theStreetmachine Gte in our detailed and richly illustrated two-wheeler recumbents catalog In addition, you will read lots of background information about recumbent bikes and exciting adventure reports from people travelling by bike.
Even now you have the choice with us: Browse here online on our website. Or request your copy in high-quality printing form by post. So you can comfortably recline at home on your sofa and start discovering the world of recumbent bicycles – without obligation and completely free of charge.
Do you want to read more?
They Even Have a catalog? This Is Getting Better and Better!
In our comprehensive recumbent bike catalog you can read all the details about the Streetmachine Gte and exciting adventures of people on recumbent bikes.
Request your copy in a high-quality printing form right away. So you can comfortably recline at home on your sofa and start discovering the world of recumbents – without obligation and completely free of charge.
Here You Can Enjoy the Best Views
You will experience the best reasons for one of our recumbents during an extended test ride. On our website, we can only describe to you the incomparable driving feeling. True to the saying "A picture says more than 1000 words" we want to let our comfortable travel recumbent bike Streetmachine Gte speak for itself.
Move the mouse pointer over the image. Use the magnifying glass symbol to open the picture gallery. Alternatively, you can use the link icon to download photos in high resolution, e.g., as a desktop background – simply right-click after opening the image. You can find more high-resolution pictures in our album about the Streetmachine Gte on Google Photos.
Streetmachine Gte Frequently Asked Questions
All Right, Enough Theory, How Do I Get on The Comfortable E-Chopper?
A Streetmachine Gte is waiting for your test drive at these dealers near you.
Attention: A filter for this model is preset! With the "Advanced Search" you can also search for other models. Click on the dealer for the details and your desired date for an individual consultation.
Our Two-Wheeled Recumbents at a Glance
Are you looking for the complete recumbent bike selection from HP Velotechnik?