The best trike for kids with special needs and short people
The Trike That Grows with Your Needs
Gekko fxs: Our Best Trike for Kids with Special Needs and Great Trike for Short People
The Gekko fxs is the adaptive trike that grows with your kid! There can be many reasons why a conventional upright bike is not suitable for your child. At HP Velotechnik, we believe that cycling should be a natural part of every childhood and also be safe and convenient for short adults. That's why this recumbent tricycle now also makes children with special needs smile – and you, as parents, will certainly do the same, too.
The adaptive folding trike Gekko fxs has been specially developed for children, young people with disabilities and other short persons and can easily be adapted to fit body sizes from 115 to 180 centimeters (4′ to 5'11"). If your child has difficulty maintaining his or her balance on an upright bike, then in many cases he or she will be able to sit on this stable tricycle securely, even at a standstill.
And if it is otherwise difficult for your child to perform a smooth pedaling movement, it will be much easier to train and encourage when your child is safely seated in the comfortable recumbent seat of this special needs tricycle. This is also recognized by the German health insurance system: Thanks to the medical aid number (22.51.02.0061), it is now possible in many cases to cover the costs.
Our Smallest Tricycle for People with Special Abilities
Your child can lean back, relax and always see the two front wheels to stay aware of the width of its trike, also when riding in narrow passages. Because the Gekko fxs is designed with only one rear wheel at the back just like a regular children's bike, we can install individually suitable, easy-to-use shifting technology from our modular system for your kid. Meanwhile, your child can look forward to the full range of beautiful bicycle bags or practical bicycle baskets thanks to the robust standard luggage carrier to transport his or her favorite items on this kids recumbent trike.
Especially for handicapped children, parents often hope for more normality, more mobility and the greatest possible independence – the adaptive Gekko fxs rehabilitation and therapy trike can make an important contribution here. Isn' it amazing that with the Gekko fxs trike, so much good for health and quality of life can be such fun to ride for your kid, too!
The kids recumbent trike Gekko fxs will stand and ride particularly safely – even for inexperienced riders in fast curves or people with a limited sense of balance. The "tadpole" tricycle design with the two wheels at the front and the rider's low center of gravity ensure particularly good stability when braking in tight turns.
The crossbar of the reinforced frame connects the two front wheels elegantly while sweeping significantly further rearwards to the seat than on other trikes. This creates a lot of space between the two front wheels for easy boarding, even with the special needs of physically impaired persons. Special advantage: Your child can see the width of his vehicle directly from the two front wheels at any time – safer for himself and others than would be possible with conventional rehab bikes or simple bicycles with support wheels at the rear.
This tricycle enables the child to move independently in many cases despite its handicap. At the same time, physiotherapeutic therapy is enhanced and individual support and equilibrium reactions, as well as movement coordination, are trained. In the recumbent bike position, your child can pedal with less strain on the knees and can precisely regulate the muscular load.
The high pedal position of the Gekko fxs above the seat enables effective power support on the backrest and gives the driver a relaxed, streamlined posture. The open position of the upper body prevents constricting pressure on the abdominal cavity and the organs. Instead, the lungs can fully unfold.
How many bikes does your child need to grow up? With HP Velotechnik, the answer is simple: Exactly one! Thanks to the Triple Vario design for body sizes between 115 and 180 centimeters (4′-5'11"), the Gekko fxs special needs trike simply grows with your child's height.
What's Most Important for Your Kid
Lots of Riding Pleasure Included by Default!
Your child can expand his or her range of activities, gain new experiences in terms of location and increase his or her zest for life and self-esteem. The significant health benefits of recumbent cycling for the cardiovascular and nervous systems when training symmetrical movements, the effective relaxation of the spine, arms and shoulder girdle musculature and the effective physical-motor stimulation of adolescents unfold their advantages above all when the vehicle chosen is enjoyed with enthusiasm in everyday life.
Indications:
The kids recumbent trike Gekko fxs can be used to restore mobility in cases of balance and coordination disorders, as well as limited natural movement patterns. Depending on the recommendation of your child's therapist, possible indications for riding this tricycle are:
Balance disorders/dizziness
Joint mobilization, e.g. for arthrosis
Neuromuscular diseases e.g. cerebral palsy or muscular dystrophy
Paralysis e.g. stroke with hemiplegia, partial paralysis of arm or leg
Increase of muscle mass
Back pain
The Gekko fxs should be especially considered when a child cannot safely use conventional children's bicycles, even with standard support wheels, due to its special limitations.
Positive effects:
Promotes kinetic coordination
Improvement of posture symmetry
Improvement of physical performance and condition
Compensation for lack of mobility
Learning and promoting specific motion sequences
Prevention of contractures
Promoting general well-being
Integration and participation in society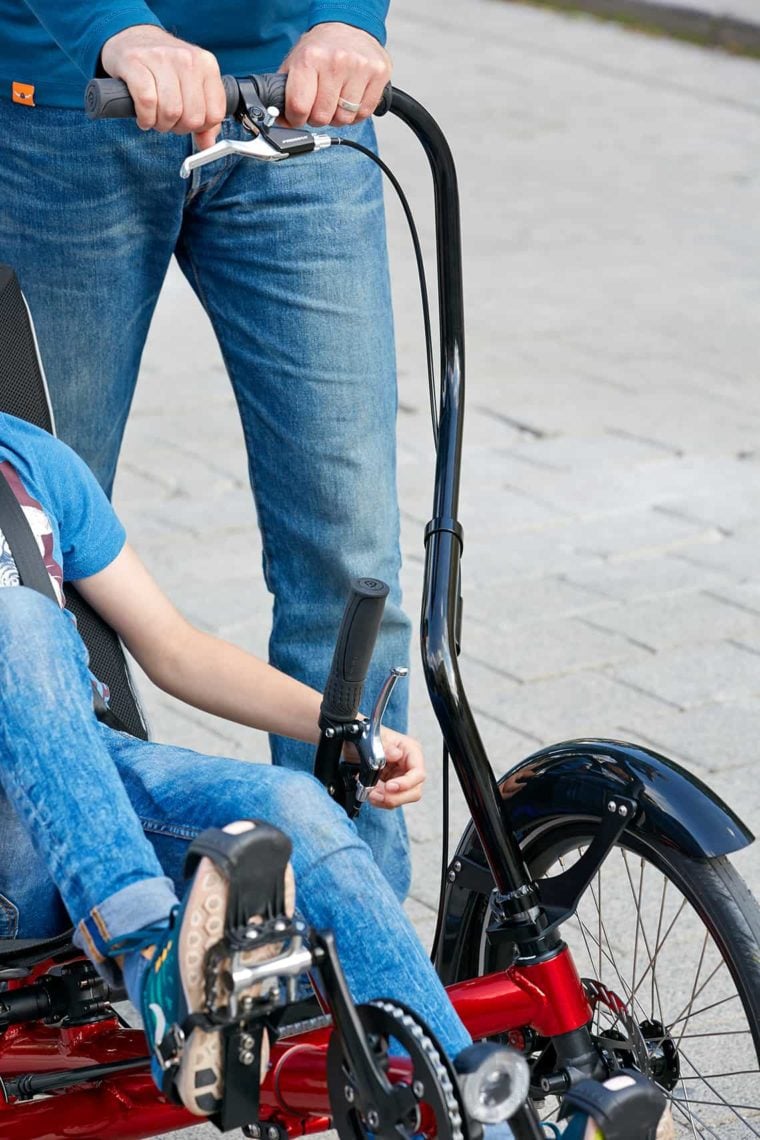 Top Virtues of the Gekko fxs
Ergonomic, Comfortable and Extremely Variable
For children, an ergonomically shaped seat is particularly important. But no two children are the same. With the OrthoFlex seat, we have therefore developed a completely new adaptable seat sturdily integrated into the frame of the Gekko fxs. It is extremely variable and also adapts comfortably to special needs throughout childhood and adolescence.
As your child grows, it will not only have longer legs, but also a different back shape and a larger pelvis. When extending the rear part of the frame after a growth boost, you not only increase the distance to the bottom bracket but also the seat depth of the OrthoFlex seat. To adjust the length of the frame independently of the seat, use the front frame extension.
How upright should your child sit? The seat angle can be infinitely adjusted in the range between 48 and 64 degrees – the Gekko fxs allows a much more upright sitting position for rehabilitation and therapy purposes than is the case with recreational recumbents. All these adjustments can be made in just a few simple steps: you only need to open the eye-catching blue quick-releases and adjust the frame and seat as desired.
More support when cornering: A unique feature of the OrthoFlex seat is that you or your care provider can individually adjust the side support and back support to suit the shape of your child's spine using individually adjustable padding parts. This is because the eight pads are not sewn firmly into the seat, but are inserted in special pockets that you can open and adjust using Velcro fasteners on the sides. The openings are clearly marked by blue stripes.
For small riders, simply slide the cushions at the edge of the seat and backrest a little inwards to reduce the effective width of the seat to the correct size. When cornering, the rider feels the lateral forces, unlike when riding an upright bike – which is why the side pads must provide support in the right places.
But not only the lateral support, also the support in the area of the lower lumbar vertebrae (lordosis segment) can be individually adjusted by shifting the upholstery parts. For children and teenagers under approx. 1.40 m (4'7″), padding can also be inserted in the neck area to support the head. For taller riders, a separate headrest is available that can be adjusted in height and angle using a quick-release.
For special therapeutic requirements, orthopedic specialists can also adjust the seat with the greatest precision. Because the seat cushions are not sewn in, they can easily be replaced by custom molded back support parts.
The Gekko fxs Easily Unfolds a Lot of Riding Pleasure!
Speeds up not only your heart rate: This tricycle remarkably unfolds into a good deal of riding pleasure. To help you take the Gekko fxs wherever you need it, HP Velotechnik's engineers have equipped the compact Gekko fxs with an amazingly fast, easy-to-operate, sophisticated folding system.
Particularly useful: All components remain firmly attached to the trike – unlike conventional folding tricycles, where the seat or luggage rack must first be removed and transported separately. All this is made possible by HP Velotechnik's patented Dual Flat Fold (D.F.F.) folding system, which uses only two quick-release levers for the Gekko fxs. With a little practice, you can fold your Gekko fxs up to 92×57×86 cm compact in a short time (36″x22.5″x34″) For transport by car or train, a practical protective cover is available for the folded Gekko fxs.
Your advantage: After the swift folding, the package can be parked vertically to save space. So you can carry it easily in winding staircases or through train doors. On the platform, you simply wheel the folded Gekko fxs on its integrated transport wheels.
Cunning design: The solid frame construction of the Gekko fxs combines safe road holding with sporty handling, precise steering, low weight, and minimal space requirements. The frame cross member, which is bent far back and positioned close to the seat, and the robust, angle- and width-adjustable handlebar ensure easy entry and exit.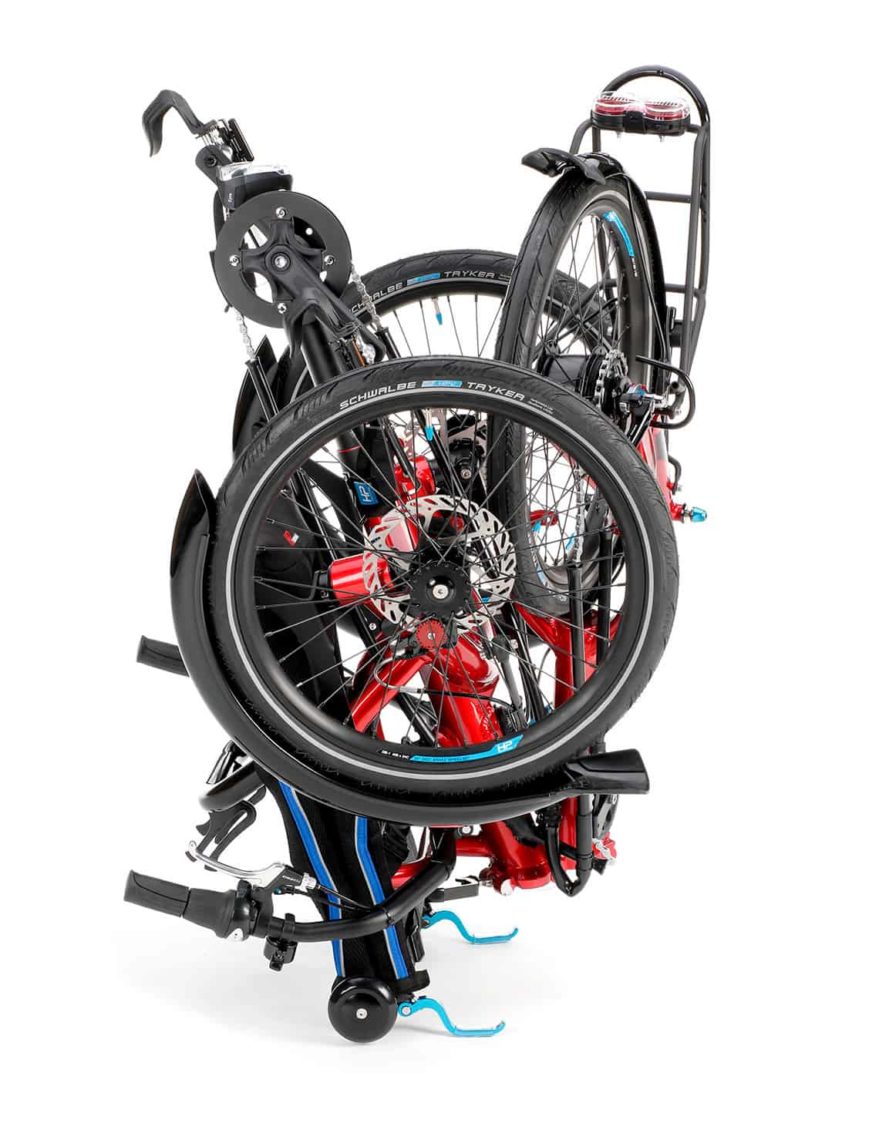 Custom CSS for Advanced Carousel - Do not delete
Details Make the Difference
Gekko fxs: a small tricycle with great equipment as standard!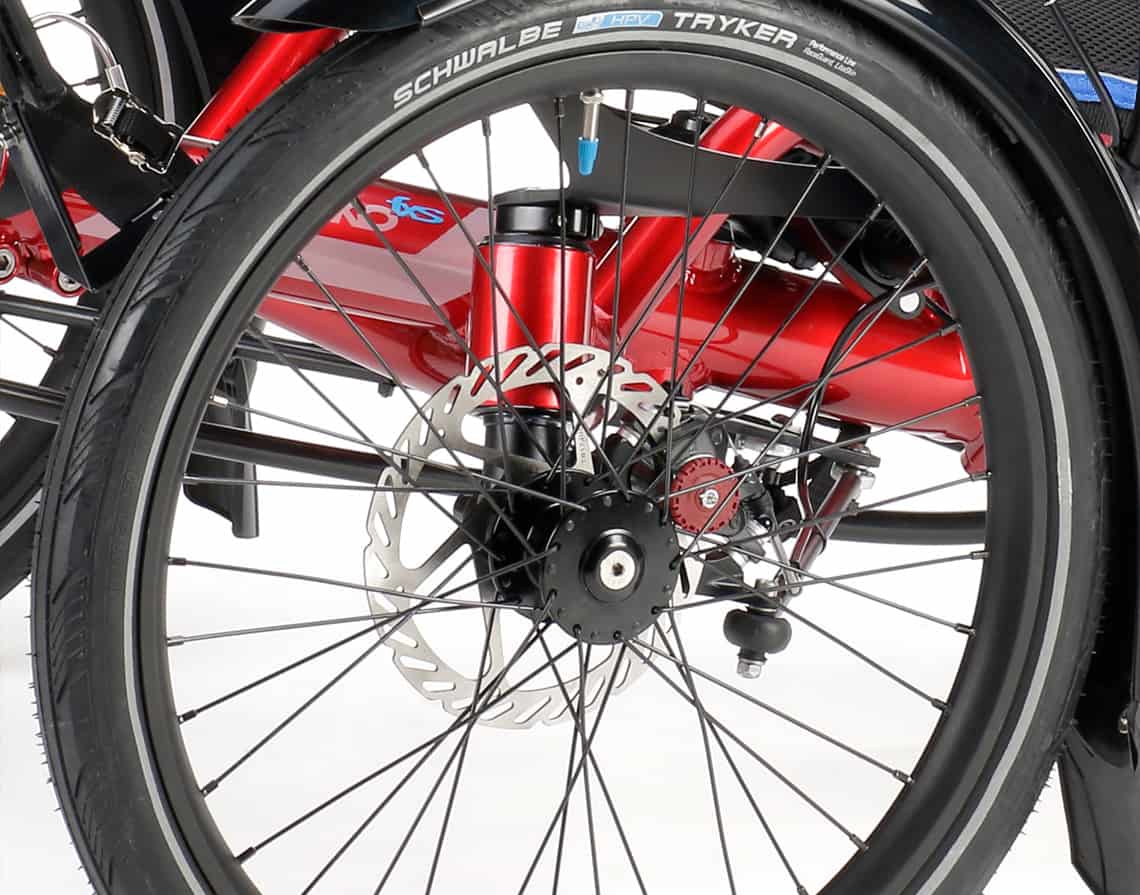 Robust wheels
Compact, smooth-running wheels, optimized for the high lateral forces on the trike. HP Velotechnik's trike rims are made with a robust aero hollow-chamber profile and combine excellent directional stability, maximum lateral stiffness and low weight for fast acceleration. Smoothly running, responsive Schwalbe Tryker trike tires with puncture protection lining. HP Velotechnik hubs with maintenance-free precision ball bearings. Stainless steel spokes.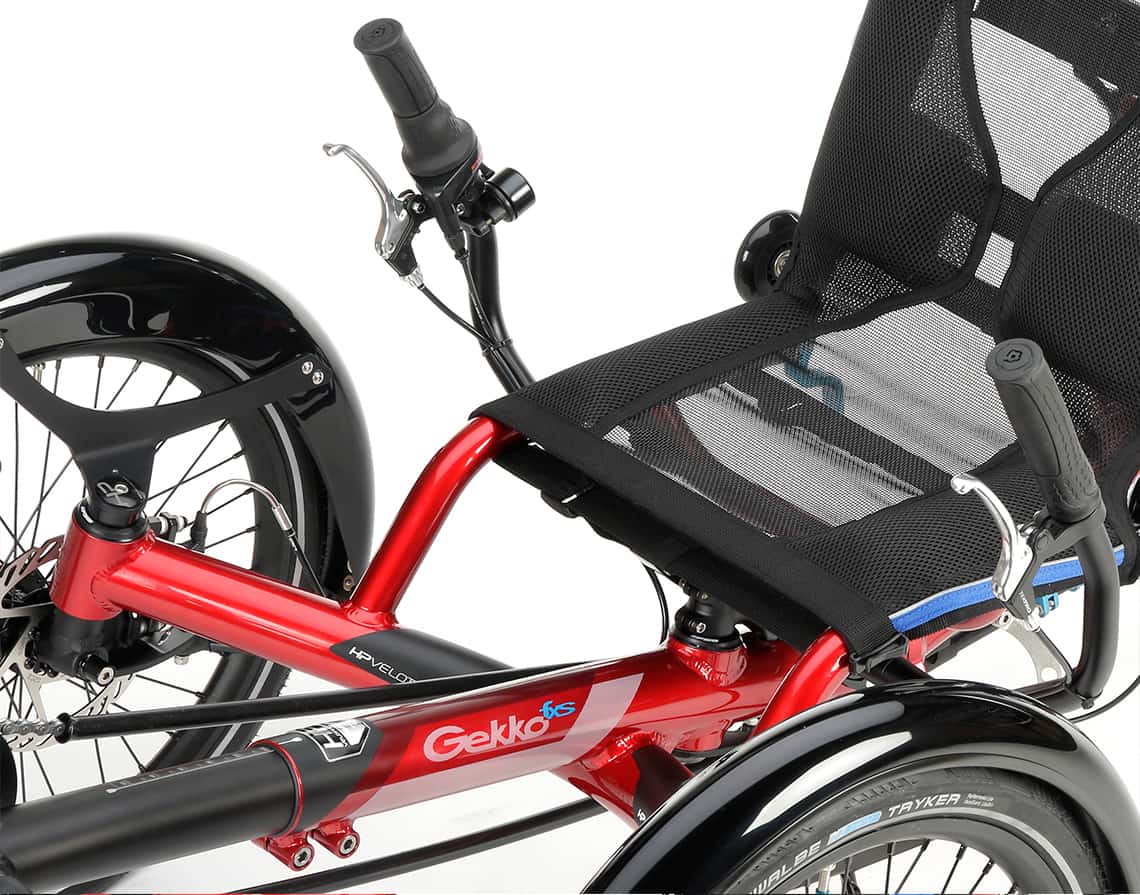 Plenty of space for your child
The wide track of the Gekko fxs offers plenty of space between the wheels for the hands on the handlebars and allows ample steering angle for a small turning circle. For the trike to pass through doors and gates with ease, HP Velotechnik has developed narrow hubs for an overall width of only 83 cm (32.7") - every inch counts!
Direct drive rear wheel
The single driven rear wheel directly transfers the pedal pressure to the road as forward propulsion. Unlike with many vehicles with two rear wheels, no complicated differential gears are required. Instead, you can choose from a whole range of modern gear technology for the Gekko fxs' drivetrain.
Trikefender mudguards
Optimized protection: HP Velotechnik has specifically developed the Trikefender mudguards for the best possible weather protection against wheel spray and dirt on a trike. The inner side and the lower edge are stretched downward to improve the splash protection to the driver, especially when cornering. The rounded profile with 60 mm (2.36") width allows the mounting of large-volume, particularly well-sprung tires up to 50 mm (2") width.
Chain Protection Tubes
Keeps clothes, chain and children's hands clean: The drive is widely covered. The unique chain tubes made from durable plastic create minimum friction for a quiet ride.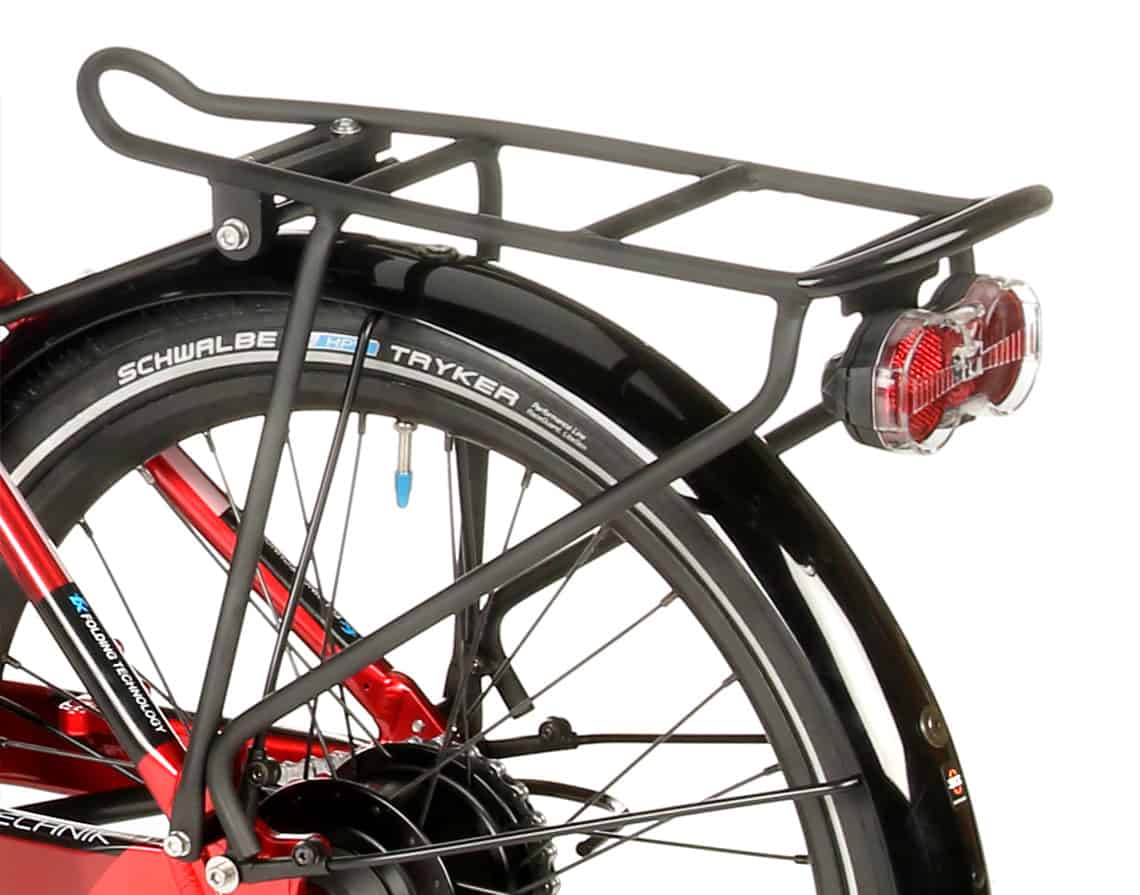 Sturdy luggage rack
One of the advantages of the Gekko fxs is that you can attach two standard bicycle bags. The stable luggage rack is made of 10 mm tube and carries up to 25 kg (55 lbs). Practical detail: Integrated protective bracket for your rear light. The handle, which has a plastic coating, is at the same time a convenient handle for lifting or pulling the trike backward.
Robust Folding Hinge
Double safety: The robust folding hinge has a locking bolt that unlocks against spring pressure after opening the quick release. High-precision stainless steel folding axle developed by HP Velotechnik.
Easy wheel removal
Very convenient for transport: HP Velotechnik has developed open wheel knuckles that allow the front wheels to be removed together with the brake discs after loosening just one screw, without having to readjust the brake system afterward.
Optional Features for True Individuals
Have you got your own notion of your ideal bicycle technology? Our modular system enables us to build your recumbent tricycle to meet your needs and desires. A whole range of reliable features and components is available for your recumbent trike, all of which have been specially developed to excel in everyday use. Here we show some selected examples; you will find the complete selection in our price lists and catalogs as well as our online configurator.
Parking Brake
As a parking brake, we can install a V-brake on the rear wheel. It is operated by a thumb lever at the handlebar.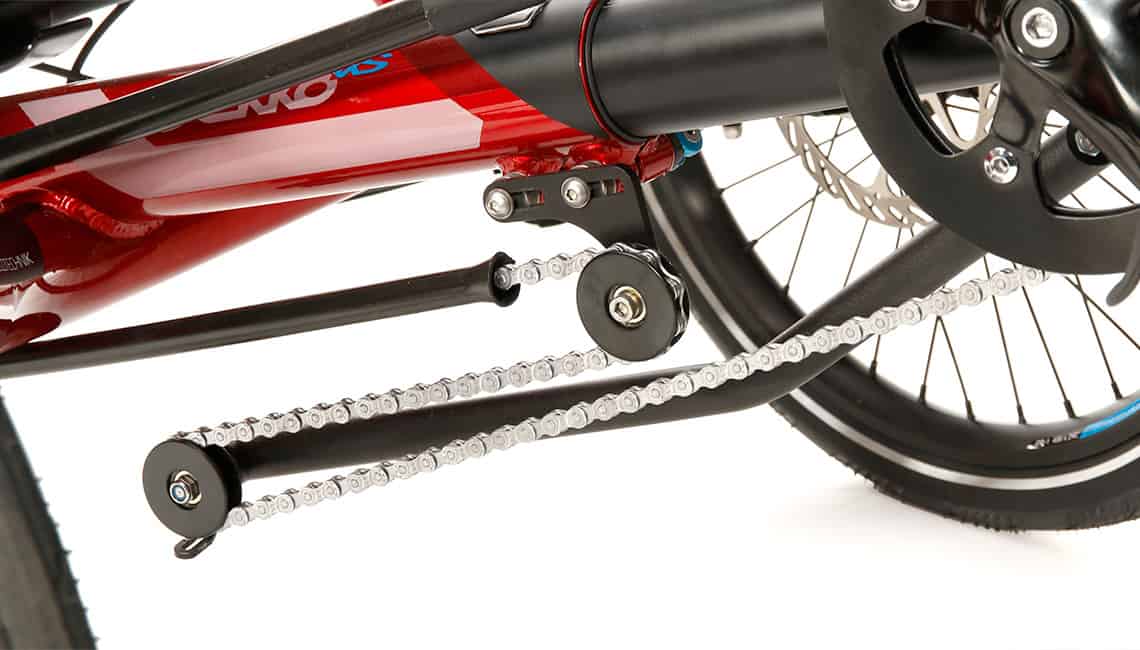 Front Boom Quick Adjust
The optional quick frame adjustment with quick-release levers can be used to adapt the bike to different leg lengths quickly. By sliding-in the front boom, your Gekko fxs becomes even more compact for transport.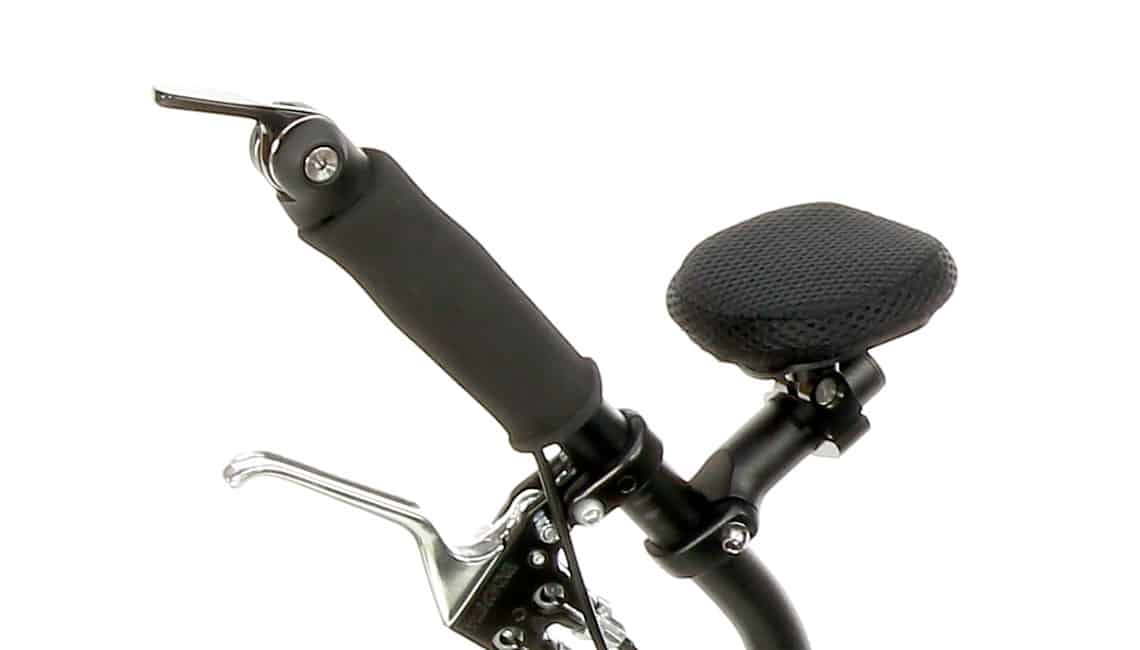 Hand rest
A real boost to comfort for all trike riders. The hands easily guide the handlebars without the need for strenuous holding effort on the handlebar grip. The comfortably padded hand rests can be individually adjusted in angle and inclination. It is also available as a version with hand fixation – ideal to complement the one-hand operation of brake and gearshift.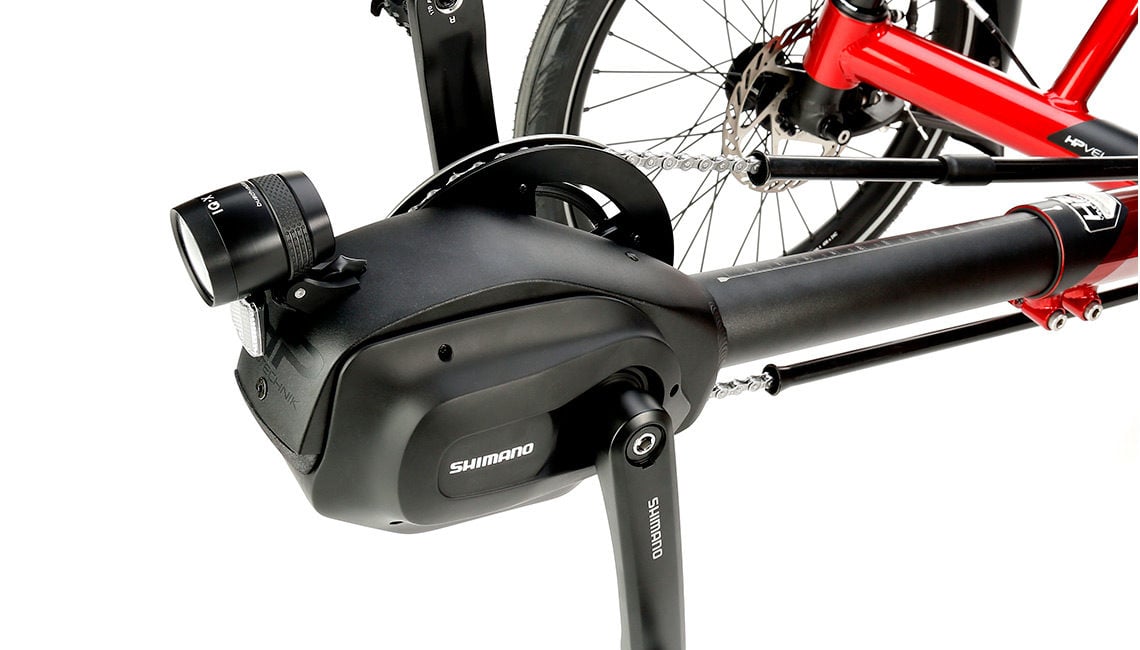 Electric Power-Assist
Do you offer
electric drive assistance
? Certainly, we do – this is another domain of our trikes! HP Velotechnik can optionally equip all vehicles with a powerful electric motor. More and more people discover the easy way of riding an HP Velotechnik trike while sitting laid back in absolute comfort. No other type of bicycle fits electric motors as perfectly as recumbent trikes. Why is obvious: The ease of pedaling and the ergonomic sitting position make the ride even more pleasant. The built-in aerodynamic advantage of your recumbent trike can also be exploited electrically: less drag means more range. The e-assist system integrates elegantly into the trike's design. This applies not only to the hub motor in the rear wheel or the bottom bracket motor but also to the control unit on the handlebar and the battery.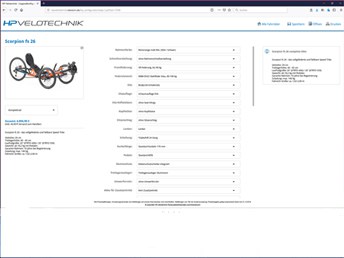 Configure the ideal trike for your child now
Fast, convenient and informative: With our online configurator you can choose the Gekko fxs' components from our extensive modular system. Just a click away: Rehab accessories such as special needs pedals, pushing aids or electric drives.
The outstanding performance of our adaptive kid's trike is of course based on thoroughly engineered HP Velotechnik technology with precise technical specifications. The detailed figures can be found here in the technical data sheet – from the dimensions to the payload, from the seat height to the appropriate rider size. And of course, we are also happy to show you which colors you can choose for your Gekko fxs.
Seat height: 36 cm (14.2")
Seat angle: 48–64°
Wheel size (front wheel): 20" (ISO 406)
Wheel size (rear wheel): 26" (ISO 559)
Max. tire width: 5 cm (2")
Bottom bracket height: 37–44 cm (14.6"–17.3")
Ground clearance: 10 cm (4")
Wheelbase: 91,5–98,5 cm (36"–38.8")
Track width: 78 cm (31")
Width: 83 cm (33")
Length: 137–175 cm (54"–69")
Height 87 cm (34.3", upright backrest)
Handlebar width: 57–63 cm (22.5"–24.8") adjustable
Turning circle: 4,55 m (179") outward
Folding size: from 92 × 57 × 86 cm (36.2" x 22.4" x 33.9")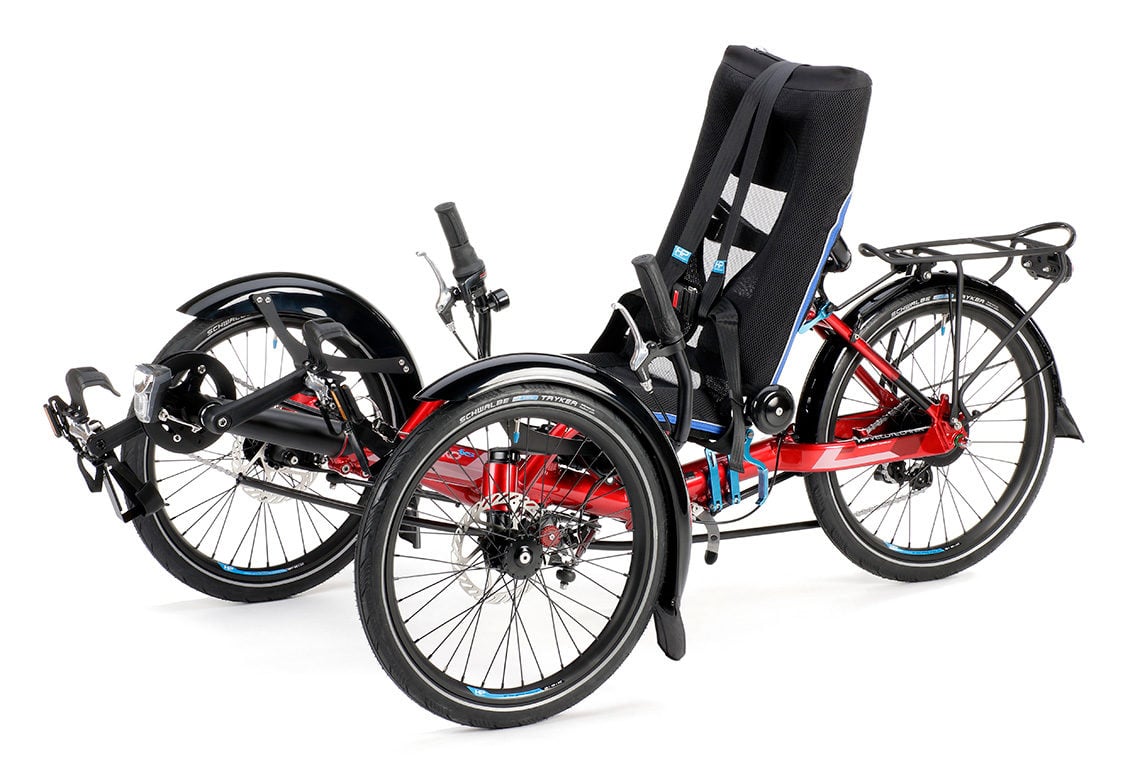 Standard color: Magma red
Give your bike a personal touch: On request, you can have the frame of your HP Velotechnik recumbent bike powder-coated with a custom color completely to your personal taste. You can choose from hundreds of color shades:
An overview and further information about our custom colors can be found in our color chart.
Bottom bracket standard: BSA 68 mm
Weight: from 19.5 kg (43 lbs) incl. pedals
Payload: max. 100 kg (220 lbs)
Frame material: Aluminum 7005 T6 heat treated
Rider height: ca. 1,15 – 1,80 m (3'10" – 5'11")
German medical aid number: 22.51.02.0061
We are committed to the quality of our products. Therefore we grant a guarantee of 10 years on the frame and the swing arm bearing of our bikes and trikes. For further information, please have a look at our warranty conditions.
They Even Have a catalog? This Is Getting Better and Better!
Would you like to get a detailed insight into the Gekko fxs rehabilitation and therapy trike in our special catalog? Our detailed and richly illustrated Gekko fxs tricycle catalog is a good basis for your consultations with doctor, medical aid provider or health insurance company.
You can browse through the catalog online here to get an initial overview. We will be happy to send you your personal copy in high-quality printing form by post (German language only). So you can read all the advantages of our recumbent tricycle for children, teenagers and small adults at home – without obligation and completely free of charge.
They Even Have a catalog? This Is Getting Better and Better!
Would you like to get a detailed insight into the Gekko fxs rehabilitation and therapy trike in our special catalog? Here too you have the choice: Either browse through the catalog right here on the website or we can send you your copy in printed form, so that you can read all the advantages of our recumbent tricycle for children, teenagers and small adults at home – without obligation and completely free of charge (German language only).
Here You Can Enjoy the Best Views
You will experience the best reasons for one of our recumbents during an extended test ride. On our website, we can only describe to you the incomparable driving feeling. True to the saying "A picture says more than 1000 words" we want to let our kids recumbent trike Gekko fxs speak for itself.
Move the mouse pointer over the image. Use the magnifying glass symbol to open the picture gallery. Alternatively, you can use the link icon to download photos in high resolution, e.g., as a desktop background – simply right-click after opening the image. You can find more high-resolution pictures in our Gekko fxs album on Google Photos.
Gekko fxs Frequently Asked Questions
All Right, Enough Theory, How Do I Get on The Sporty Tadpole Trike?
A Gekko fxs is waiting for your test drive at these dealers near you. With the "Advanced Search" you can, of course, also search for other models. Click on the dealer for the details and your desired date for an individual consultation.
The Gekko Family at a Glance
Are you looking for the complete trike selection from HP Velotechnik?