Scorpion: The Current Retail Price List
All options at a glance: In our price list form you can compose your Scorpion directly according to your wishes and order the bike easily from your specialist dealer. Download, fill in, ready! Almost as comfortable as riding a recumbent bike…
Suggested retail prices (MSRP). In Euro based on 19 % VAT, in US$ including US duties and shipping to US dealer, excl. local sales tax. Please consult your local dealer for advice and an individual offer.
+++++ Please note that the tight supply situation in the bicycle industry poses a great challenge when sourcing various components. Your dealer will provide you with information regarding the expected availability of your desired bike and can consult with HP Velotechnik in individual cases. As far as possible, we inform you in our online configurator to which extent certain equipment options are likely to have a significantly increased or unclear delivery time. Please refer to the info text of the respective option. In addition, we keep an overview of options with foreseeable longer delivery times available for you as a pdf document. This file will be updated weekly. +++++
You are looking for our complete offer?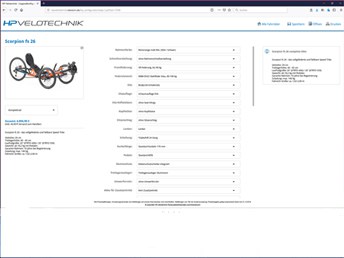 Configure Your Scorpion Online Now!
Fast, convenient, and informative: Selecting the components of your trike is easy with our online configurator. Choose to your heart's content from our versatile modular systems!
Delivery Conditions for Direct Orders from HP Velotechnik
We sell complete bikes, trikes and frame kits only through specialized dealers. Urgent spare parts and accessories can also be ordered directly from us. Please send your order with your complete address to our sales department. On our contact page you will find more information and you can also easily use the contact form provided here.
Prices: Valid for orders from 01.09.2022. The latest price list applies. All prices are ex Kriftel including German VAT (you might need to adjust the suggested retail prices according to your countries VAT regulations), plus shipping costs. All sales contracts are based on our General Terms and Conditions.
Shipping: Parts orders are shipped from our warehouse in Kriftel. Hazardous goods (e.g. Li-Ion batteries) and retrofit kits are shipped exclusively to qualified dealers. We ship at the risk and expense of the purchaser. Please check the shipment immediately after receipt. Should something be damaged despite our utmost care, please have the damage acknowledged immediately by the delivery person, otherwise damage processing is not possible.
Important note for UK customers: Due to the unclear framework conditions for delivery to end consumers in the UK, direct delivery is unfortunately not possible. Orders have therefore only to be placed with your HP Velotechnik dealer.
Shipping costs: For parts shipments (without dangerous goods) up to 30 kg we charge a flat rate of € 11.78 within Germany. Shipments within the EU: parts up to 8 kg € 29.63; up to 20 kg € 41.53. Shipments to Switzerland, Norway or UK: parts up to 8 kg € 39.00; up to 20 kg € 52.90. Shipments outside Europe on request. For dangerous goods shipments (batteries) up to 30 kg within Germany we charge a flat rate of € 23.68. Dangerous goods shipments within the EU: up to 30 kg € 165.41. Dangerous goods shipments to Switzerland, Norway or UK: up to 30 kg € 139.00. Dangerous goods shipments outside Europe on request.
Payment: We deliver on invoice, which you please pay without deduction within 8 days. We deliver to foreign customers against advance payment.
Foreign payments: We ask you to instruct your bank to make the payment at no cost to us, otherwise we will have to charge any bank fees incurred. Foreign payments please by bank transfer to HP Velotechnik GmbH & Co. KG to our account at Taunus-Sparkasse Bad Homburg, IBAN: DE 82 51250000 0042300071.
Right of cancellation, return, refund and the costs of return shipment for consumers within the European Union
You have the right to cancel this contract without giving any reasons within fourteen days.
The cancellation period is fourteen days starting on the date you or a third party named by you, not the carrier, take/takes delivery of the goods.
In order to exercise your right of cancellation, you must submit an unambiguous declaration addressed to:
HP Velotechnik GmbH & Co. KG
Kapellenstraße 49
65830 Kriftel
Deutschland
Tel: 0 61 92 – 97 99 2-0
Fax: 0 61 92 – 97 99 2-299
(e.g. in a letter, by fax or email) informing us about your decision to cancel this contract. You can use the attached model cancellation form. However, its use is not mandatory.
The cancellation period is deemed to have been observed if you send the communication exercising your right of cancellation within the cancellation period.
Consequences of cancellation
If you cancel this contract, we are obliged to refund all the payments we have received from you, including the delivery costs (with the exception of any additional costs in the event that you chose a delivery method differing from the standard, cheapest delivery method offered by us) without delay and within fourteen days of the date we receive your communication notifying us about your cancellation of this contract. We will carry out this refund using the same means of payment that you originally used for the transaction unless we explicitly agreed otherwise; in no case will any charges be passed on to you due to this refund. We are entitled to refuse the refund until the goods have been returned to us or until you have furnished proof that you have returned the goods, whichever of the two falls earlier.
You must return or hand over the goods without delay, in any case within fourteen days of the date on which you notify us about the cancellation of this contract, to us. The deadline is deemed to have been observed if you dispatch the goods before the expiry of the fourteen day period. You bear the direct costs of returning the goods. You are only obliged to cover the costs of any loss in value of the goods if this loss in value is the result of handling on your part beyond what is necessary to ascertain the nature, properties and functioning of the goods.
If you wish to cancel the contract, please fill out this form and return it to us.
To: HP Velotechnik GmbH & Co. KG, Kapellenstraße 49, 65830 Kriftel, Germany, Fax +49 6192-97992-299, E-Mail:
hpvelotechnik.com
I/We (*) herewith cancel the contract concluded by me/us (*) in relation to the purchase of the following goods:
Ordered on (*)/received on (*):
Customer number (please indicate):
Your name:
Your address:
Your signature (only for written communications):
Date:
(*) Delete as appropriate.
End of legal notice on the right of cancellation.