The right ones for little escapes from your daily routine
You love discovery tours within the radius of a day. Though two or three overnight stays may at times increase your action circle. But especially with the destinations not being that remote, it's all the more the way that should be worth it. Our adventurers open literally all paths to you by covering all possible uses which can be summarized under the wide-ranging term "trekking".

If for you adventures are found mainly off the road, you can just equip our Enduro as a cross-country tourer with a luggage rack.

Equipped with full suspension, the sporty touring bike makes up ground even on bad terrain.

The Randonneur among our trikes combines an extremely sporty character with the comfort of a rear-suspension.

Equipped with full suspension, the sporty touring bike makes up ground even on bad terrain.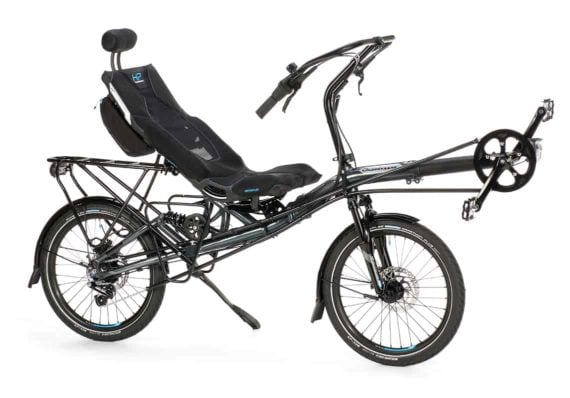 The agile, foldable two-wheeler is ideal for a leap into the countryside. Nevertheless it has also turned out meanwhile as a secret star on many longer and quite rough tours.

Our "big" SUV carries you wherever you want with its 26 inch rear wheel and wide track.
In contrast to dedicated travel experts, bikes for medium distance tours may be a bit more sporty, while the payload options do not have to be too lavish. Hence a 26-inch drive wheel can be the shortlist here, which of course reduces the space for luggage to a certain point, but ensures rapid propulsion on the road and better rollover behaviour off-road. Another advantage: With derailleur systems, the rear derailleur is further away from the ground and better protected against dirt.
The flat BodyLink shell seat underlines the sporty character of the adventure bikes and provides top-notch support when riding fast. More pleasure-oriented touring and trekking enthusiasts will find the highly breathable ErgoMesh seat very comfortable.
Apropos comfort: With electric support, the range and pleasure on small escapes from everyday life can be increased even further. Particularly with our sporty rear hub drives, you hardly hear the engine, but only the whirring of the wind and the sounds of nature. In addition to the Shimano XT 27 derailleur system combined as standard with this motor system, the internal gear transmission Pinion C 1.12 is available as a high-end alternative. Its wide range of ratios makes it a worthwhile option even without electric drive, especially when going up and downhill a lot. As another stand-alone derailleur system the Sram GX 30 also offers a wide range of gears.