Model Year 2021:
Novelties and Changes for the New Season at a Glance
The revolution of the recumbent seat and an extended and updated range of Shimano STEPS motors – with these novelties we start the recumbent season 2021. All innovations and changes have one thing in common: They can be selected when configuring a new bike and can also be easily retrofitted to almost all models.
+++++ All prices mentioned here are suggested retail prices (MSRP). As of the editorial deadline; for currently valid recommended prices, please refer to our price lists! +++++

Comfort at the highest level: the ErgoMesh Premium mesh seat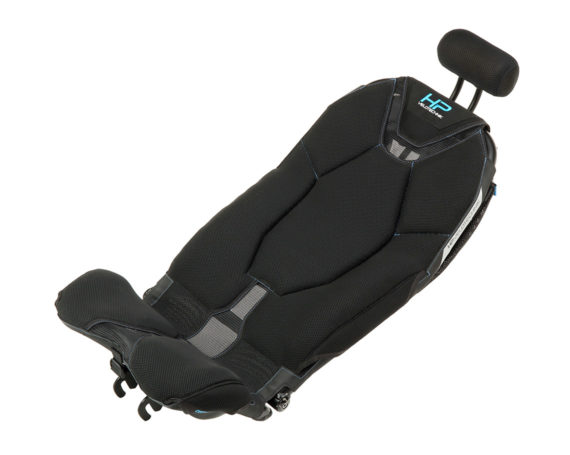 The ErgoMesh Premium, developed from scratch, revolutionizes the category of recumbent mesh seats. For the first time concerning a recumbent mesh seat, the inclination of backrest and lower seat surface can be adjusted independently of each other, allowing the seating position to be highly individualized. The 3D-shaped seat frame sets new ergonomic standards. In addition, our OrthoFlex technology allows for highly customized contouring according to personal requirements: additional supporting cushions can be placed in prepared pockets in the backrest and seat.
With the elaborate 3D upholstered seat surface, not only was emphasis placed on maximum seating comfort, but also on pleasant ventilation and optimum rain suitability. Special knitted fabrics dissipate body moisture when riding with a high level of commitment. Even rain moisture is not stored in the upholstery – in case the optional rain cover has been forgotten.
Speaking of rain covers: The daily transport tasks have also been considered. Thus, the ErgoMesh Premium has two 1.4 liter (47 fl. oz.) removable bags, one of which, thanks to lateral mesh inserts, is specially designed for the (wet) rain cover.
We have compiled all innovations and performance features of the ErgoMesh Premium in a preprint from our brochures 2021.
The ErgoMesh Premium, like the ErgoMesh, is available in two seat heights (standard as well as the 11 cm higher HS version) and widths (standard width 41 cm and XL width 46 cm, with 3 cm more seat depth and backrest height). The new seat is available as an initial equipment for new bicycles and trikes at a surcharge of 199 € / US$ 219; it can also be retrofitted at a unit price of 599 € / US$ 719 for existing models with 3-point seat mounting.
The ErgoMesh Premium will be ready for delivery at the end of January 2021 and can be ordered from the price list change on Nov,1st 2020.
The New Ergonomic Pedal
With the new Ergonomic pedal we offer a useful addition to our special pedals from 01.11.2020. The pedal has a fixed foot platform which can be adjusted in width. Difference to our further available, particularly joint-friendly Ergonomic Safety Pedal: The platform of the new Ergonomic pedal is firmly bolted to the base pedal by an SPD clipless system.
Like all pedals in the Ergo pedal family, this model also has retaining straps with quick-entry function. This allows one-handed operation and makes it noticeably easier to get on.
The Ergonomic pedal is available in two size ranges (small: 20-28 cm or large: 27-34 cm sole length) at a unit price of 119 € and can also be selected as an option for new cycles.
New Shimano Motors: EP8 and E6100
With the start of model year 2021 we are expanding our range of Shimano STEPS pedelec systems to a total of 3 models. For all tricycles newly ordered from Nov 1st, 2020 we offer the up to 85 Nm strong STEPS E8000 successor STEPS EP8, the up to 50/60 Nm strong E6100 and as before the E5000 with 40 Nm.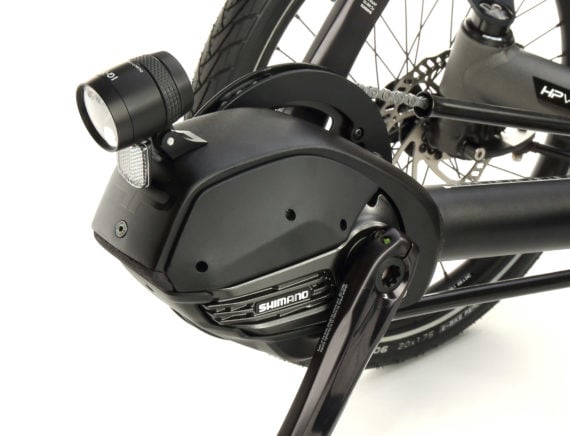 With the new top model EP8 just introduced by Shimano, we are offering a motor in the performance class of crank motors with a plus in torque, adjustability and efficiency combined with low weight and less noise. As before, we combine Shimano's top engine with the electronic 11-speed Shimano XT Di2 derailleur system (upcharge of 3.290 € / US$ 3.670 for the Scorpion fs 26 Enduro or 3.490 € / US$ 3.890 for all other tricycle models, not available for Gekko 26, Gekko fx 20, Gekko fxs and our Scorpion fs 26 S-Pedelec) or the mechanical Rohloff hub gears with 14 gears (surcharge 4.190 € / US$ 4.690 for the Scorpion fs 26 Enduro or 4.390 € / US$ 4.810, not available for Gekko 26 and Scorpion fs 26 S-Pedelec).
Following the desire for a more powerful engine in combination with the Nexus Di2 electronic 8-speed automatic hub gears, we introduce the Shimano STEPS E6100. This option is available for all tricycle models except Gekko 26, Gekko fxs and Scorpion fs 26 S-Pedelec at a surcharge of 2.590 € / 2.890 or 2.390 € / US$ 2.660 for the Scorpion fs 26 Enduro.
Still available is the Shimano STEPS E5000 entry-level system, which offers unobtrusive, low-noise support especially in flatter environments. We offer this system for all compatible tricycle models in combination with a functional 8-speed SRAM X4 derailleur (upcharge 2.090 € / US$ 2.390) or the electronic 8-speed automatic hub gears Shimano Nexus Di2 (upcharge 2.390 € / US$ 2.660).
New 630 Wh Battery for Shimano STEPS Systems
With the start of the new model year, the previous 504 Wh battery will be replaced by the new 630 Wh battery. This battery is compatible with all offered STEPS pedelec systems (EP8, E6100, E5000) as an option.
In addition to the 630 Wh battery, the option always includes the 4A quick charger and is available at an upcharge (on the standard 418 Wh battery and the 2A charger) of 399 € / US$ 475 for tricycles.
Also in the dual battery option, the new 630 Wh battery replaces the previous 504 Wh version – the surcharge including a 4A charger is 1.090 € / US$ 1.390. The dual battery option can only be configured for all models of the Scorpion family.
Upgrade Option From Existing Models With Shimano STEPS E5000 to Shimano STEPS E6100
The wish for a more powerful drivetrain option in the Shimano STEPS entry-level range, even for vehicles already delivered with the Shimano STEPS E5000 system, is met with a simple retrofit option for the Shimano STEPS E6100 e-assist.
If the previous level of support due to riding environment, rider weight or pedalling power is not sufficient, an upgrade to the Shimano STEPS E6100 with 50 or 60 Nm (depending on whether a Nexus hub gear or derailleur gear system is used) is possible. Only the motor, the chainring and the crankset are replaced. Since the new motor is only connected to the existing wiring harness, this conversion is carried out directly by the local dealer.
The conversion kit with all necessary parts is available at a retail price of 1,190 € / US$ 1,350 (excl. costs for the conversion by the dealer) from November 2020.
New 30-Speed Shift Option Shimano XT for Our Two-Wheelers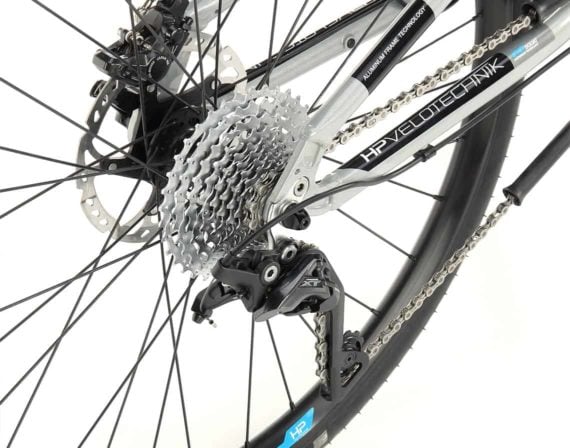 With the new model year, we offer a new 30-speed derailleur option with trigger shift levers for all our two-wheel models with above seat steering (aero or tiller bar) with the Shimano XT. The surcharge is 339 € / US$ 390 (Speedmachine and Streetmachine Gte) or 309 € / US$ 329 (Grasshopper fx), as for the lower handlebar version equipped with bar-end shift levers.
This change also includes the optional equipment of the two-wheelers with a neodrives Z20 pedelec system (extra charge 2.890 € / US$ 2.990).
For our tricycle models we continue to install the previous SRAM 30-gear option at the unchanged surcharge of 369 € / US$ 399 (20 inch models) or 299 € / US$ 319 (26 inch models).