Novelties and Changes for the 2022 Season:
ErgoMesh Seat: Premium Ergonomics Become Standard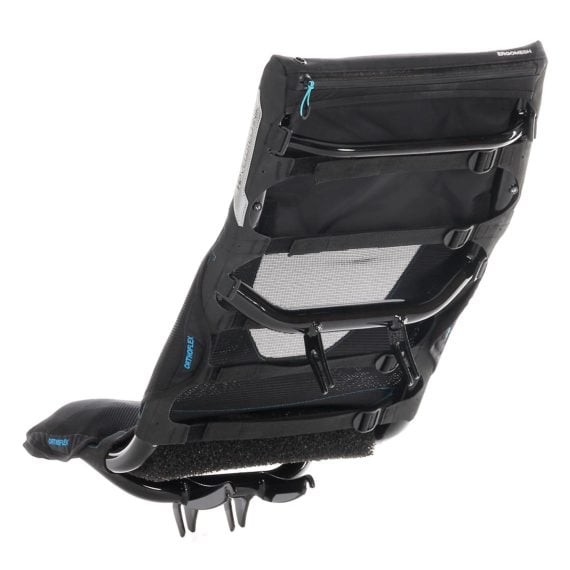 With the completely redesigned ErgoMesh seat, premium ergonomics on your recumbent will become standard starting season 2022. Thanks to the innovative OrthoFlex® technology, you can shape your seat to precisely adapt to your individual body size and statur in a matter of seconds.
The re-designed ErgoMesh seat is based on the proven one-piece aluminum frame, shaped to fit the body for good back support. You can us seven tension straps and four OrthoFlex® elements for individual adjustment. These breathable cushion wedges made of open-pored polyurethane material are inserted into the sides of the seat net. The four prepared pockets offer plenty of scope for customizing support in the backrest and sitting area.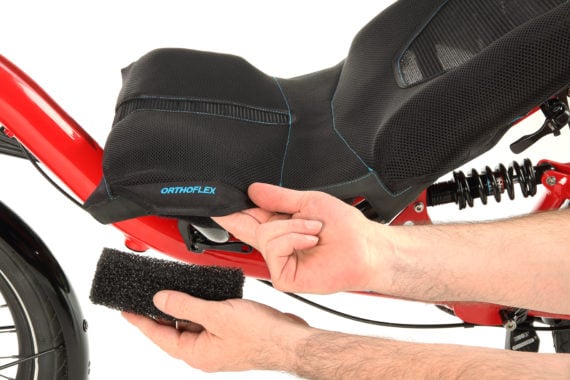 The washable seat cover of the ErgoMesh has a two-layer structure. A highly airpermeable mesh fabric was selected as the base material. On top of this is a 3D spacer fabric, which gives the seat its unmistakable look. The abrasion-resistant padding material wicks away perspiration and is therefore used on the main contact areas. Its contours define the areas into which the four OrthoFlex® wedges can be inserted from the side. In combination with the subtle blue contrasting topstitching, the cut of the 3D mesh gives the seat a dynamic appearance.
As before, the ErgoMesh has an integrated zipper pocket on the upper edge of the backrest. It can hold keys and small luggage or a rain cover for the seat. More storage space is offered with the optional Add-on bags, a set of pockets that can be attached to the back with Velcro and a buckle (SRP 49,90 €).
The separately available headrest for mesh seats can of course also be mounted on the new ErgoMesh, as can the flag available as an accessory. You can mount the new ErgoMesh seat with the proven threepoint attachment from HP Velotechnik: and thus on all trikes of the Scorpion family as well as on the two-wheel recumbents Streetmachine Gte, Speedmachine and Grasshopper fx. The new ErgoMesh seat can be ordered either as a standard seat on a new bike or as a conversion option for SRP 399 €. In addition to the normal version, it will also continue to be offered in a wider XL version, as well as in an HS version with the seat position raised by eleven centimetres. In the course of revising our mesh seats, the design of the Gekko mesh seat was also adapted.
+++++ All prices mentioned here are suggested retail prices (MSRP). As of the editorial deadline; for currently valid recommended prices, please refer to our price lists! +++++