Press room – ElektroRad 2019-01
HP Velotechnik in the news: the following text is an excerpt from the German magazine ElektroRad, issue 01/2021. We recommend to order the complete magazine from the publishing house to read the whole story.
Sitzriese
Test HP Velotechnik Scorpion fs 26 – Note: sehr gut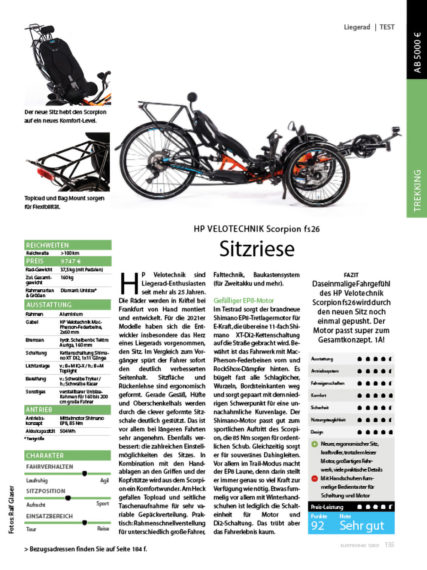 HP Velotechnik sind Liegerad-Enthusiasten seit mehr als 25 Jahren. Die Räder werden in Kriftel bei Frankfurt von Hand montiert und entwickelt. Für die 2021er Modelle haben sich die Entwickler insbesondere das Herz eines Liegerads vorgenommen, den Sitz. Im Vergleich zum Vorgänger spürt der Fahrer sofort den deutlich verbesserten Seitenhalt. Sitzfläche und Rückenlehne sind ergonomisch geformt. Gerade Gesäß, Hüfte und Oberschenkelhals werden durch die clever geformte Sitzschale deutlich gestützt. Das ist vor allem bei längeren Fahrten sehr angenehm. Ebenfalls verbessert: die zahlreichen Einstellmöglichkeiten des Sitzes. In Kombination mit den Handablagen an den Griffen und der Kopfstütze wird aus dem Scorpion ein Komfortwunder. Am Heck gefallen Topload und seitliche Taschenaufnahme für sehr variable Gepäckverteilung. Praktisch: Rahmenschnellverstellung für unterschiedlich große Fahrer Falttechnik, Baukastensystem (für Zweitakku und mehr).
Gefälliger EP8-Motor
Im Testrad sorgt der brandneue Shimano EP8-Tretlagermotor für E-Kraft, die über eine 11-fach Shimano XT-Di2-Kettenschaltung auf die Straße gebracht wird. Bewährt ist das Fahrwerk mit MacPherson-Federbeinen vorn und RockShox-Dämpfer hinten. Es bügelt fast alle Schlaglöcher, Wurzeln, Bordsteinkanten weg und sorgt gepaart mit dem niedrigen Schwerpunkt für eine unnachahmliche Kurvenlage. Der Shimano-Motor passt gut zum sportlichen Auftritt des Scorpion, die 85 Nm sorgen für ordentlichen Schub. Gleichzeitig sorgt er für souveränes Dahingleiten. Vor allem im Trail-Modus macht der EP8 Laune, denn darin stellt er immer genau so viel Kraft zur Verfügung wie nötig. Etwas fummelig vor allem mit Winterhandschuhen ist lediglich die Schalteinheit für Motor und Di2-Schaltung. Das trübt aber das Fahrerlebnis kaum.
Fazit
Das einmalige Fahrgefühl des HP Velotechnik Scorpion fs 26 wird durch den neuen Sitz noch einmal gepusht. Der Motor passt super zum Gesamtkonzept. 1A!