Download press pictures Scorpion fs 26 S-Pedelec from Google Photos (choose picture, then click "Download" top right)
PDF for download: Press release HP Velotechnik Special Edition (PDF, 755 kB, July 02,.2018)
E-bike with visionary character
The completely revised Scorpion fs 26 S-Pedelec is the first vehicle to meet the new EU regulations for a multi-track vehicle with pedalling assistance up to 45 km/h
Friedrichshafen. High-speed pedelecs with pedal support up to 45 km/h are increasingly becoming a separate vehicle class. Manufacturer HP Velotechnik presents the completely revised Scorpion fs 26 S-Pedelec at the Eurobike trade fair from the 8th till the 10th of July. The "three-wheeled vehicle for passenger transport" (German Federal Motor Transport Authority) is the first one licensed throughout Europe in the L2e-P class. It can be seen at the booth of HP Velotechnik in the Foyer East (FO-106).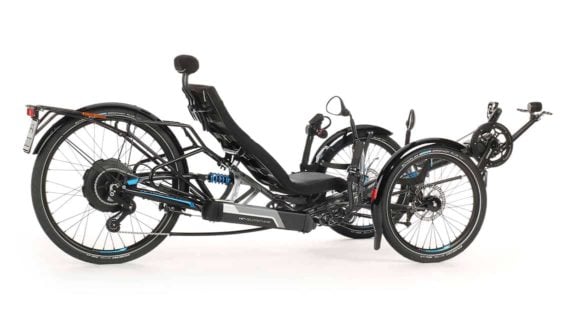 In addition to the most striking feature, the WingBling trike turn indicator, which has been available from HP Velotechnik since the beginning of 2018, there are several innovations available in the new Scorpion class. The oil level indicator for coupled brakes, which was specified by the EU for the L2e-P segment, is unique in the bicycle sector. For the first time, the manufactory also installs a lighting system and horn with the special "E" marking, which is also necessary for fast electric trikes today. Another regulation: the built-in immobiliser – a rather easy task for a bicycle manufacturer thanks to the frame lock. HP Velotechnik has used the extensive revision of the Scorpion to make additionally lasting improvements to the drive system, to do so they worked together with engine supplier GO SwissDrive. The new CAN bus system is characterised by an even smoother driving behaviour, i.e. the pedal support feels even more natural. The "Boost" function enables maximum power for an extremely fast start at the push of a button. The system recuperates with up to 200 W and the new Li-Ion battery has higher capacity: 636 Wh means an increase
of 14 percent. The system also provides the driver with shift recommendations via the display.
For the S-Pedelec and all other Scorpion models, the large-surface frame tubes were designed in the new Flash design. Lighter and darker applications add dynamic accents to the basic colour. The bike is available in specialist shops and costs 8,990 Euro in the basic version. For further information, please visit www.hpvelotechnik.com or call 0 61 92 – 97 99 20.
For additional information and technical data, please also refer to our press release in PDF format.