Press room – Bentrider Online 2007-10
HP Velotechnik in the news: the following text is an excerpt from the American online magazine Bentrider Online, issue 2007-10. We recommend to visit the website and read the original review there, for documentation purposes we store the text on our site.

Review: HP Velotechnik Scorpion fx
By Bryan J. Ball [Managing Editor]
HP Velotechnik has been a well respected recumbent builder for well over a decade. Their Streetmachine short wheelbase is one of the most admired and revered recumbents ever built. They entered the trike market with a bang two years ago when they debuted the Scorpion rear suspension tadpole. While the Scorpion has been very well reviewed and widely accepted, it does lack one feature when compared to some of it's competition. That is the ability to fold into a smaller package. HP Velotechnik has remedied that hole in their line-up by introducing the folding Scorpion fx.
The fx has a slightly deceptive name. It is not just a folding version of the Scorpion. It's actually an entirely new design. The folding trike's seat is 3 3/4" taller than the standard Scorpion and the bottom bracket is a quarter inch lower. This makes the fx one of the few tadpole trikes that actually has a bottom bracket at a height even to that of that the seat. Most tadpoles have bottom brackets that are much higher than the seat. This should make the newest Scorpion a much more comfortable machine for people who are not fond of having their feet high in the air. The higher seat height also allows the fx to carry two sets of panniers behind and slightly below the seat. The fx also has a half inch more suspension travel than the Scorpion does and more ground clearance. This should come in handy on less than perfect dirt roads.
The end result is a trike that should be a bit more comfortable and more practical than the standard Scorpion. The fx model's more upright seating position should also work very well with the new ErgoMesh HP Velotechnik seat. Unfortunately this option was not available at review time but should be a fairly popular Scorpion fx option. With or without the mesh seat, the fx should attract a lot of tourers and commuters.
Our test trike came with a fairly standard component selection. This included a SRAM DualDrive 27-speed drivetrain, Avid BB-5 disc brakes and a chromoly rear rack. The complete package weighed 42 pounds. This isn't light by any means and you could feel the extra weight when lifting the trike in its folded form. With some liberal use of HP Velotechnik's extensive options (you can order everything from lighting systems, to air shocks to Rohloff hubs) list you can make the fx lighter but it's never going to be a featherweight.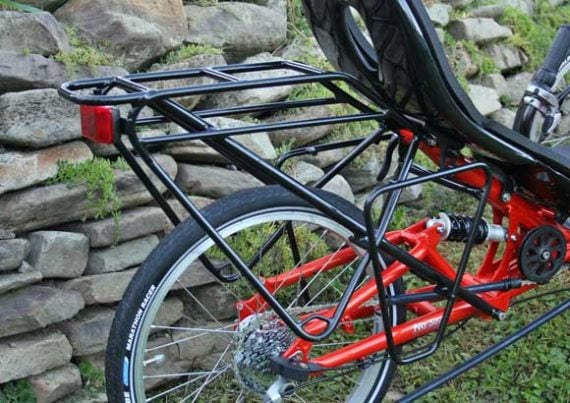 The main reason for the extra heft is the Scorpion fx's excellent rear suspension system. Several other trikes have rear suspension but HP Velotechnik's three-wheelers are the only ones that have a real shock and swingarm style system such as what you'd find on a modern mountain bike. You can really feel the difference on the trike. Other trike suspensions take a bit of the buzz out of the road but the Scorpion's system will actually swallow real world potholes. It also doesn't suck up any power when pedaling hard. Unfortunately front suspension on a trike is much more difficult to master and the Scorpion lacks that feature. However, my experience shows that you hit things with the rear wheel more often than you do with the front anyway.
I really liked the Scorpion fx's riding position. The seating position reminded me of a much more refined AnthroTech. The AnthroTech is a popular European utility trike. It was very user friendly and worked well in traffic. I was more upright and more able to easily look around than I usually an on a tadpole. The extra height was also confidence-inspiring.
I had a chance to try out the HP Velotechnik mesh seat at Interbike and was very impressed. I sincerely hope that I get a chance to try it out on the Scorpion fx early next year when it becomes available. I think it could make the fx even more comfortable than it already is and make it match up better with the ICE T.
The Scorpion fx's higher seat height did make it feel a bit more likely to lift a wheel than the standard Scorpion but the trike still felt stable under most heavy cornering situations. High speed handling was also quite good if not quite as rock solid as the lower standard Scorpion. I didn't detect any noticeable brakesteer on the Scorpion fx and didn't see any pedalsteer worth mentioning.
What stuck out to me most about the fx's handling was it's tight turning radius. I was able to easily do u-turns in my small 1.5 lane wide side street. This sort of maneuverability is rarely prioritized by trike shoppers but can be a real difference maker in tight urban areas or on cycle paths.
The Scorpion fx isn't meant to be particularly fast and it's not. I'd say that it's faster than I thought it would be but it's definitely not a barn burner. I would put it on an even keel with a trike like the similarly configures ICE T or maybe the Greenspeed GTE.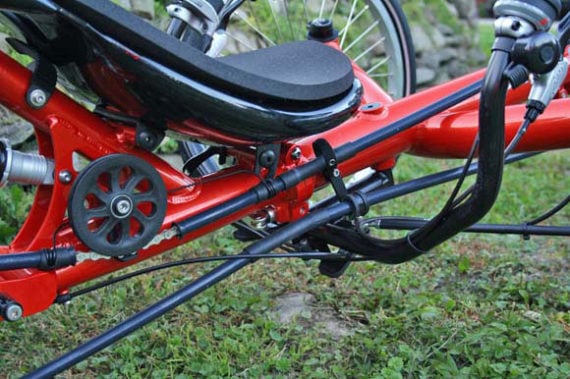 Of course the major feature of the Scorpion fx is its foldability. I was able to fold and unfold the Scorpion the first time without having to read the instructions or reference the web site. It looks fairly intimidating but it's actually pretty easy. There are no chains to break and no bolts to undo. All you have to deal with are some quick releases. There are some very nice touches such as a clip on the frame that holds things together when the trike is folded.
Unfortunately, much like other folding tadpoles, it is not a terribly quick job. A tadpole will probably never fold as fast or result in the same small package as a Brompton or a Birdy. The folded package is also fairly heavy. It's light enough to lift into the back of a car but you wouldn't want to carry it around an airport without some sort of wheeled case or a baggage cart. Actually I guess the same can be said for any suitcase that my wife packs …
In the end, I guess I look at the folding feature as something that's nice to have but it isn't really the main reason I would recommend this trike. I did become quite smitten with the fx but it was more for its comfort, utility and handling than it was for the folding feature.
I'm also a big fan of the solid feel that you get from an HP Velotechnik. The Scorpion fx definitely does not feel like a clunky folder at all. It feels as if it was hewn from one solid chunk of aluminum. In a word it feels very … German.
HP Velotechnik Scorpion fx
Highs – Very comfortable, Very practical, It folds!
Lows – A bit heavy
MSRP – Starting at $3,090