Press room – AktivRadfahren 2013-05
HP Velotechnik in the news: the following text is an excerpt from the German magazine AktivRadfahren, issue 2013-05. We recommend to order the complete magazine from the publishing house to read the whole story.
Tiefflieger
HP Velotechnik verspricht für das neue Scorpion fs 26 eine unerreicht hohe Fahrdynamik und besten Komfort. Kann das Rad halten, was der Hersteller verspricht?
HP Velotechnik heißt 20 Jahre Tüftelei, Ingenieurskunst und Detailreichtum. Mittlerweile arbeiten 25 Mitarbeiter an zehn Liegeradmodellen und rund 1.700 Kundenrädern im Jahr – das ist nicht nur europäische sondern weltweite Spitze. Dazu kommen Auszeichnungen wie der renommierte Eurobike Award in Gold (für das Gekko in 2011) sowie die wiederholte Auszeichnung vom Branchenverband VSF zu einem der drei besten Fahrradhersteller Deutschlands.
Hightech nicht nur für das Auge
Neu und auffällig am Scorpion fs 26 ist das im Namen integrierte Kürzel für den neuen Hinterraddurchmesser von 26 Zoll. Dieser besitzt im Vergleich zu den so gut wie immer eingesetzten 20-Zöllern folgende Vorteile: Der größere Reifen überrollt Hindernisse deutlich angenehmer und weicher, spart ordentlich Rollwiderstand und bietet durch die hohere Schwungmasse gerade bei hohen Geschwindigkeiten sptürbar mehr Laufruhe.
In der Front sorgt zusätzlich automobilähnliche Technik wie das ASG-Lenkungssystem, Anti-Dive-Geometrie und das HP Stabilizer-System fur eine direkte Lenkung, stark verringertes Bremsknicken sowie ein direktes Kurvengefühl.
BodyLink-Schalensitz wie in der Formel 1
Platz nehmen dürfen Sie auf einem sehr ergonomischen Schalensitz mit seitlichen Hüftflossen (sehr guter Seitenhalt) und dezenter Kopfstütze. Individuell angepasst fühlt man sich darauf ähnlich wie auf einem Sportsitz beim Automobil – nur viel bequemer und dank Mesh-Auflage besser belüftet!
Die Praxis – ein Traum!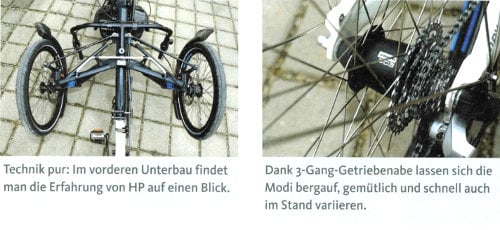 Durch die tolle Geometrie Iässt sich das Scorpion exzellent handeln und bietet ein dynamisches Fahrgefühl. Die Sram DualDrive ist eine sehr gute Wahl, denn Schalten im Stand ist mit ihr immer moglich. Die getrennten Avid Discs verzögern satt, sind gut zu dosieren und zudem standfest.
Komfort bietet das Rad durch McPherson-Federelemente mit 60 Millimeter Federweg in der Front sowie mittels einer langen Einarmschwinge mit Stahlfederdämpfer am Heck (80 Millimeter).
Egal ob grobe Schotterpiste, Bahngleisschwellen oder löchriger Asphalt – das Fahrwerk sorgt mit supersensiblem Ansprechverhalten und üppigem Federweg jederzeit für entspanntes Fahren. Das neue Faltgelenk ist einfach und schnell bedienbar, das Packmaß fur ein Liegerad sehr gut. Super: Dank umfangreichem Baukastensystem findet jeder SEIN perfektes Rad.
Fazit
Grobe Fahrbahnen, anspruchsvolle Touren, rauher Alltag – alles kein Problem mit dem neuen Scorpion fs 26. Das superkomfortable, hochmoderne Fahrwerk und die hohe Qualität bringen Fahrspaß wie Sicherheit. Ein ausgereiftes Hightech-Liege-Trike wie es besser nicht sein kann!
Eine echte Alternative zum Auto!
"Mit dem Scorpion fs 26 kauft man das derzeit wohl ausgereifteste und spaßigste Liege-Trike überhaupt. Es fährt sich unwahrscheinlich angenehm und ist mit Heckträger und optionalem Streamer-Aufsatz auch im Alltag eine schnelle und effektive Alternative zum Automobil.
[Sebastian Böhm, Redakteur]