Medicine on Three Wheels
Returning to the snowboard after Covid, hospital and coma – and what a trike from HP Velotechnik has to do with it

It was a remarkable e-mail that reached us from the USA in the fall of 2020: Frank Cutitta, an internationally networked content and media expert in the health sector and university lecturer, asked whether we could imagine a sponsorship partnership for a Scorpion. "Hmm," is what you think at first. How does someone with such a background approach an overseas company and ask for support in such a determined way?
Well, Frank was among the first wave of those who not only became infected with Covid, but became violently ill with the virus: 100 days in the hospital, including a 45 days in a coma on a ventilator. When he awoke he was unable to walk and his lungs were decimated.
In any case, after he returned home from another one month of rehabilitation, the doctors advised him to take part in moderate sports. Walking short distances and riding a bike, for example. Great. But for an inexperienced man in his late-sixties, who is still extremely weak, that sounds anything but tempting. With the right bike, namely a trike, the world looks very different. Plus its stability provided the safety from falling and hitting his head that his family was most concerned about if he rode a traditional bike.
Commuting between snow and old railroad tracks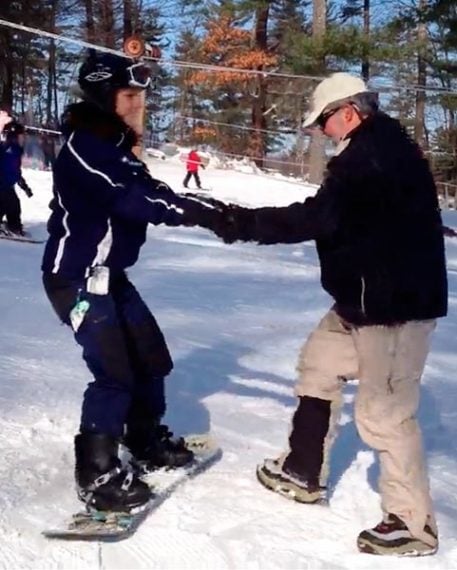 As a medium-sized company in a niche market, we are naturally forced to focus our sponsorship activities specifically on a few projects. Without going into details and the many inspiring Skype conferences across the Atlantic: We have reached an agreement that is both creative and unusual. And it is bearing fruit, on both sides.
Frank recently sent us some really pleasant news: the 22 months of Covid rehab with countless kilometers on the abandoned and asphalted former railroad tracks around his home in Boston had done him a world of good. Miraculously he considers himself healthier now than he has been in 20 years.
And that's not all: He is currently rediscovering his old love, snowboarding, and especially reviving his snowboard school, Grays on Trays®. But when the snow in New England has thawed out again, he's already looking forward to his Scorpion fs 20 and lots of casual bike rides on the rail trails with Dudley, his Labradoodle.