Press room – aktiv Radfahren 2013-03
HP Velotechnik in the news: the following text is an excerpt from the German magazine aktivRadfahren, issue 2013-03. We recommend to order the complete magazine from the publishing house to read the whole story.
Andere Perspektive
HP Velotechnik Streetmachine Gte – Testurteil: Überragend
Die Streetmachine war vor 20 Jahren das erste Liegerad von HP Velotechnik und begründete den Erfolg der hessischen Spezialrad-Firma. Den Kurzlieger mit den unterschiedlich großen Laufrädern gibt es nun schon in der dritten Generation namens Gte. Das kleine "e" am Ende steht für die Evolution des Rades. Also dafür, Gutes und Bewährtes noch besser zu machen. Das Bild oben vermittelt einen guten Eindruck davon, wieviel technischer Aufwand in einem Liegerad allgemein und der Streetmachine Gte im Besonderen steckt. Der entsteht sicher auch durch die optional komplette Ausstattung. Technisch gehört dazu die Dual-Drive-Schaltung. Gerade am Liegerad, wo man weniger Übersicht über die Kettenlinie hat, ist die Kombi aus Ketten- und Nabenschaltung eine optimale Sache. Die Vollfederung allerdings gehört zur Grundausstattung und zum Konzept. Mit sogenannter "NoSquat"-Technologie soll sie Kraftverlust durch das Einfedern an der Hinterradschwinge verhindern. Ebenfalls ein – wählbares – Wohlfühlelement ist der anpassbare, ergonomische BodyLink-Schalensitz. Der zweite Träger unterhalb des Sitzes bringt mehr Platz fürs Gepäck. So kann man auch den Schwerpunkt des Rades deutlich nach unten verlagern. Der Stabilität kann das nur gut tun.
Fahreindruck
Nachdem man sich den Sitz und den Ausleger passend eingestellt hat, heißt es, Füße hochlegen. Aber entspannend ist das am Anfang noch nicht. Etwas Übung bringt aber Erleichterung und Ruhe in die Spur. Und wer schon länger liegend fährt, hat auch die richtige Muskulatur, um kraftvoll die Pedale kreiseln zu lassen. Dann lässt sich auf dem ergonomischen Sitz aus der Liegeposition heraus die Landschaft hervorragend in den Blick nehmen und vor allem genießen. Daran ändert sich auch nichts, wenn die Streetmachine mit viel Gepäck beladen ist. Die Laufruhe ist schlicht überzeugend. Auch bergauf zu fahren, ist mehr eine Sache des Trainings als des Fahrradtypus. Das Schöne ist, dass hier sogar die Federung dank der "NoSquat"-Technologie keine spürbaren Verluste bringt. So macht auch Klettern Spaß. Apropos Federung: die ist voll einstellbar &ndash: hinten mit Luft, vorne über die Federvorspannung – und erhöht den Liegekomfort unbedingt. Effektiv schluckt sie Bodenwellen und -dellen. Manchem Schlagloch sollte man aber trotzdem besser elegant ausweichen. Das gelingt dank hoher Wendigkeit am Vorderrad aber problemlos. Auch die DualDrive-Schaltung erweist sich ständig als absolut richtige Wahl, die sich in fast jeder Situation problemlos und schnell schalten lässt. Der einzige Nachteil, der uns auffällt, ist die eher sperrige Abmessung beim Rangieren und Verladen.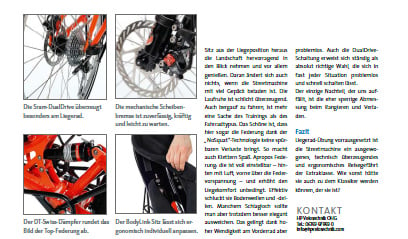 Fazit
Liegerad-Übung vorrausgesetzt ist die Streetmachine ein ausgewogenes, technisch überzeugendes und ergonomisches Reisegefährt der Extraklasse. Wie sonst hätte sie auch zu dem Klassiker werden können, der sie ist?