Novelties and Changes for the 2022 Season:
Hands-On-Cycle: Innovative Hand Pedal Drive for Trikes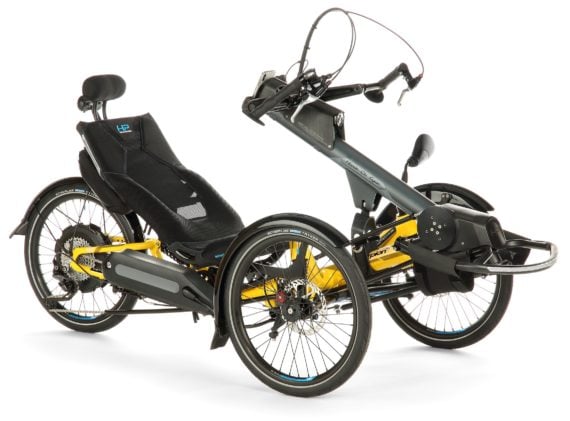 With our Hands-On-Cycle we present a completely new development in the field of hand-bikes for 2022. The world's first hand-drive with fully encapsulated chain guide as well as integrated cable pulls is a symbiosis of design and innovative technical solutions. Hands-On-Cycle (HOC) will be available for specific HP Velotechnik recumbent trikes.
Steering is done by a combination of turning and pivoting which is extremely intuitive. Our design makes for a much smaller turning circle than many common handbikes. You can fit Hands-On-Cycle to the rider by adjusting the front boom, leg holders, and the adjustable mast.
Hands-On-Cycle comes with a Tripleshift 24 standard drivetrain. The handbike mast is ready to integrate front lighting. Moreover, the very clean cockpit can accommodate smartphone and accessories such as bell and speedometer, but is also prepared for the display of an electric motor: Optionally, Hands-On-Cycle can be combined with a rear hub motor from neodrives.
The Hands-On-Cycle can be optionally installed in the Scorpion fs 20 and Gekko fx 26 models and, despite its high degree of innovation, has a pleasantly restrained appearance that integrates perfectly into the design of the tricycle.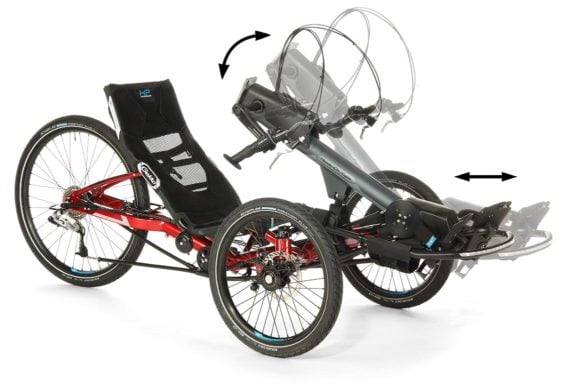 The handy attachment can be adjusted to the size of the rider in three ways: By sliding it into the main frame, even small people can use Hands-On-Cycle. Independently of this, the integrated footrest is adjustable in length. The mast can be adjusted in height. When folded up, it offers more space when getting in and out of the vehicle.
The certified according to medical products CE Hands-On-Cycle is expected to be available from spring 2022 at an option surcharge starting at 2,490 € (Tripleshift 24 basic gearing) for the Scorpion fs 20 and Gekko fx 26 models – with all the brake systems available that we offer.
+++++ All prices mentioned here are suggested retail prices (MSRP). As of the editorial deadline; for currently valid recommended prices, please refer to our price lists! +++++