Great Response on the Open House
Public day of the recumbent manufactory attracted around 200 visitors. Secret star on the test track met with great interest.
"I don't think we've ever had so much interest in the demo bike track!" Thomas Wilkens, Sales Director of HP Velotechnik, was very pleased with the response the recumbent bike manufacturer received at its open day. A good 200 visitors, some of whom had traveled from far away, such as from the Netherlands, took advantage of the many opportunities offered by the public day last Saturday, September 9, 2023. The two guided tours of the factory with company founder Paul Hollants were very well attended. The audience also participated lively in the talk round with intense cyclist Volker Müller-Ulrich. And the counter with bicycle parts at bargain prices was always busy. But the secret star of the six-hour event was the new model from Kriftel: the Delta tx seat bike.
Concept Very Well Received
Although the elegant chopper will not go on sale until the end of the year, a large number of visitors, and especially female visitors, wanted to get to know this bike before then. "Our concept of the Delta tx as an outstanding comfortable vehicle with high everyday utility is obviously very well received," said Wilkens. His impression: "The decisive factor is likely to be the combination of a very easy-to-operate electric assist cycle with high seating comfort plus plenty of cargo space for shopping or leisure activities."
For all those who could not be there or would like to review the visit, we have captured some impressions in a video (voice audio in German, please click on the thumbnail to play):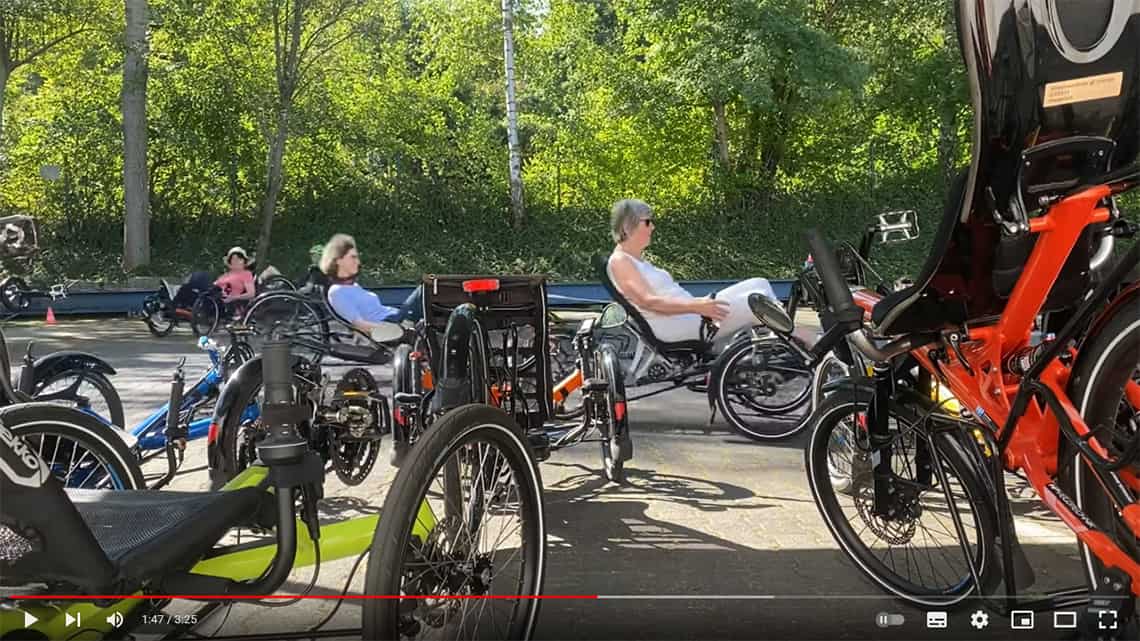 Important note: The video embedded here is provided via the YouTube platform. During playback, a connection to the provider's servers is established – even with the extended privacy settings we use. Among other things, data may be transmitted that allows YouTube to analyze your surfing behavior, for example. This applies in particular if you are logged into your YouTube account.