Pressespiegel – Recumbent & Tandem Rider 2005-09-08
HP Velotechnik im Spiegel der Medien: Der folgende Text ist ein Ausriss aus der Zeitschrift Recumbent & Tandem Rider, Ausgabe 08/09/2005. Wir empfehlen für die komplette Lektüre das Originalheft beim Verlag anzufordern.
HP Velotechnik – Streetmachine Gte
By John Axen
Being the eldest of four children, I was continually reminded by my parents how important it was to set a good example for my younger siblings. All I would have to do is slip up, just once, and the whole lot of them would be following me down the path of destruction. Well, it may not have been that bad, but I often found myself wishing I had an older brother or sister so take some of the responsibility from my shoulders. I´m certain I had little to do with their success, although I can see a few characteristics that may have rubbed off. What got me thinking about the importance of being a good example was the history of the German bike company, HP Velotechnik.
The first recumbent bike to leave the factory of HP Velotechnik was the Street Machine, designed to provide the touring cyclist with a streamlined and efficient riding position with the comfort of dual suspension. The patented "No Squat" rear suspension is continually active and not susceptible to influences of heavy pedaling. In fact, the "No Squat" rear suspension and Euro-style, hard shell seat can be found on most subsequent models in the HP Velotechnik line. Although the styles of their newer recumbent bikes may differ, these original qualities have been maintained throughout the entire line.
In 2003 HP Velotechnik introduced a new bike called the GrassHopper. It seemed to share all of the original advantages first developed for the Street Machine, but closer investigation revealed definite refinements. First, the Chromoly frame was replaced by aluminum, which shaved a bit of weight and added stiffness. Then, the hard shell seat was replaced by a very unique two-piece BodyLink seat that allows for precise adjustment to the riders particular body. Though the GrassHopper was heavier than the typical dual 20″ wheeled, short wheel based recumbent, it was a joy to ride. The truth is that during our extensive review of the GrassHopper I fell in love with the critter and had to go out and buy one for myself!
The design of the original Street Machine has been important to the entire line of HP Velotechnik recumbent bikes. Its signature style, suspension, and handling, have influenced the development of the Speedmachine, Wavey, and GrassHopper. Now, the youngest member of the HP Velotechnik family, the GrassHopper, is sharing some of it´s innovarions with 2005 Street Machine Gran Tourismo Evoluzione (GTE).
The 2005 Street Machine GTE, is identical to the original Street Machine in both frame geometry and overall dimensions. Like the GrassHopper, the GTE frame material is now constructed of large diameter aluminum, which shaves off a bit of weight and gives it a more efficient ride. The other difference for the 2005 Street Machine GTE is the use of the BodyLink seat. Can these two changes make a real difference in a well proven design? Let´s take a colder look!
The GTE´s large diameter aluminum frame is beautifully bent and flawlessly welded. The rear suspensions swing arm mounts to a pivot that is well gusseted as are the shock mounts. Our GTE was powder coated in a custom striking Dormant Orange color that appeared to flow over the frame. The rear shock has both adjustable preload and dampening control in order to fine tune the rear suspension. The MEK Carbon AL suspension fork completes the comfort control.
Our GTE came with the standard under the seat steering (USS), derailleurs, shifters, and cranks. There is an above the seat (ASS) option available. We ordered our test GTE with a few options that deserve more detail. Instead of the standard linear pull rim brakes, our test GTE came with Avid mechanical disk brakes, rear disk hub, and a SON dynamo hub with disk option. The SON hub powers the optional B&M Lumotec oval lights with automatic sensors. We also ordered the optional fenders, which we became very fond of, since we have had one of the worst rainy seasons on record!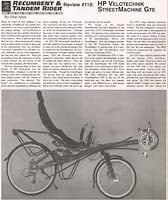 Our GTE came with the custom rear and lowrider luggage racks and a kickstand. This bike is ready for just about any situation, but before we can take it out for a spin, some setup time is required.
Besides adjusting for proper boom length and handlebar angle, it´s going to take some time to get the BodyLink seat to fit your body. I believe it took me about a half hour to get the seat adjustment correct for me, but the time spent was worth it! Once properly adjusted, the BodyLink seat feels like it is actually molded to your body. It may take a few rides to get the final adjustment.
I already had over a thousand miles on the GrassHopper with its BodyLink seat, so I had some idea of what presets I could fine tune on the GTE. You will probably want to order the optional carbon fiber headrest for the BodyLink seat also. You may not use it all the time, but it is helpful to take some of the pressure off your neck and shoulders.
Under the seat steering (USS) is not my favorite. There are only few bikes with this style of steering that I feel confident on. Nonetheless, from the very beginning of our test period with the GTE I felt very comfortable and in control. That is an accomplishment! After riding a few blocks I realized I needed to firm up the rear suspension. This takes just a couple minutes and doesn´t require any tools. With the BodyLink seat, suspension, and handlebars properly adjusted it was time to go for a long ride.
As mentioned, we have had a very wet year in California and our bike trails and backroads have taken a beating. Sounds like the perfect test ground for a fully suspended touring bike, doesn´t it?
In between major rain storms I rode the GTE on roads that used to be smooth and winding. All types of obstacles were present, from large potholes and rockslides, to complete lane disappearances. I couldn´t have found a better test ground.
The GTE was nimble and easy to maneuver at any speed. It didn´t take very long to realize how the bike was going to behave. When you happen to hit some of the minor obstacles, the well-balanced suspension takes the edge off, keeping you in control at all times. The "No Squat" suspension is plush while allowing the GTE to be quite efficient. I never felt the rear suspension compress while pedaling.
One thing you´re going to notice is the quite laid back riding position. Because of this position, I believe you´re going to want to order the optional carbon fiber headrest. Although I did not continually use the headrest, it was nice to know that I could when my neck or shoulders fest fatigued. The laid back position surely aids in the aerodynamic efficiency of the GTE. I wouldn´t say that this bike is fast in acceleration, but it s easy to maintain a moderate pace.
I have always been most concerned with USS steering while climbing moderate hills. I used to feel that the slower I crawled up the hill, the more unstable my steering would become. This was not the case with the GTE. It climbs quite well and is easy to keep in a straight line. The trick is to keep your shoulders, arms, and hands a bit loose. Don´t tense up! Two things will happen: First, you will tend to pull on the steering and weave, especially the slower you climb. Second, you will wear yourself out! Cycling is supposed to be fun. Relax your upper body and keep focused on the top of the hill. You´ll get to the top much more relaxed.
Once you reach the top of the hill, don´t dilly dally along, because you´re about to realize how much fun fast descents can be. It doesn´t matter if the descent is short and steep, or several miles ling, because the GTE is very stable. You will love how it carves through the turns of a twisty canyon road. When you happen to run into a sketchy patch of road, you´ll appreciate how little effort it takes to make a safe panic stop. You have to love those optional disk brakes!
The Street Machine GTE is really designed for the touring cyclist who wants good performance and lots of comfort at the same time. With the optional custom rear- and lowrider racks you can efficiently carry just about all you may need while touring the backroads. I played around with a couple different sets of loaded panniers and found the racks to be very stout and secure. Other than the additional weight of a load, you really won´t feel much of a change in handling. I have to admit that O was not able to take an extended tour on the GTE, but Dana Liebermann, of Bent Up Cycles toured on one.
From of his shop-full of recumbent bikes, Dana chose a GTE identical to our test bike for his week-long tour of the California Coast. He overstuffed two sets of panniers, strapped on his tent, sleeping bag, ground cloth, and departed from Santa Cruz in the direction of Los Angeles. He did have that GTE well laden, but his post-ride comments pretty much confirmed my suspicions. He said, "The GTE´s ride was plush as well as super stable, even in the ling, steep climbs around Big Sur!" Sure wish I could have gone with you Dana!
I mentioned the various options that our GTE came with. Of course the fenders were very much appreciated, as well as the kickstand. You can´t have a touring bike without racks and the GTE´s are some of the best I have ever used.
The SON generating front hub and the B&M lights were most enjoyable. With 3 watts of power, they really do a decent job of lighting the trail. No, they can´t compare to 10 watts of halogen, but they do a remarkable job, especially when you come to a stop and the LED system takes over. The LED lights remain lit until you start rolling and the SON hub rakes over again. This is accomplished with very minor rolling resistance and the hub is silent!
It is worth the additional weight as you don´t have to carry large and cumbersome batteries. I found this helpful as in the past I have often forgotten to charge up a pack for my night rides. With this system you simply turn the switch to the auto mode and when the sun begins to set, the lights automatically turn on. I am getting spoiled!
During our teat rides on the GTE the following qualities made it a favorite for the longer, more adventurous rides. It is a smooth riding bike that can handle a touring load, even on the roughest of roads. You can be confident in its predictable handling and the component packages always worked well. Even though it is a bit on the heavy side, the type of riding you´re going to be doing, you truly won´t care. The only problem I had with the GTE is that there really isn´t a good place to mount a rear view mirror. If you mount it on the handlebars it is too much to the side and you gave to turn your head considerably to see behind you. You could remedy this by wearing a helmet or eyeglass mounted mirror, but some people don´t adapt well to this method. This really isn´t a major issue, just a minor annoyance.
Isn´t it amazing how the first-born can influence the whole family tree? For HP Velotechnik, it has come full circle and now their very first bike is being positively influenced by the youngest member. If you are of the touring mindset, you´re going to love riding the new GTE. It is lighter than the original and adapts to a wider range of rider. I believe there will be a revived interest in long distance touring and many will be aboard a new HP Velotechnik Street Machine GTE. I hope to see some of you on the backroads this season!
Thanks to Larry Black of Mt. Airy Cycles (www.bike123.com) for allowing RTR to use the GTE for this review.