Pressespiegel – Bentrider Online 2005-04
HP Velotechnik im Spiegel der Medien: Der folgende Text ist ein Ausriss aus der Zeitschrift bentrider online, Ausgabe 04/2005. Zum Archivieren dokumentieren wir hier den dort veröffentlichen Test.
Improving The Best … Carefully …
HP Velotechnik's Streetmachine Gt is an institution in the European recumbent market
By Bryan J. Ball, Editor
It's been in production since 1998. In that time it has quickly become a highly desired mount amongst serious world-tourists and hardcore commuters. The SMGT, as it's become known, has been ridden on nearly every corner of the globe and in some of the harshest conditions imaginable. It's survived these tests with barely a scratch and has come back for more. The Streetmachine Gt really put HP Velotechnik on the map and is the primary reason that they have the excellent reputation for quality and durability that they have today.
But no matter good a bike is, it can always be improved. This is why HP Velotechnik set out to make the Streetmachine even better for 2005. The HP Velo design team learned several new tricks when they built the dual twenty inch Grasshopper last year and they were eager to try some of them on their most senior design. Playing with the Streetmachine Gt was a pretty serious risk. In fact, when they asked many of their dealers what they wanted to see changed on the bike the overwhelming answer was, "Nothing!". But the guys at HP Velo were certain that they could make the bike better so they took a deep breath and soldiered on ahead with the project they had started to call the "Gran Turismo Evoluzione".
The first area they wanted to improve was the weight. If there was ever one complaint about the Gt it was that it was perhaps a bit portly. Serious touring riders never seemed to mind, but those that used their bikes for more general purpose riding always wished it was a bit lighter. Like they did on the Grasshopper, HP Velo chose to use aluminum on the Gte versus the chromoly tubing they had used on the stalwart Gt. The company also trimmed a little material off of the drop-outs and a few other non load-bearing areas. The larger diameter frame and other tricks help make the Gte 1.5 kilos lighter than the bike it will eventually replace.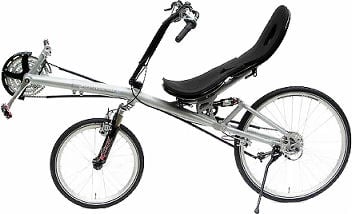 The most obvious visual change to the Gte is the seat. The stock Streetmachine Gt seat never got many complaints but the adjustable BodyLink hardshell seat used on the Grasshopper received rave reviews from almost everyone that tried it (including 'BentRider). Incorporating it into the SMGTe was a no-brainer. If you're unfamiliar with this seat, it's a two-piece seat that can be adjusted for size. The angle of the base and seat back can also be adjusted independently of each other. This is a very good thing. More on this later…
HP Velotechnik also made about a dozen other very subtle changes to the Streetmachine Gte to make sure that people wouldn't be left clamoring for the old one. These include a large Grasshopper-style chain idler to quiet the drivetrain and new rear drop-outs to make wheel removal and replacement easier.
Thankfully, HP Velotechnik listened to their customers and dealers and didn't go too far with the revisions. This German company spent years developing and refining the Streetmachine's suspension system. They were confident that it was .done. and couldn't really be made any better. They flirted with the idea of a new stretched wheelbase and indirect steering but eventually decided against it. The current Streetmachine Gt's 41-inch wheelbase and direct USS steering may be a bit .old school. but it works very well and I don't hear anyone complaining. HP Velotechnik also didn't want to offend any Street Machine loyalists.
They also made sure to carry over one of the other beloved characteristics of the last Streetmachine … The orange paint. The Gte's .dormant orange. is a bit darker than the classic hue that's been an integral part of the Street Machine GT's image since it's inception, but it's still very appropriate. If you're not into orange, the SMGTe is also available in silver.
I'll take one with everything!
We reviewed the Streetmachine Gt in mid-2001. I was quite impressed with the bike. The suspension and handling were both great and the SMGT immediately gained a permanent place on my list of bikes that I would most like to ride across the country. Every HP Velotechnik test bike that we've received was even more polished and refined than the last, so I was eager to see how (or if) they had improved the bike.
On our first Streetmachine Gt, we went a little easy on the options. 'BentRider was fairly new at the time and this was our first dealing with HP Velotechnik so wanted to take it easy. I always felt like we missed something by reviewing such a plain-jane bike in that original article. That's all changed now. Our reputation has grown a bit and I've since learned that HP Velotechnik has a tendency to be a bit generous with the options on test bikes. Therefore, I went fairly overboard this time around.
The most basic Streetmachine Gte comes with a mix of Shimano Deore and Tiagra components. It uses Avid V-Brakes, Quando hubs and a Meks Carbon suspension fork. The fittings are there for all of the racks and fenders but none of these pieces are included in the base price. Not many Gte's will make it into buyers' hands in with that specification. Most HP Velotechnik customers add at least some of the options that I chose.
Our test bike was outfitted with a mix of Shimano 105 and XT derailleurs. We added both rear and underseat racks and a set of rugged SKS fenders. I also checked the option box for the upgraded rear shock package (a highly adjustable DT Swiss air shock on the rear and a Meks Carbon AC on the front). We also added a very convenient Schmidt SON generator hub, front and rear lights, a kickstand, 155mm cranks and chose Avid cable-actuated disc brakes.
Most of the equipment on our test bike functioned flawlessly. About the only exception was the Avid disc brakes. I'm a HUGE fan of Avid mechanical discs but I was really expecting to see the higher-grade BB7 brakes on our nearly $4000 test bike. Instead, HP Velotechnik used the lower-end BB5's. These are not nearly as adjustable as the BB7 and the rotors aren't as nicely finished. Our front brake made a sort of grinding noise but worked just find. The rear brake squealed pretty loud and didn't seem to have nearly as much power as I would have expected. An hour or two of playing and adjusting helped eliminate most of the noise but there was still an occasional moan from the rear brake. HP Velotechnik did spec Avid's own lever on our Street Machine instead of a cheap no-name lever like most companies would. This was a nice touch but I would have preferred to see a cheap lever and some BB7's.
The use of a Quando rear hub was also disappointing, but I guess it shouldn't be. Quando is a Taiwanese manufacturer that builds hubs for several companies. Usually the hubs that have their own name on them are pretty cheap and low quality. The particular set of sealed bearing hubs that HP Velotechnik uses are actually the best ones that Quando makes and do appear to be pretty decent. Combined with the heavy duty Schuman rims, they also make a pretty heavy wheelset. I complained about the Quandos on our 2001 test bike and they didn't give any problems. HP Velotechnik has been using these hubs for a long time with no issues but I would rather that they spent a few bucks and had their own name put on the hubs. That Quando name is just too well known.
All of our extra options seriously broke the Gte's strict diet program. The lightest Gte you can order weighs 33 pounds according to HP Velotechnik. Our test bike weighed 39.5. That may sound heavy but this bike literally had everything. The only way we could have added anymore weight was to opt for the Rohloff Speedhub instead of our conventional 27-speed set-up. Many competing touring 'bents weigh over 35 pounds before you start adding the options that our test bike had and weigh around 45 once you're rolling out the door.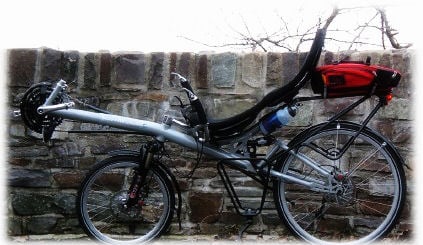 I did order our test bike in the more non-traditional silver color. It looked really good with the black racks, carbon fork and the red Arkel panniers that I was also reviewing at the time. The whole bike has very purposeful look to it. If anything, the new fatter tubing makes the bike look even more serious than the previous version. However, I would stop short of calling it utilitarian in appearance. Even the casual passerby will be able to easily spot the bikes elegant details. The welds are large but very clean. The powdercoat is thick and durable. It's a look that says, .I may not be a racer, but I'm not cheap.. It looks like a bike that's thought of everything… and it has.
The tubular chromoly racks are extremely sturdy. As are the fenders and the light mounts. All of the Streetmachine's add-ons aren't merely for looks. Riding a bike that is so well equipped can be somewhat liberating. Whether it was dark or rainy, if I was commuting to work or just enjoying the scenery; the SMGTe was raring to go. About the only complaint that I had was that I would like to see the rack tubing be about .5 mm thinner. Some pannier hooks had a bit of a hard time fitting over the rack's oversize tubing.
The SMGTe was very comfortable. Our Grasshopper had a prototype of the BodyLink seat. It was very comfortable but wasn't nearly as easy to adjust as the full scale production unit on our new Streetmachine. The seat angle is adjustable between 25 and 35 degrees. After a few rides and several adjustments, I was completely at home on the BodyLink seat. If you're a person who believes that a sporty hardshell seat has no place on a touring recumbent, you really need to try the BodyLink. I also recommend that you opt for the Airflow seat cushion. With this option installed, the BodyLink is the most comfortable hardshell seat I've ever seen.
The Streetmachine Gte's hand position is basically unchanged from that of the Gt. I was quite happy about this. I've always found the Street Machine to be have a very comfortable hand position and I was glad that it wasn't tweaked too much on the Gte.
The bottom bracket on the Gte is two inches higher than the seat base. This gives the Streetmachine a better aerodynamic profile than many other touring bikes but it's not high enough that it should give anyone any numb foot issues. Perfect for all-day riding.
The bike's handling also urges you to keep pedaling. I normally am not a big fan of direct USS but I very much enjoyed the feel of our Streetmachine Gt. The Gte feels nearly identical. It's overall feel is a bit sporty but not at all twitchy. It's a bike that's a blast on canyon roads and mountain descents, but also doesn't require your complete undivided attention when trying to maintain a straight line. It's a very complete handling package.
The SMGTe is also available with overseat steering. I had a chance to try this at the HP Velotechnik facility in Kriftel, Germany and I was less than impressed with it. I had actually planned on ordering our test bike with this configuration but after riding it, I changed my mind. With the Street Machine's short wheelbase, the OSS unit (a Terracycles GlideFlex) makes the cockpit pretty cramped. In order to be comfortable, I actually had to rotate the steering mast slightly forward. This obviously played havoc with the bike's geometry. Oddly (at least to me), HP Velotechnik reported that they have sold quite a few OSS Gte's since it was introduced.
The first few times I rode the Streetmachine Gte, I was thoroughly unimpressed with the performance. I know that it is supposed to be a touring bike, but I remembered our old Gt being at least a tolerable performer. After installing the GPS to get a more accurate reading of how fast (or how slow) I was going, I found that the bike was actually moving along faster than I thought. It's easy-going nature just didn't let on. I eventually swapped the stock Schwalbe Marathon tires out for a set of Continental SportContacts and saw a noticeable improvement. Still… the Gte, is not a performance bike and will never be mistaken for one. The lighter frame does help this bike climb faster than the heavier Gt and the more efficient drivetrain helps out a bit as well, but this is still no speed demon. I would put it in the same performance class as something like a Burley LWB, Sun Speedster or a Haluzak Horizon. Fine for commuting and general purpose riding, but hammer rides with the local roadies are right out.
Other than the extra weight it ads, the Streetmachine Gte's performance cannot be blamed on the suspension system. The overall geometry of the bike's .No Squat. rear suspension is basically the same as it is on the SMGT and Speedmachine. However, this is the first time that I've tested an HP Velotechnik with the optional DT Swiss air shock. It turns an already great suspension system into a truly outstanding one.
Both the front and rear shocks are fully adjustable for pre-load and rebound. If you don't know what either of those terms mean or if you've never bothered to learn how to properly adjust a shock before, you really should find out. Recumbent suspension design has come a long way but is still mostly relying on single pivot lay-outs like what's used on the Street Machine. With a high-end shock like the DT Swiss, these designs can still be outstanding. You do have to learn how to properly set-up and adjust the shock though. Most suspension systems have pretty complete manuals to help you learn.
I initially set the air pressure in the rear shock on our Gte at my body weight (180 pounds). I left the rebound adjuster at it's factory setting. I then cranked the front shock's pre-load up fairly high and backed the rebound damping off a bit. On my first long ride I noticed that the bike had a tendency to pitch forward just a bit when I hit big bumps. This was most likely due to the short wheelbase. All I did to fix the problem was crank the rebound damper up a few clicks and let about thirty pounds of air out the rear shock. Problem solved. After that the bike was as balanced as could be and exhibited no pogo whatsoever.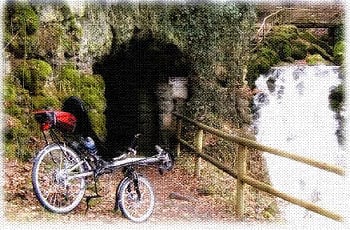 The downside to using a high-end air shock is reliability. The DT Swiss on the Streetmachine has an excellent reputation for reliability but when an air shock does break, it's usually catastrophic. If you tour extensively in remote areas, I would recommend carrying a cheap replacement shock with you.
Of course one of the most important aspects of a touring bike is how well it carries a load. The Gte and its clever suspension passed this test with flying colors. I loaded the bike down with four panniers and about forty pounds of camping gear. Other than making it a bit slower, there really wasn't a huge difference in the way the bike rode. Handling at all speeds remained about the same. All I had to do was add a bit of air in the rear shock and crank the pre-load up a few turns on the Meks fork. The Streetmachine's design makes sure that all of your valuables are suspended and not directly subject to road shock.
Don't fear change
The Streetmachine Gte is a superbly executed touring bike that is a very worthy replacement for the superbly executed touring bike that preceded it. Well… .replacement. may be too strong a word. The chromoly Streetmachine Gt will also remain available for now, but the Gte has officially bumped the Gt off of my "favorite touring bikes" list.
Is it a one dimensional bike? Not really. It definitely performs best in its intended role, but can also make an a general purpose SWB if you choose your options and tires well.
The SMGTe is definitely a bike that I would seriously consider for almost any tour in almost any conditions. The added complexity of the suspension system may or may not hurt the bike's reliability factor when operating in remote areas but it can be prepared for by carrying just a few extra parts.
The overall feel of the bike is very serene. The handling is neutral, the position is comfortable and the drivetrain is silent. The chain moves very freely over the gears and their isn't any suspension-induced pogo to interrupt your pleasant riding experience. The Streetmachine Gte is confident, reliable and silent. Just what you'd want in a traveling partner.